Overview
Wednesday, August 28, 2019 (11am - 2pm)
Dante Robere Vineyards

Add to iCal/Outlook

Add to Google Calendar
Days Until
Blessing of the Grapes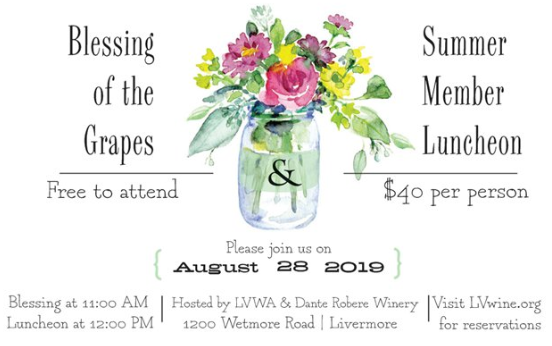 Blessing of the Grapes Ceremony 11am-11:45am
The Board of Directors and staff of the Livermore Valley Winegrowers Association invite you to join your fellow vintners and growers for the annual Blessing of the Grapes celebration as we give thanks for our pending wine grape harvest. This will be a small gathering of our members and media. The "Blessing of the Grapes" has been practiced for centuries in wine producing countries around the world and by many religions. Please RSVP to attend this special ceremony.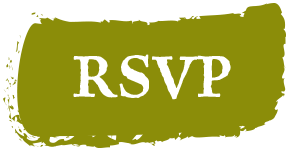 Blessing of the Grapes Luncheon 12pm-2pm
Following the conclusion of the annual Blessing of the Grapes ceremony, join us for a beautiful luncheon hosted by Dante Robere Vineyards and Checkers Catering. Lunch will be from 12pm to 2pm. Tickets start at $40, and will increase to $45 after August 1st. See below for menu details.
Menu
BBQ Pork Tenderloin Wrap
BBQ Pork Loin sliced thin, cream cheese, caramelized onion,jack cheese & red lettuce wrapped in a garlic herb tortilla
Cashew Chicken Wrap
Honey & soy grilled chicken, napa cabbage, roasted cashew nuts & green onion, wrapped with cream cheese in a spinach tortilla
Focaccia Chicken Sandwich
Chicken breast with green leaf lettuce, sun dried tomatoes & pesto mayonnaise on a freshly baked Focaccia bun
Smoked Vegetarian Wrap
Zucchini, squash, red bell peppers & assorted mushrooms with roasted garlic cream cheese & provolone cheese in a garlic herb tortilla
Turkey Club Wrap
Smoked turkey, bacon, avocado, red leaf lettuce & tomato with cream cheese wrapped in a garlic herb tortilla
Checkers Famous Homemade Chips
Thinly sliced Kennebec potatoes flash fried to a golden brown & dusted with special seasoning
Orzo Salad With Roasted Squash & Feta
Roasted squash, dried cranberries, Orzo and topped with Pine Nuts, & feta cheese in apple cider vinaigrette
Tossed Green Salad
Mixture of Romaine Lettuce & Spring Mix, cherry tomatoes, baby carrots, sliced cucumbers & sliced mushrooms. Served with ranch & Italian dressing