Introducing the Judging Panel for TASTE: The Livermore Valley Wine Experience
Tickets are selling fast for the signature Food and Wine Pairing Competition in Livermore Valley Wine Country. 
Are you ready for a competition like none other? Livermore Valley Wine Country's signature Food and Wine Pairing Competition, Taste Our Terroir, is kicking off the TASTE festivities on Thursday, October 19th, 2023. Twelve Livermore Valley wineries are partnered with local chefs to create signature bites that perfectly pair with the chosen wines. They will compete for prizes in a blind tasting evaluated by three esteemed judges. Guests will have the opportunity to be a part of the competition by voting in the People's Choice category for best Red and White pairing team. Meet the winemakers and chefs while sampling mouth-watering creations and an extravagant dessert buffet.
We are proud to announce this years esteemed judges: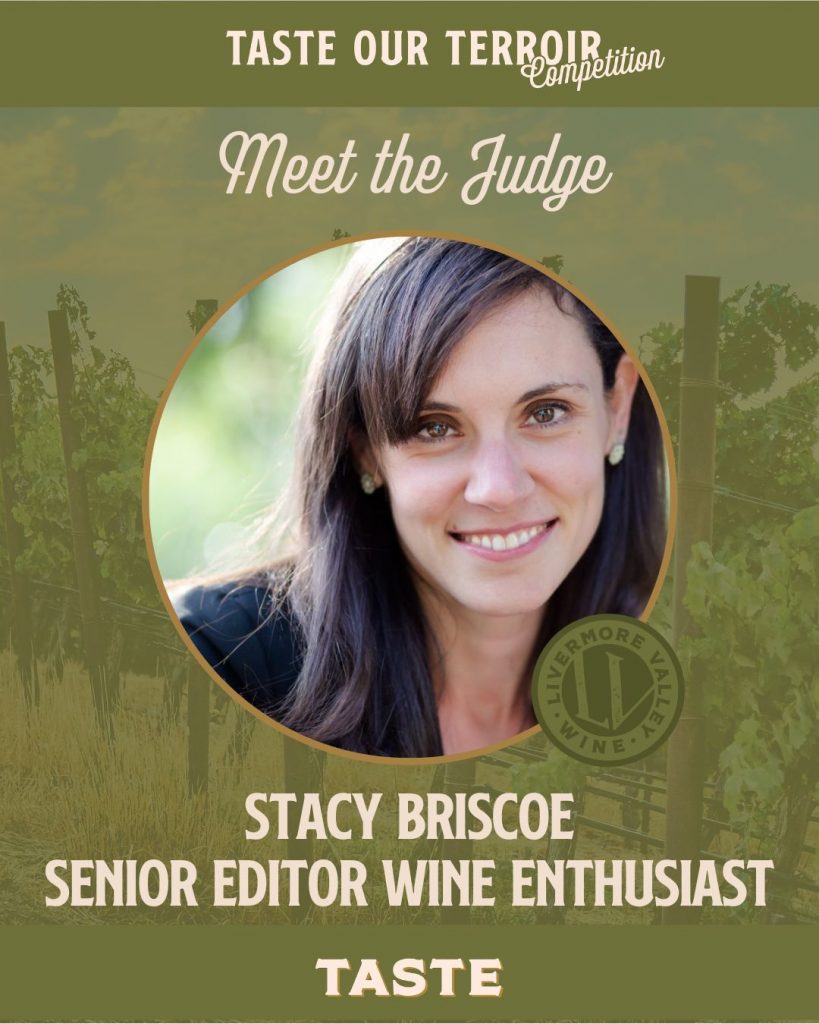 STACY BRISCOE
­Stacy Briscoe is the senior editor of Wine Enthusiast magazine where she also reviews and rates the wines of California. She is the former managing editor of Wine Industry Network and former assistant editor of Wine Business Monthly and has also written freelance for numerous publications including SevenFifty Daily, Sonoma magazine, the SF Chronicle, among others. She also holds the WSET Diploma and teaches advanced WSET courses at the Napa Valley Wine Academy. Additionally, she regularly speaks at wine industry conferences and judges local wine competitions. Outside of wine, Briscoe has her Bachelor of Arts in English-Language Literature from the University of California Santa Cruz and is often found with a book in hand (and a glass of wine in the other).
KIMBERLY GAMBLE
Chef Kimberly Gamble is a Bay Area local culinary expert and the "Queen of Thai Cuisine." Chef Kimberly has appeared on Beat Bobby Flay, Chopped, Food Network, California Live, and Live! In the Bay. Kimberly spent her formative years working side by side with her mother at their family restaurant, Lanna Thai, in Livermore, before eventually opening her first restaurant in Danville at the age of 19.
LIZ THACH, MW
Dr. Liz Thach, MW is a Professor, Wine Writer and Consultant based in Napa and Sonoma, California. She is an award-winning author and educator, specializing in wine business strategy, marketing, leadership/executive development, and wine lifestyle. Liz's passion is wine, and she has visited most of the major wine regions of the world and more than 65 countries. She has published over 200 articles and 9 books, including Call of the Vine, Best Practices in Global Wine Tourism and Wine Marketing & Sales. She frequently publishes in Forbes, Wine Business Monthly, Wine Spectator, and The Somm Journal, amongst others. A fifth generation Californian, Liz finished her Ph.D. at Texas A&M and now lives on Sonoma Mountain. In addition, she teaches wine classes at Stanford Continuing Education and Sonoma State University, as well as working as a consultant and wine judge. Liz obtained the distinction of Master of Wine (MW) in May of 2011, becoming the first female MW from California. Website: https://lizthachmw.com/
If you're a fan of Livermore Valley Wine Country, food and wine, then this is an event you won't want to miss! Secure your tickets now for Thursday October 19th 2023 and join us in celebrating Livermore Valley's best Food & Wine Pairing Competition – Taste Our Terroir!
Follow this link for more information & tickets!
TASTE: The Livermore Valley Wine Community is Livermore Valley Wine Country's signature food and wine event, spanning four delectable days. Kicking off the festivities at the Bella Rosa Event Center on Thursday, October 19th, 2023, is Taste Our Terroir. Here twelve Livermore Valley wineries partner with local chefs to create signature bites to pair perfectly with their wines to compete for prizes in a blind tasting overseen by three judges. Weekend events start on Friday, October 20th, at noon and end on Sunday evening, October 22nd, from wine tastings to food pairings, vineyard tours, cooking demonstrations, and progressive winemaker dinners.