Livermore Valley Winery Itinerary Planner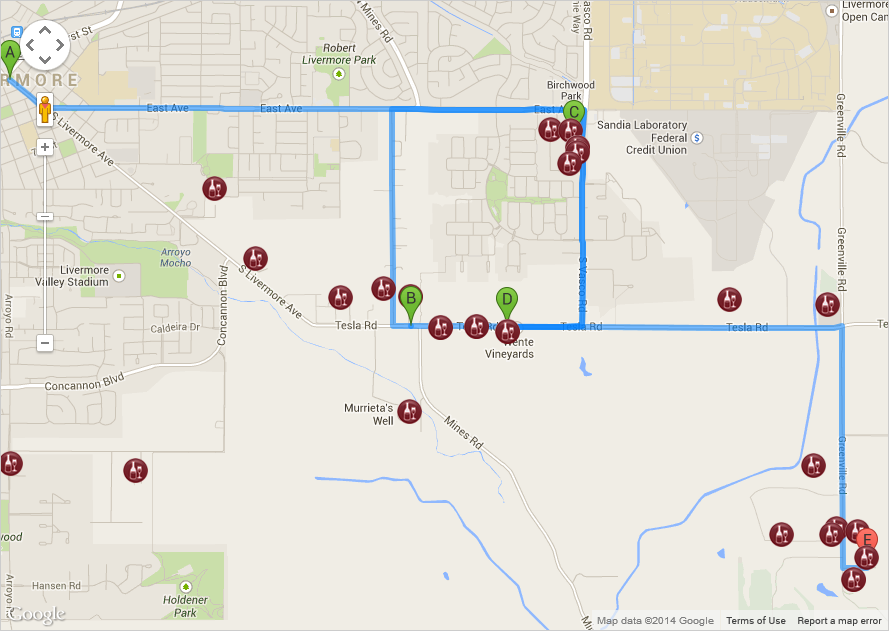 The Livermore Valley Winegrowers Association is committed to exposing people to the Livermore Valley Wine Appalachian area and the many activities and wineries it has to offer. That is why we are proud to announce the winery itinerary planner, powered by Google Maps and developed by JVF Consulting.
The itinerary planner, which is located in the Visit section of the Livermore Valley Winegrowers Association website, shows all of the local wineries in the Livermore area by placing a custom wine bottle icon as the place marker. To view details about a specific winery click the wine bottle icon and a pop up window with details about the winery will be displayed. To add a winery to your itinerary simply click the "Add" button located below the name of the winery on the right. Once you have selected the wineries you would like to visit, you can click and drag them around to the order you prefer, then Google maps out the wineries, and gives you the best driving directions making it easy for you to visit them.
Not only is the map fun to use, it is user friendly and engaging, so be sure to share the link with your friends and family so they can see everything the Livermore Valley Wine Appalachian has to offer.