Painted Barrel Trail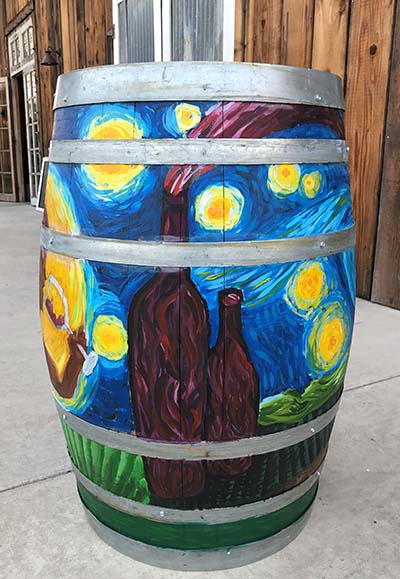 Ben Fish with Wood Family Vineyards
Ben has been working at Wood Family Vineyards as the cellar master for over 2 years. He is an East Bay Area native, born in Antioch, raised in Oakley, now living and working in Livermore. When he isn't pouring in the tasting room or assisting in the winemaking process, Ben is developing his art. Landscapes have been his focus in recent years, inspired both by travel and the landscape of his home region. Ben's work has appeared in SFSU's Transfer Magazine, and SJSU's Reed Magazine. IG: @ben.fish.art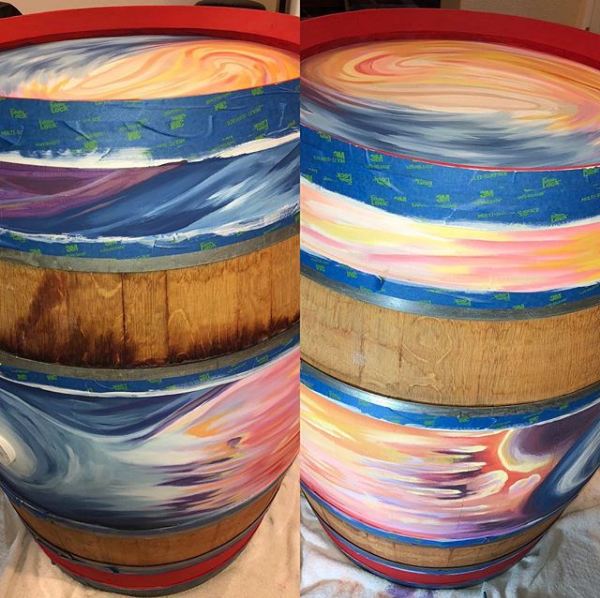 Claire Alday & Melinda Salerno with Page Mill Winery
Claire studied art at Ventura college & San Francisco State University. She has taught to people of all ages, from kindergarteners to senior adults. Claire has been able to use her creative talents in many facets of the community from murals, to senior classes, to helping at the elementary school.  "It is always a joy to capture the beauty of God's creation."
Melinda Salerno studied Graphic Art and Design. She has been leading the art program for the Livermore homeschooling community for the past 4 years, and you can also find her teaching classes at Pinot's Palette art studio in Livermore. Melinda also spends her time painting murals and teaching art for children and adults after school. Her motto: "Think with your heart, color outside the lines" inspires students to express their true selves and unleash their creativity.
Mackenzie Guinon with Nottingham Cellars/Vasco Urbano Wine Co.
Mackenzie has been drawing, dabbling, and doodling since before she could walk. In high school, she discovered her passion for painting on non-traditional shapes and surfaces, painting everything she could get her hands on from canvas shoes to grandfather clocks. Mackenzie still loves to paint unique projects whenever she can, "The more interesting, funky, and fun the requirements- the better!"
Lela Witherspoon & the Art Students of Del Valle High School with Fenestra Winery
The theme of this amazing barrel is a mix of nature and inspiration. "Great things take time to grow." and "Storms make trees take deeper roots" are nestled in to branches, but there is so much more to it. The art style is loosely based on Keith Haring.
Plein Air Painter's with Charles R Vineyards
Charles R Plein Air Patio Painter's Lorraine Wells, Cheri Newkirk, Dorothy Maestas, Mary Jane Hassmann and Bonnie Bartlett joined together to paint the Charles R wine barrel inside their Tasting Room. Painting the barrel was an intriguing project that the artists enjoyed being a part of.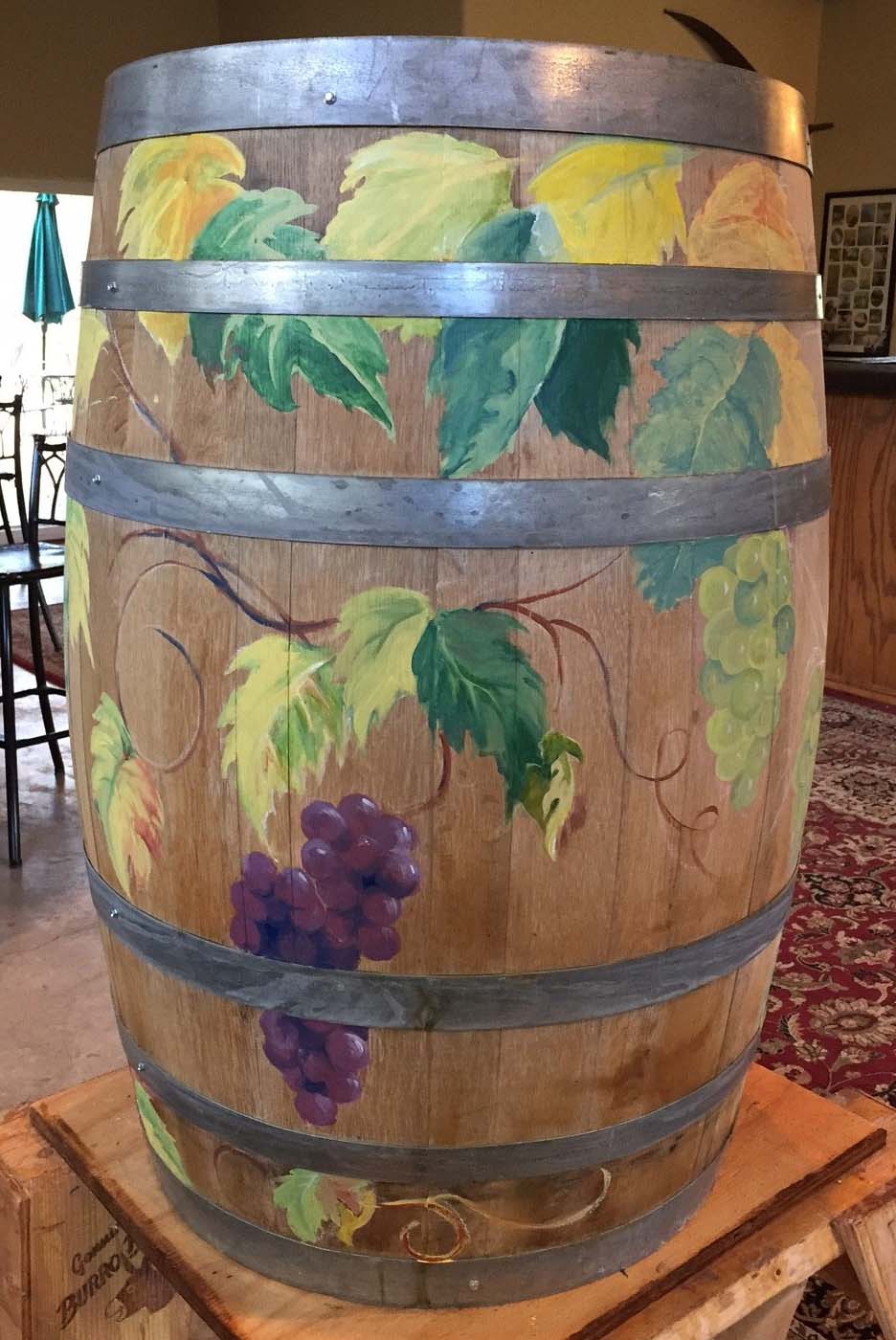 Girl Scout Troop 30309 with Dante Robere Vineyards
The blossoming artists of Girl Scout Troop 30309 took a break from their orderly duties, to create this one of a kind barrel.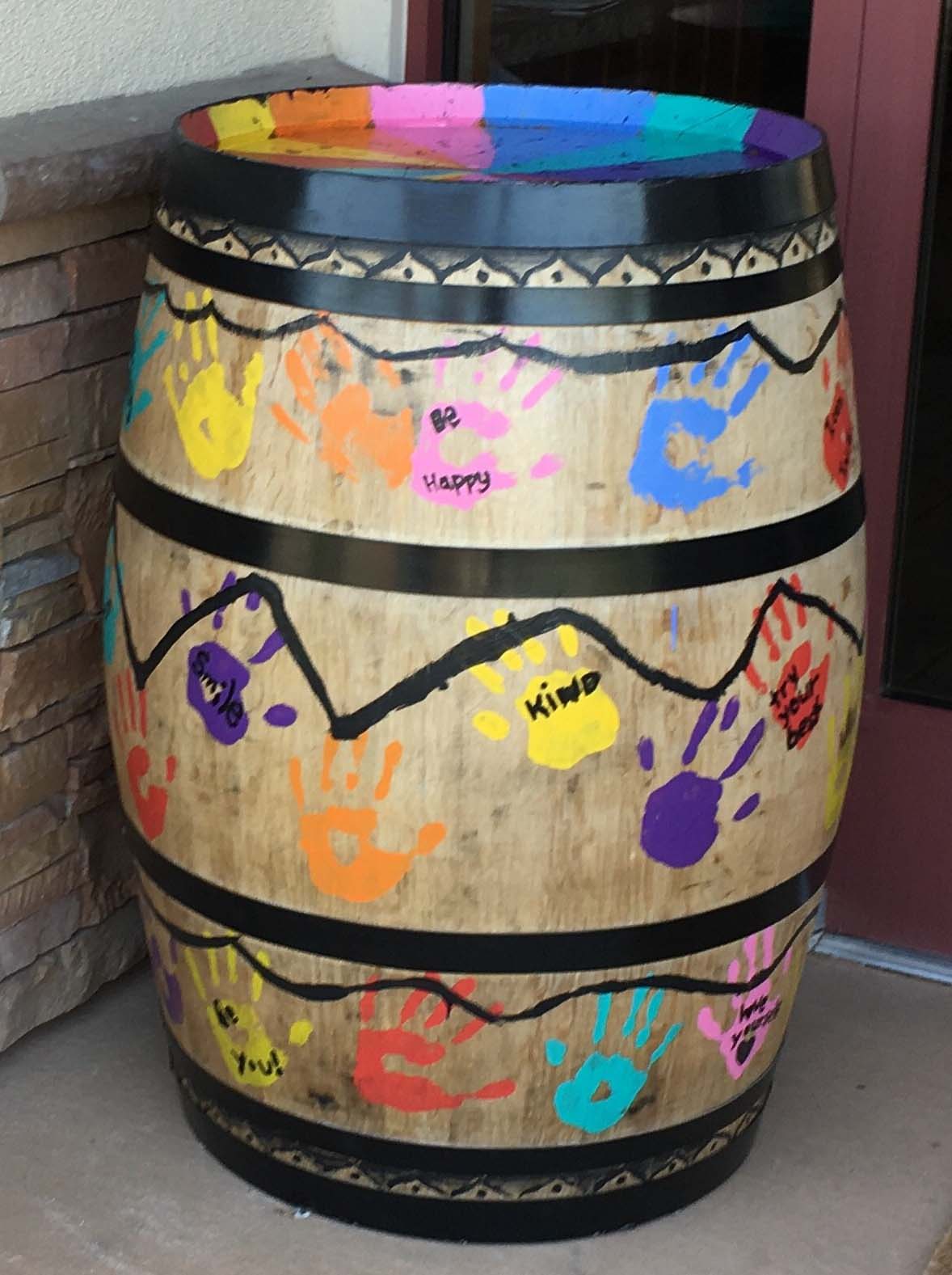 Art Students at Village High School with Mitchel Katz Winery
Village High School is what some may call the "best kept secret" among Pleasanton's high achieving schools.  Receiving the esteemed award of Model Continuation High School in 2017, Village High School's mission is to support students' individual growth towards achieving their personal academic, character and career goals. Two of the students who designed this barrel are Amber Fornoles and Lauren Bach.
Amber is a Senior at Village high school. In her spare time, she competitively swims, listens to music, and makes ceramics. Lauren, 16, is a junior at Village High School. She spends most of her time drawing on her computer and sketching at school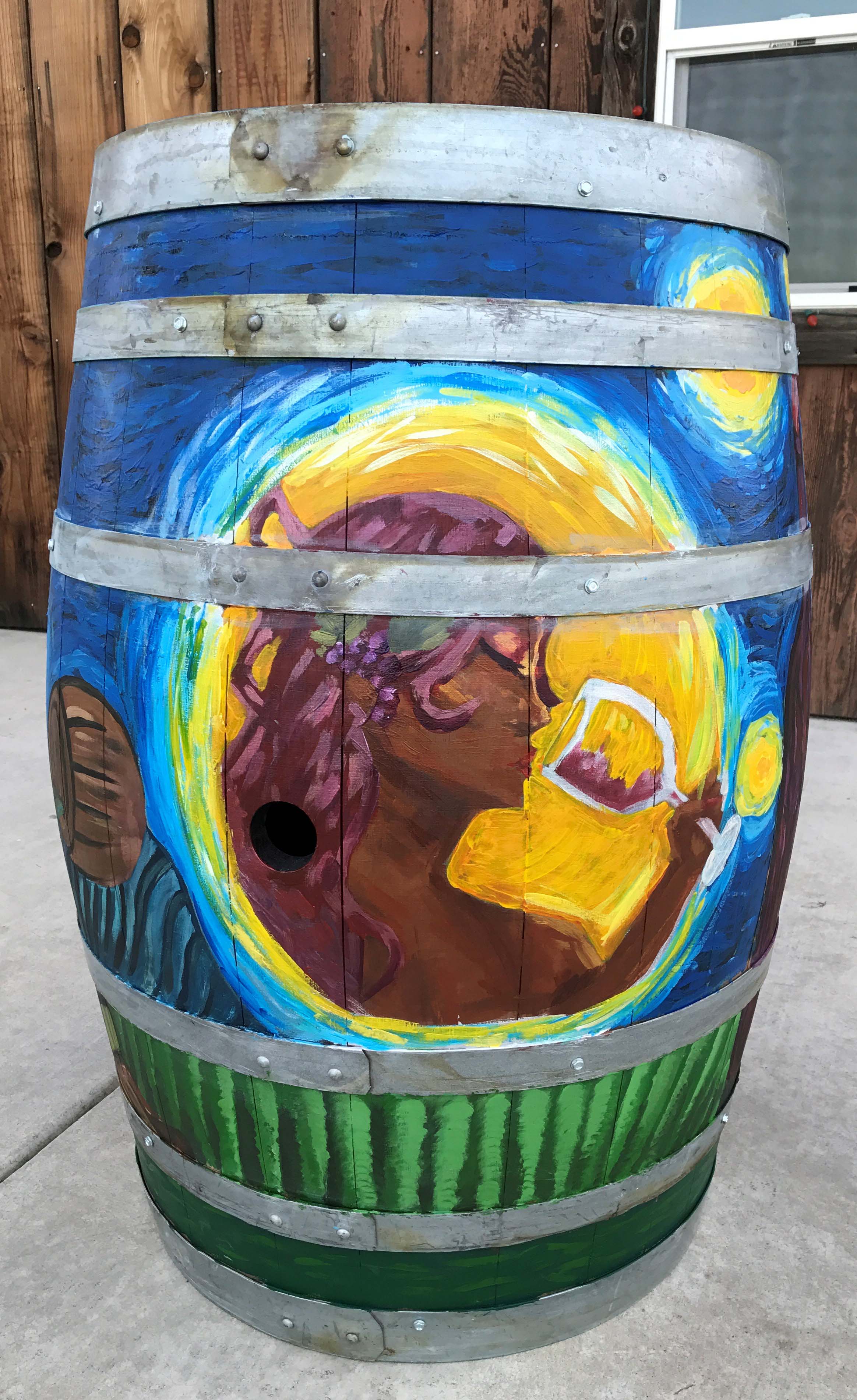 Laina Carter with McGrail Vineyards and Winery
You can normally find Laina working at McGrail Vineyards, but in her free time she likes explore her artistic side. Laina designed this barrel to be a rough map of Livermore that highlights the most iconic and historical spots in the city. It also features some interesting facts and stories about the various people and places that have shaped Livermore's rich history.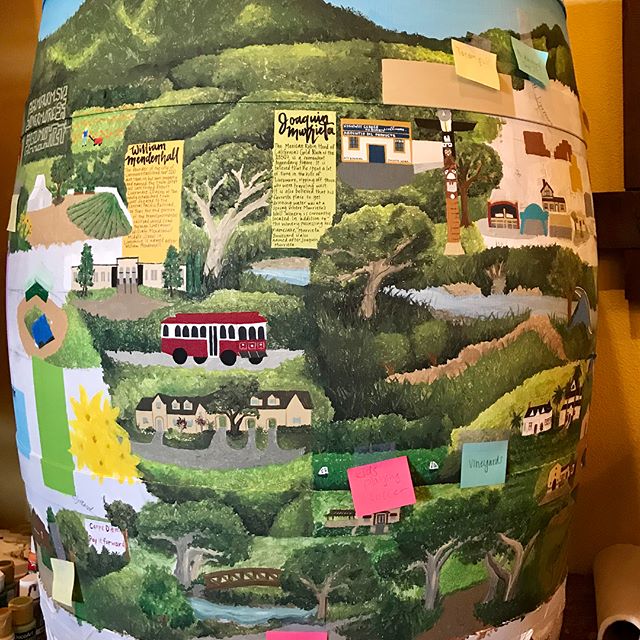 This is just a preview – there are many other talented artists that participated in The Painted Barrel Trail. So, grab some friends and explore the trail this weekend!  Visitors will also have the opportunity to take home their favorite painted barrel by participating in the Painted Barrel Trail Raffle. Raffle tickets can be purchased for $20 a piece or 6 for $100, and you can find them inside the participating wineries' tasting rooms, and at the Livermore Valley Winegrower's Association office. The winner of each barrel will be announced after Barrel Tasting Weekend, March 10th and 11th. Purchase your Barrel Tasting Weekend tickets today, and enjoy an exciting weekend filled with art, wine, brews, and spirits. Visit the event page for more information!