People of Livermore Valley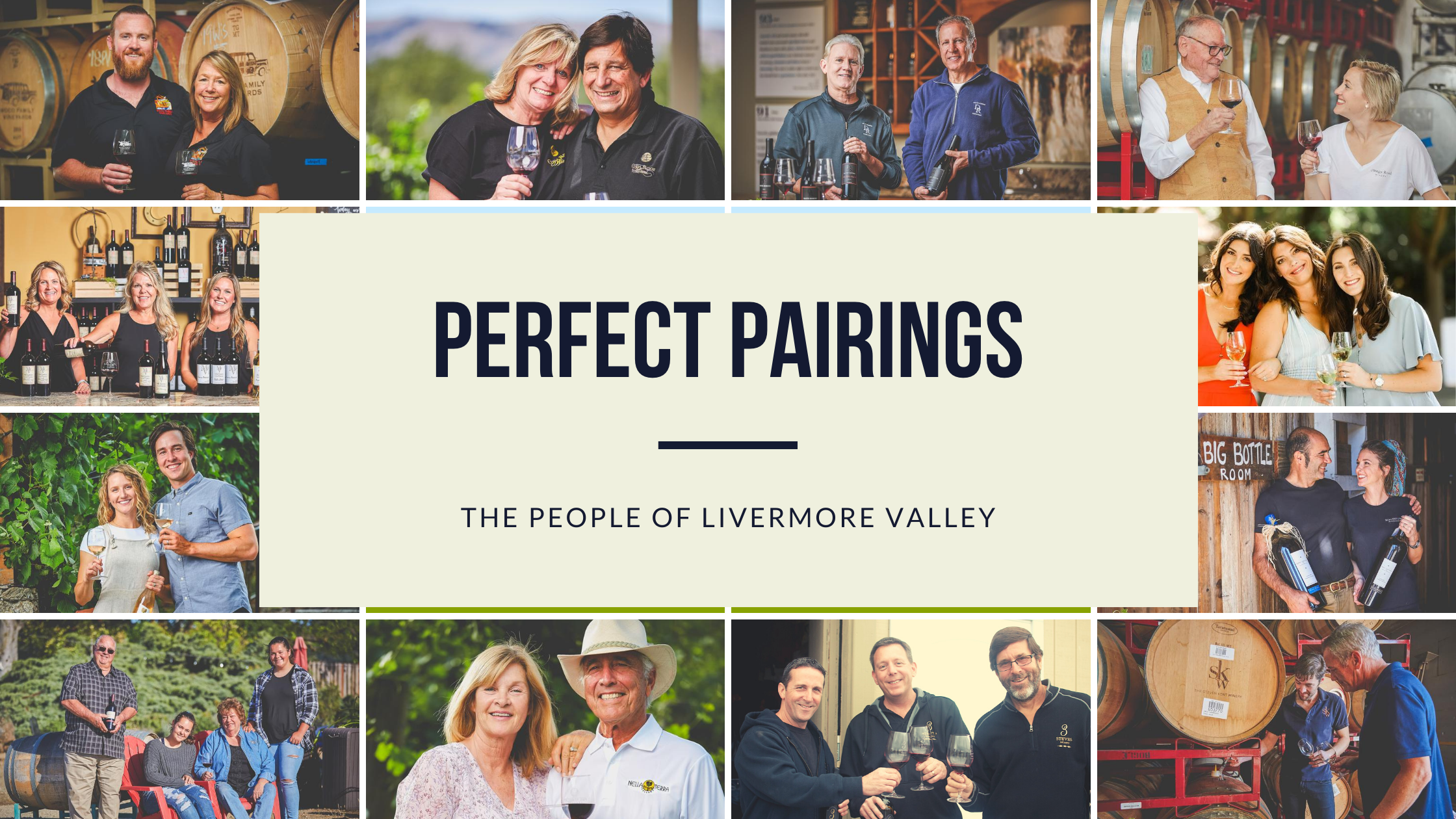 During California Wine Month, Livermore Valley is featuring all of the "Perfect Pairings" we have here in the valley. Starting off with the amazing people of the community. Whether it be family members, a power couple, or a few best friend business partners, we want you to know about them.
The Aults
"Earl and Linda Ault are the owners of Cedar Mountain Winery. The Winery combines the creative interests of Linda and Earl – wine, food, and art. Earl is the winemaker and he is also an accomplished sculptor, watercolorist, and large format photographer. Linda has been a recognized amateur chef for over 20 years"
The Aults bought their first property at 7000 Tesla Rd in 1988 and established the winery in 1990. In 2012 they moved to a smaller property without a vineyard on Reuss Road to focus on handcrafted, small-lot Table Wines and Ports. You can find them there today in their welcoming tasting room!
The Bartletts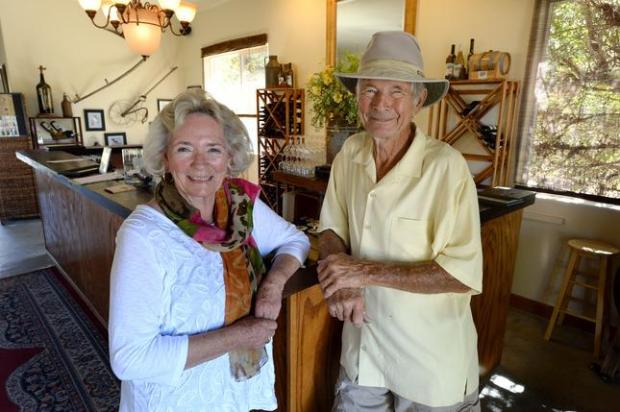 Dick and Bonnie Bartlett, and their family, have called the Livermore Valley "home" for more than three decades. In 2002, they decided to start producing wine, and made the commitment of sourcing 100% of all grapes from the Livermore Valley.
Their tasting room is located at the end of Greenville Road off of the old mining road and nestled amongst dozens of oak trees. You can often find Dick and Bonnie in the tasting room visiting with their guests.
The Beemillers
Nella Terra Cellars is located at the top of a scenic hill in Sunol, CA. The Beemiller family has owned the land since 1978 and wanted to share its beauty with the community. So, they planted their first Vineyard in 2013 and started Nella Terra Cellars Boutique Winery and Event Center.
Founders, Gerry Paulette Beemiller turned their backyard into an amazing wedding venue and winery. Their daughter Whitney is the Event Manager and handles everything from weddings to corporate events on-site. And their son Griffin manages the land, the tasting room, and all things vineyard, wine, and spirits at Nella Terra. Griffin's wife, Kendall Beemiller, is even involved in the family business and is the Wine Club Manager and Event Specialist. If you want to feel like you've escaped to a mini little oasis, then we highly recommend visiting Nella Terra Cellars.
The Caires's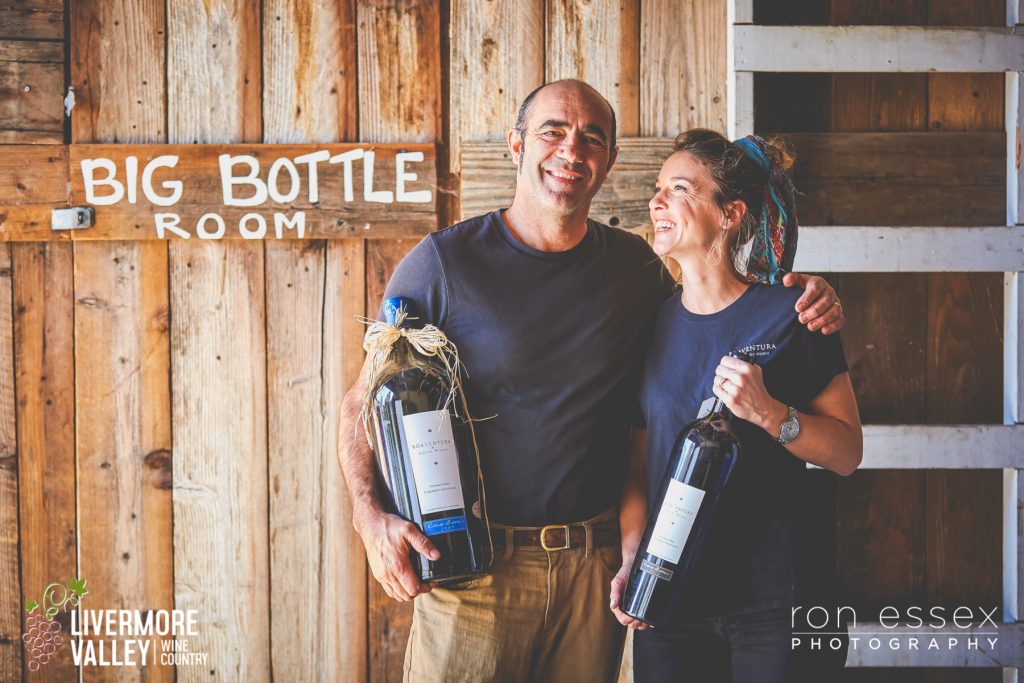 Winemaker and proprietor, Brett Caires, comes from a long line of wine connoisseurs in his family. He grew up with wine being a staple at the dinner table and enjoying it with family and friends. In 1999 Bret followed his dream of owning a winery and purchased a five-acre property with his wife Monique, and they released their first wine to the public in 2002.
The Cranors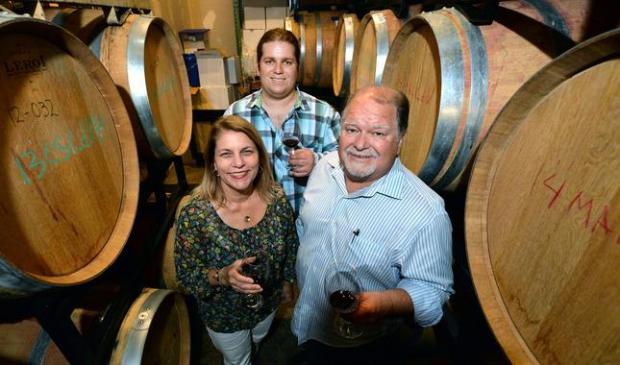 It all started in 2009 for the Cranor family. Proprietors Jeff and Diane Cranor started Nottingham Cellars in the Livermore Valley and pride themselves on their dedication to the pursuit of capturing Cabernet Sauvignon and its accompanying Bordeaux red varieties. Their son, Collin Cranor, is the head winemaker and became involved in the wine industry in 2006 when he helped out a smaller boutique winery as a hobby on the side. After he gained a few years worth of knowledge, he helped his parents start Nottingham Cellars and jumped head first into the industry.
"Nottingham Cellars is focused on and dedicated to the pursuit of capturing Cabernet Sauvignon and its accompanying Bordeaux red varieties with a focus on showcasing single vineyards site specifics." – Team NC
The Culinary Team at Las Positas Vineyards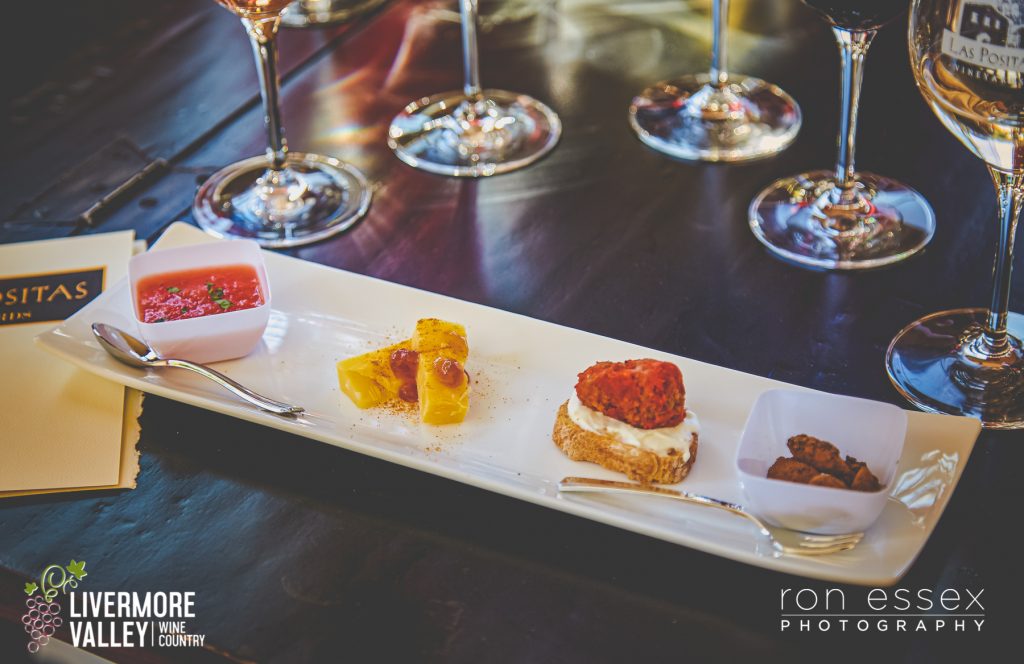 The Las Positas Vineyard Culinary Team consists of, Owner Lothar Maier, GM/Winemaker/Partner Brent Amos, Tasting Room Manager Curt Pipes, and Wine Ambassador Andrew Salvec.  These 4 individuals have a huge passion for the art of pairing food & wine together and are consistently striving to create & develop new and exciting food & wine pairing experiences.  For the last 8 years, utilizing their onsite commercial kitchen, Las Positas Vineyards (LPV) has been committed to always offering a second flight designed to showcase creative and unique food & wine pairings experience for their guests.
Dan & Bob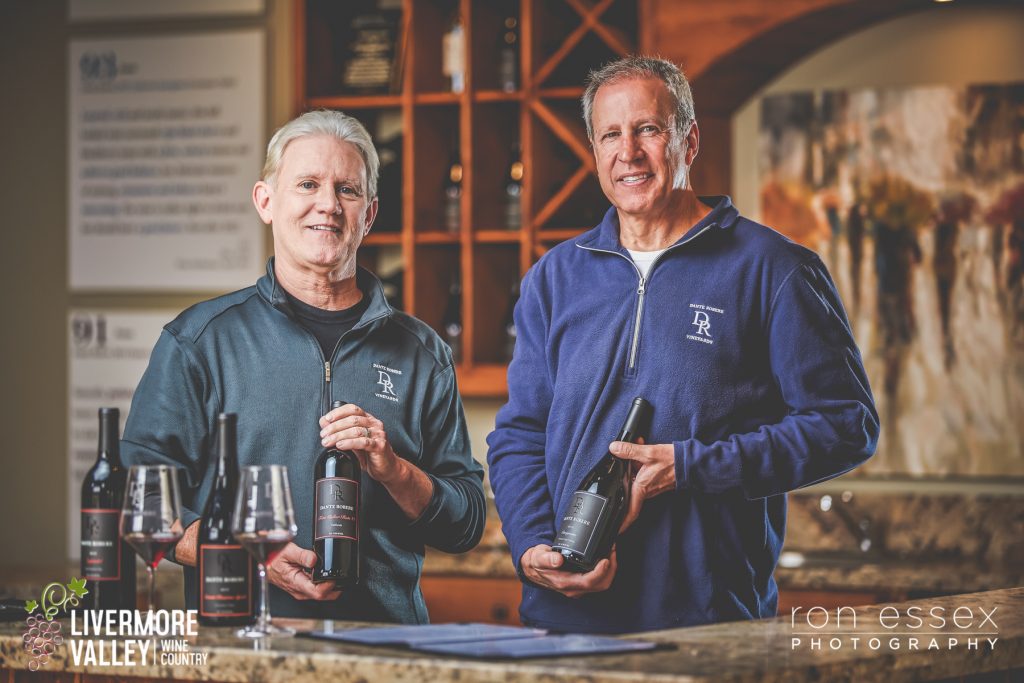 Dante Robere Vineyards. A winery named after two friends with more than 40 years of friendship. In 2007, Dan planted a small Zinfandel vineyard in his backyard and the at-home winemaking process began.
Hoping to turn their new hobby into their second career, they volunteered their time at local wineries to build their knowledge. In 2012 they opened their own winery and their very own tasting room in 2015.
The Henkelmans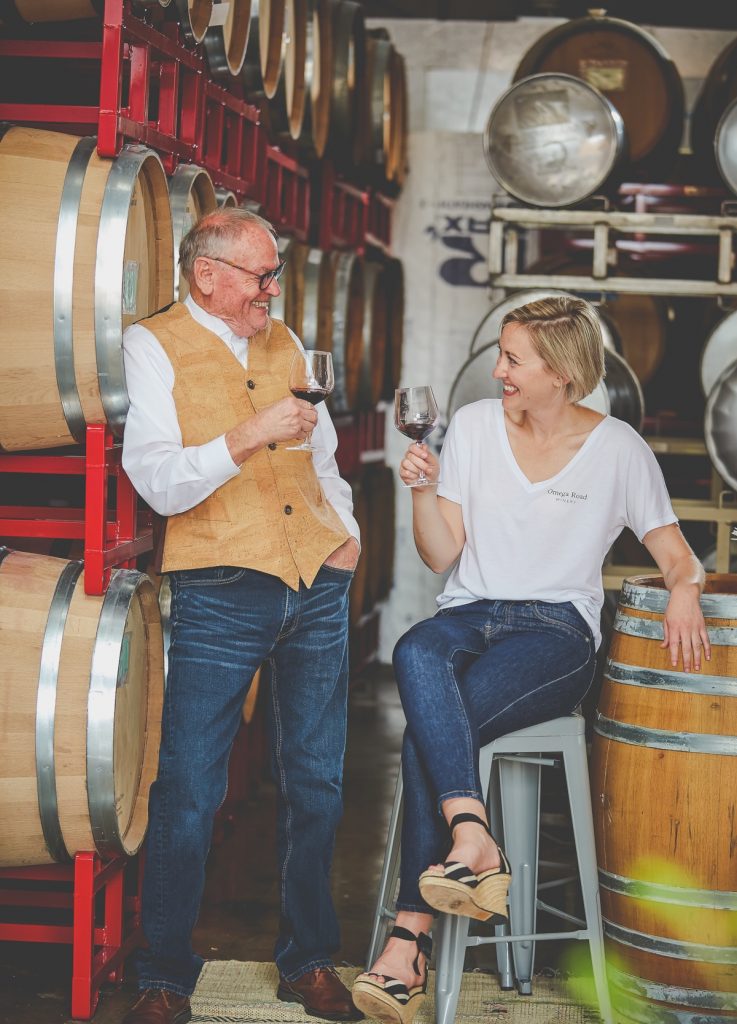 The family of Omega Road Winery believes in "the magic of wine to spark connection, build friendships, and bring people together." Ken Henkelman has always had a love for wine, and started working in the industry in the 1960's at Mondavi Winery and Chateau Montelena under the direction of esteemed winemaker Michael Grgich.
Although Ken took a few years off from what he truly loved, he continued his hobby as a home winemaker where his daughter Alex also fell in love with the art. And finally, in 2011 the father daughter duo came together to start their own winery, and officially opened their first tasting room in 2017.
The Heinemans and the Howells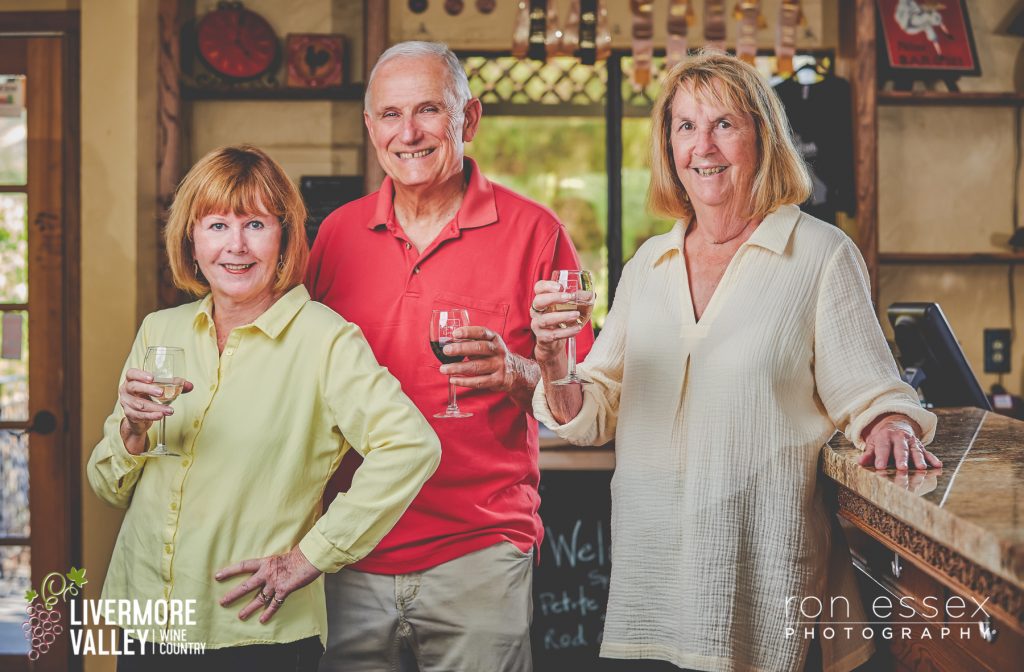 In 1981, Pat and Tom Heineman purchased 12 acres of land in Livermore Valley, with the goal of planting vineyards and selling grapes to local wineries. And after several years of selling their grapes, they teamed up with their friends Rich and Carol Howell and decided they wanted to start their own winery and selling their own wine. In 2002, they opened the doors of Bent Creek Winery.
"Bent Creek's owners work together on every aspect of wine production from caring for the vines, to processing the grapes, to greeting guests in the tasting room." – Bent Creek Winery
Tom Heineman passed away in November of 2019. Pat, Carol, Rich and the team at Bent Creek Winery continue to live on with his legacy and love for the land and wine.
The Kents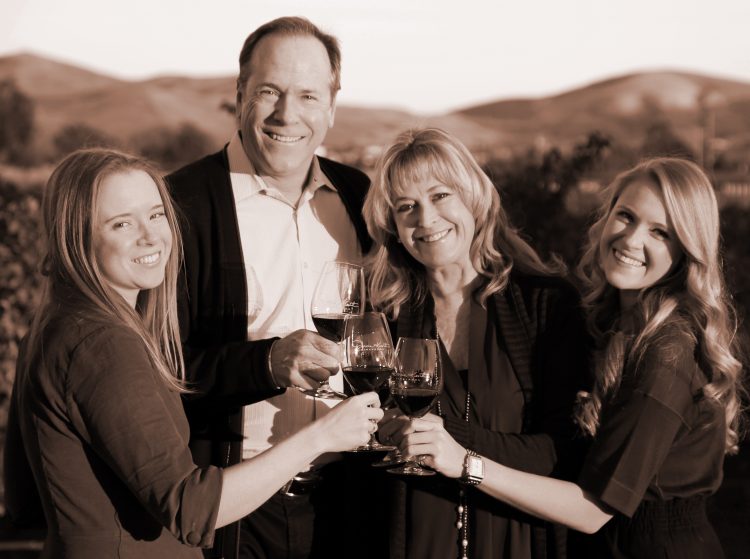 The Kent's winemaking history goes all the way back to 1875 when Darcie's great, great grandparents moved from Switzerland to America to pursue a career in winemaking. In 1883, the family started The Alpine Winery in Missouri, which held bond #62 in the United States. Unfortunately, when prohibition hit in 1945, the family winery was forced to close.
Darcie Kent continued her family legacy as a fifth-generation vintner/artist by establishing Darcie Kent Vineyards in 1996. Darcie also followed in her family's footsteps by hand painting her own wine labels.
"Along with her husband David and her two daughters Kailyn and Amanda (sixth generation), Darcie Kent is committed to combining Livermore Valley terroir along with her artistry and passion to forge and sustain a world-class, family-owned estate winery." – Darcie Kent Vineyards
The McGrails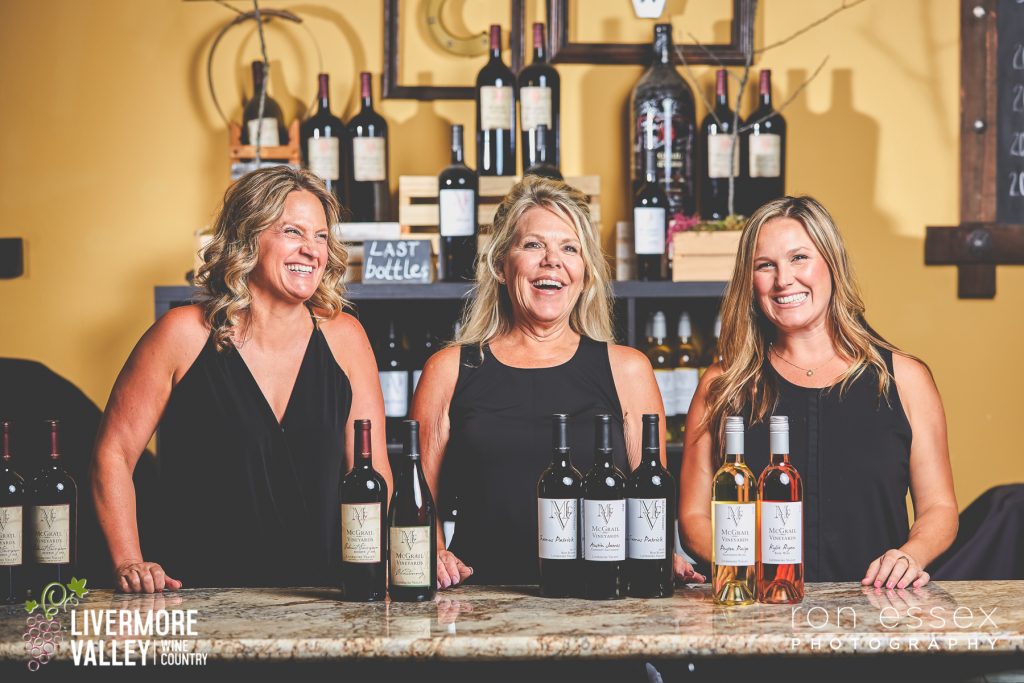 It's a true family affair at McGrail Vineyards. It all started in 1999 when Jim and Ginger McGrail planted the Cabernet Sauvignon vineyard and started to sell their fruit to The Steven Kent Winery. By 2005, the McGrail's started production on 1,000 cases of wine and decided to start their very own winery. Eventually, they needed some extra help running.
In 2008, daughter Heather McGrail joined the team and helped her parents complete the tasting room and open their doors in April of 2008. And in 2009, Jim and Ginger's daughter-in-law, Rachel joined in on the family business. But it doesn't stop there. Each of Jim and Ginger's grandchildren have a different wine named after them, and you can find many family portraits in the tasting room!
Although Jim McGrail, unfortunately, passed away back in 2017, the family continues to "carry on Jim's traditions and passion for family, friends, and great wine!" – The McGrail Family
The Mirassous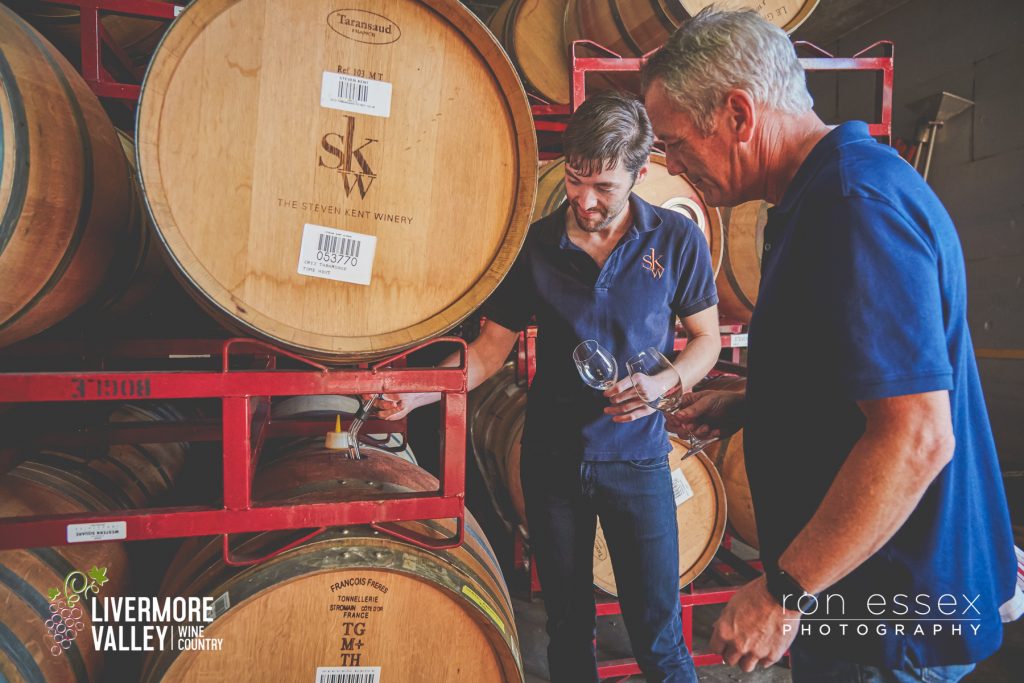 When winemaking families go back generations after generations, that's when you truly know the art of winemaking runs in the family. Steven Mirassou is a sixth-generation winemaker and started The Steven Kent Winery with one mission, " to make Cabernet here in the Livermore Valley that rivals in quality the greatest red wines made anywhere in the world." And we have to say, he's accomplished that mission and still works harder every day to try and make it even better.
Now, Steven is working with his son, Aidan Mirassou; seventh-generation winemaker, to continue their mission, grow Steven Kent legacy, and make high-quality Cabernet from Livermore Valley Wine Country.
The Perrys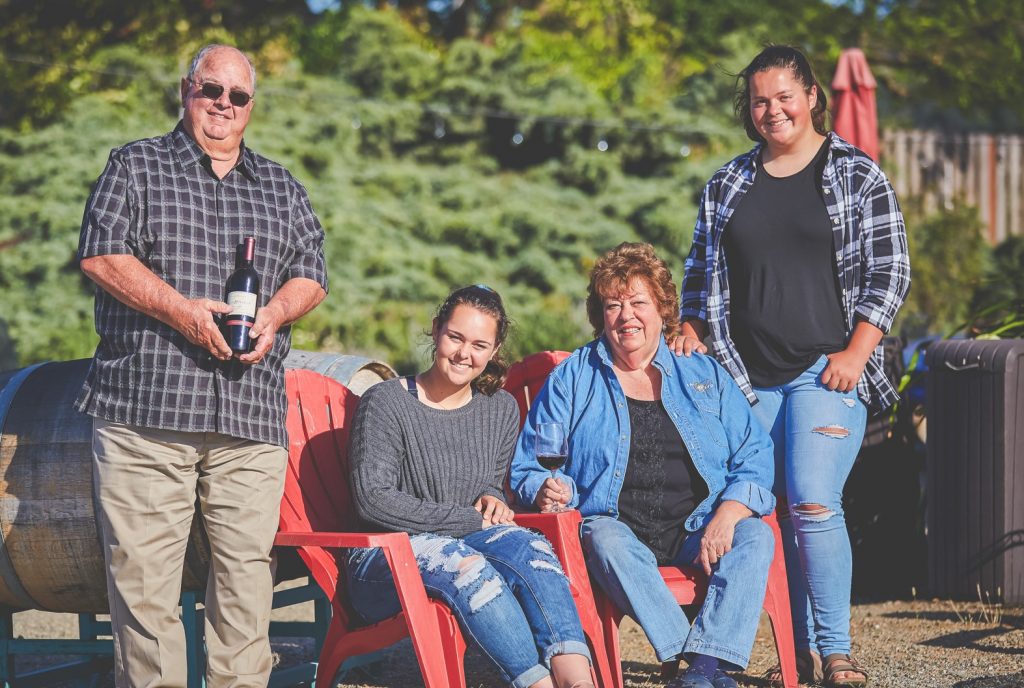 Eagle Ridge Vineyards was started when Jim and Cheryl Perry's 25+-year-old hobby turned into starting their own winery in 2001. In 2004, the Perry's had their first harvest, and in 2007 they opened their very own tasting room.
The Perry's pride themselves on being a family-oriented winery. In fact, you can often find their children, in-laws, or grandchildren helping out in the tasting room. It's a family business that specializes in using only Livermore grown grapes to showcase what great fruit and wine can be crafted here in the Livermore Valley.
The Powells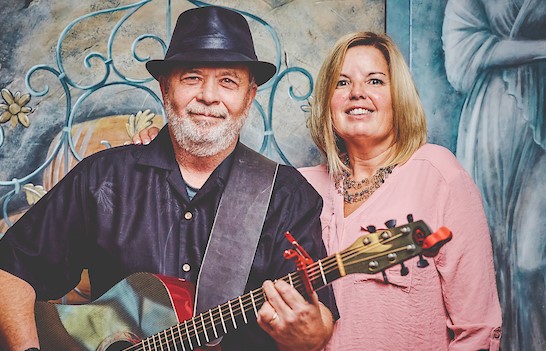 Steve and Karen Powell are the proprietors of The Singing Winemaker. Steve, winemaker and "Singing Winemaker", splits his time in the winery between the barrel room and entertaining the guests in the tasting room.
"Enjoy the beautiful surroundings, friendly staff, and great tasting wine, great music, and lovely art, you too will feel the love and can become a part of our Tesla Vintners family. " – The Singing Winemaker
The Steves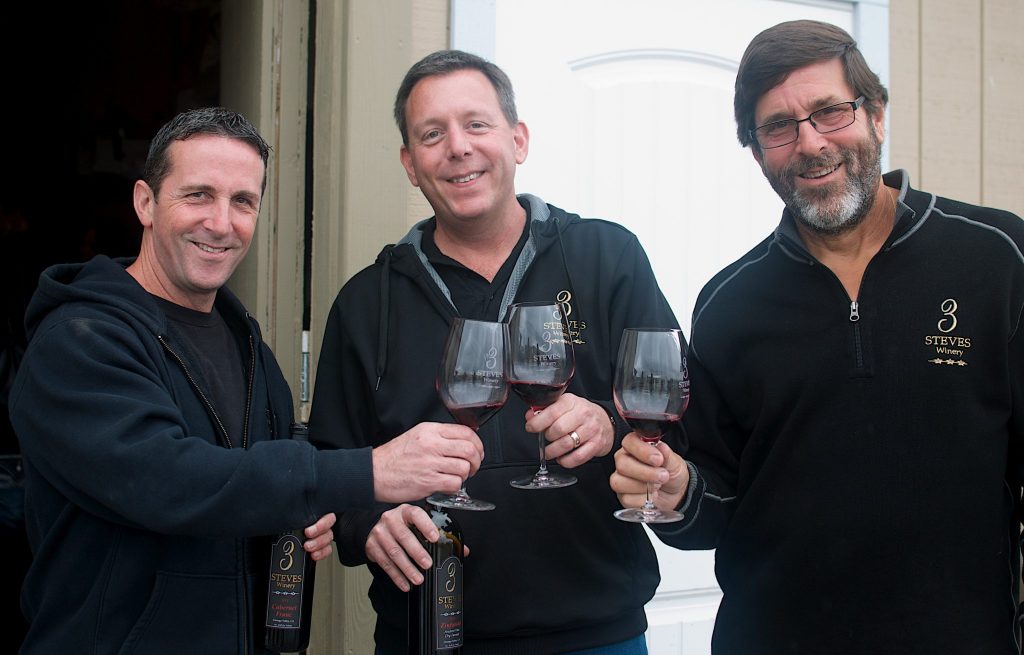 3 Steve's Winery was started in 2012 by three good friends named Steve. They all previously owned a portion of a small boutique winery before they decided to venture off and start a winery of their own.
In July of 2013, they opened the doors to their tasting room in Livermore Valley and have continued to share their love of quality wine and friendship with a motto of "3 Friends Striving To Make The Perfect Wine."
The Taylors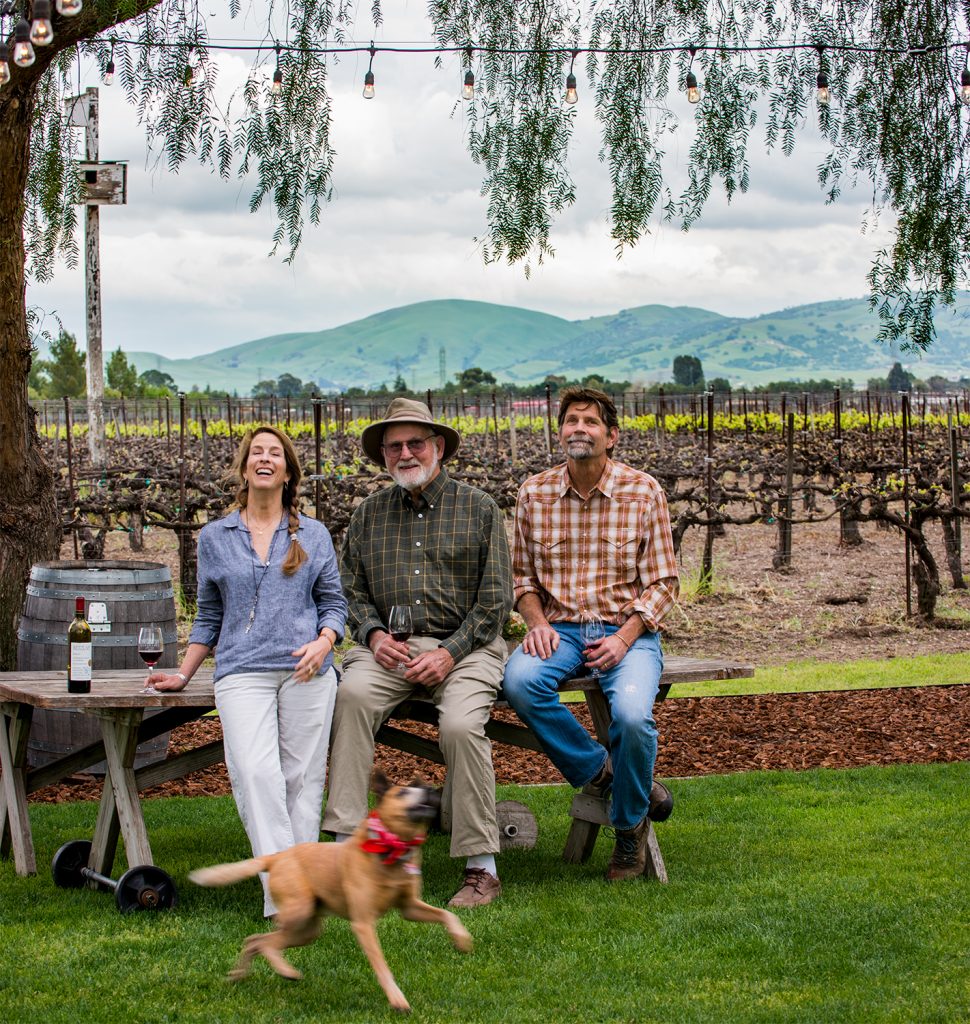 The beginnings of Retzlaff Vineyards was a little more unexpected than most. It all started in 1980 when Bob and Gloria moved to France for a year for Bob's sabbatical to work at the world's largest solar research facility. After experiencing the French culture and how much they love wine and highlight the tradition, Bob and Gloria decided to take a little of the French tradition home with them.
They began by planting vineyards on their property and selling grapes to local wineries, including the Wente family. But eventually, they started producing and selling wine of their own.
Today, Retzlaff is still a family run business by Bob and Gloria's sons Aaron and Noah, and daughter-in-law, Salome. Gloria Taylor passed away in 2009, but the Taylor family continues to share their love of wine with the community.
The Volpattis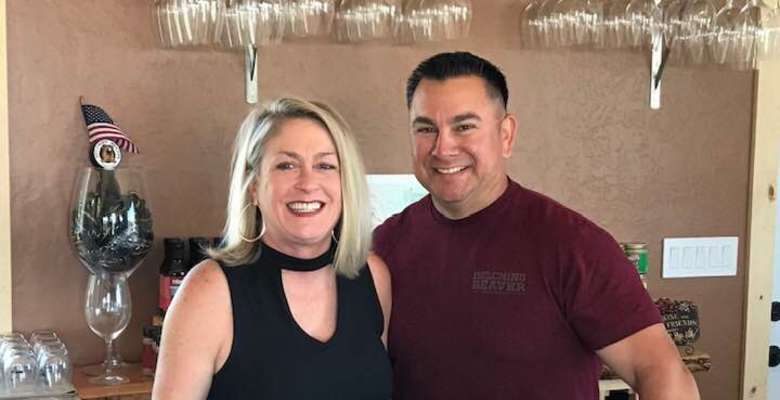 Rick and Kelly Volpatti say that they owe their start in winemaking to many locals; including Rhonda Wood, Mark Clarin, the Steves, Collin Cranor and more. In 2016, they opened their first tasting room off of Leisure Street and then expanded to a larger location in 2019 off of Tesla Road.
The Volpattis are excited to continue to grow, and are "looking forward to making great wines and representing Livermore Valley." – Leisure Street Winery
The Wentes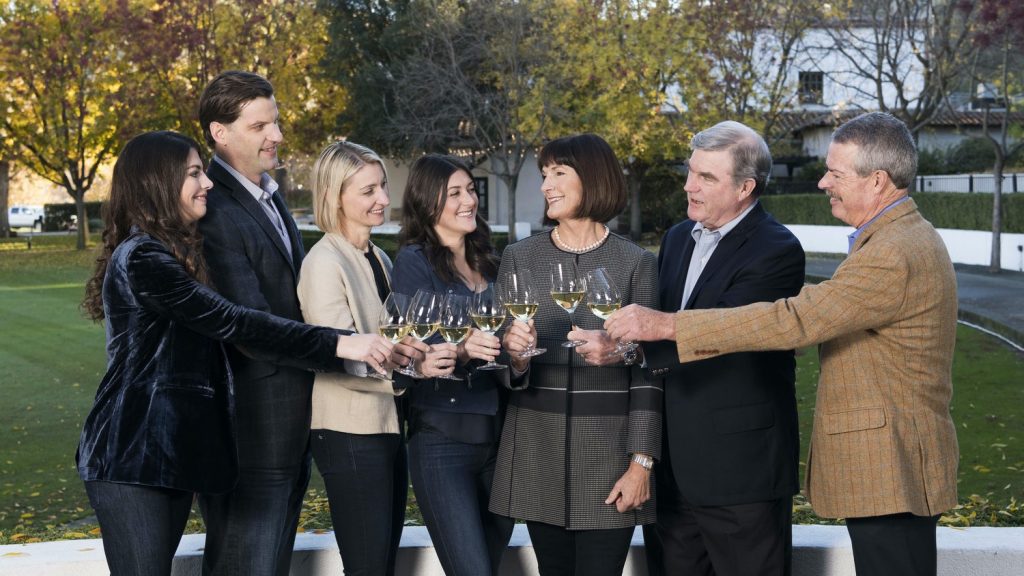 Known as California's first family of Chardonnay, the Wente family started their winemaking history in Livermore Valley in 1883 when they purchased 47 acres of vineyard land.
In 1912, Ernest Wente brought over Chardonnay cuttings from France and sourced them with cuttings from Gier Vineyard in Pleasanton to create the Wente Clone and earn the name "California's first family of Chardonnay."
Wente is the country's longest, continuously operated family-owned winery and is currently being run by 4th and 5th generation winemakers and winegrowers.
The Woods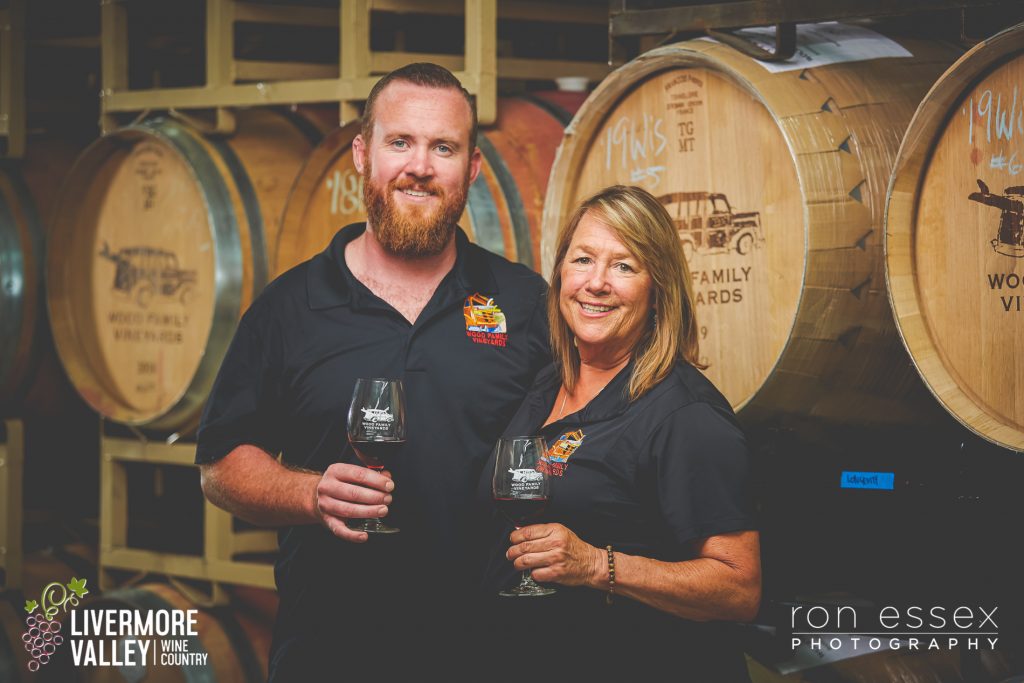 Wood Family Vineyards was started in 1991 when winemaker and proprietor, Rhonda Wood, found herself with some extra time on her hands after USAirways required a disability leave of absence once she found out she was pregnant. So, she decided to try some new things including brewing and winemaking.
Rhonda and Husband Michael always enjoyed visiting wineries and touring vineyards, so they decided to plant 18 vines in their backyard to continue Rhonda's hobby of winemaking. Then, in 1995 Michael and Rhonda decided to visit Livermore Valley for the annual Harvest Wine Celebration and came across a vineyard property for sale and decided to purchase it and expand their winemaking hobbies. And 11 years later, Rhonda decided to officially resign from USAirways and become a fulltime winemaker.
Thank you to Ron Essex Photography to capturing the people of Livermore Valley so beautifully!