Reduce, Recyle, Refill: Wine Glass Planters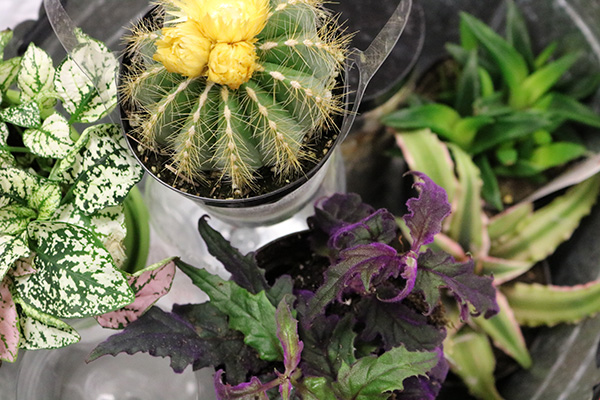 Looking for a way to celebrate Earth Day? We are reusing our wine glasses from events like Barrel Tasting Weekend and Harvest Wine Celebration and bringing some fresh greenery into our homes and offices. Want to join us?
Items you will need:
Wine glass, bottle with neck cut off, or other pot of your choice
Gravel or small rocks
Potting soil
Succulents or leafy plants of varying size and color
Moss, small rocks, crystals, or other decorative items
Step 1: Find your pot
We are using some old glasses from our tasting events, both glass ones and our newer Go-Vinos, as well as a wine bottle that had it's neck cut off. Directions on how to cut glass can be found here, if you want some more DIY projects. The size of your glass will determine how many plants and decorations you will be able to feature.
Step 2: Choose your Plants
 We suggest doing no more than two small plants in each glass, as you want to give them enough room to breathe. Try and choose plants that have varying colors. For example, a leafy plant with purple and green leaves will pair nicely with a bright green succulent.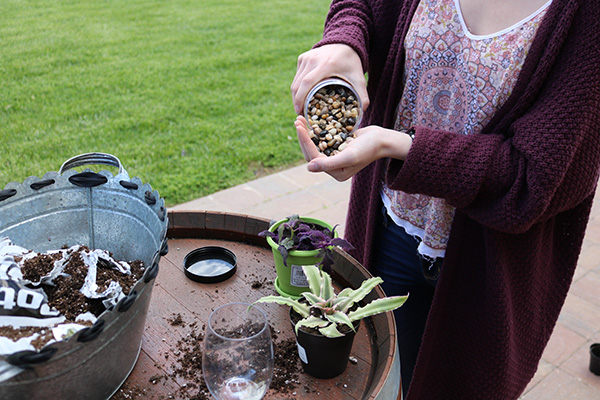 Step 3: Add a layer of gravel at the bottom
Since wine glasses and bottles do not have drainage holes, the gravel will act as a drainage area. You can do different layers of rocks and soil to create a pattern if you would like, the creativity opportunities are endless. Just make sure you have at least an inch of drainage area.
Step 4: Add potting soil
Depending on the type of plants you are planting, you may want to ask at your local nursery about which soil is best. We used an all-purpose soil as we were planting a few different types of plants. Fill the soil to about an inch from the top of your glass or bottle. You want to leave room to place your plant and fill in around it after it is placed where you want it.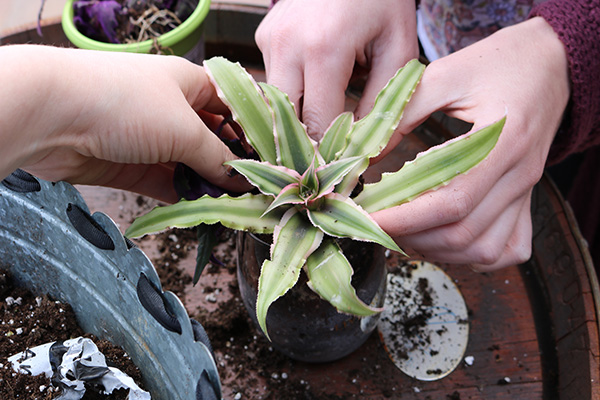 Step 5: Place your Plant
Remove the plant from the pot that it came from and gently move the roots around to loosen up the dirt. You want to get rid of most of the dirt from your plants roots, so that you can place it into the wine glass. With the limited amount of space, you will fill the dirt back in after you have arranged your plants. Arranging your plants before filling in the rest of the glass with potting soil.
Step 6: Decorate the top
 You can keep it simple and use the same gravel you used on the bottom of your glass, or you can add items like moss, crystals, etc. The smaller or fewer plants you use, the more room you will have for this decorative step.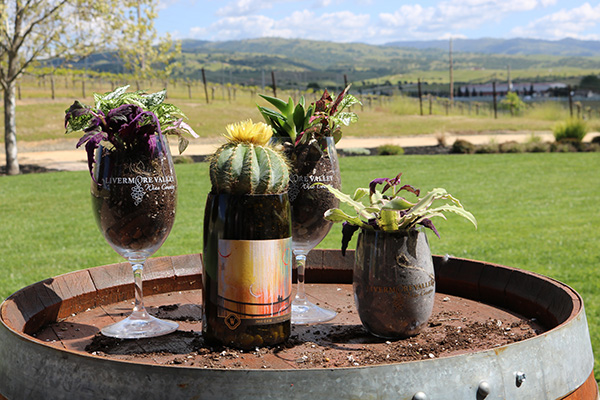 Step 7: Display your beautiful plants
This is the best part, find a sunny spot in your home or office to display your new beautiful plant. Enjoy bringing a bit of wine country into your home and all the benefits that fresh greenery can bring!
Share your wine glass planters with us using the hashtag #LiveaLittleMore and tag us on Instagram @LivermoreValleyWineCountry
View and share the video here: https://youtu.be/C1jqZgKWRtM