The Coziest Tasting Rooms in Livermore Valley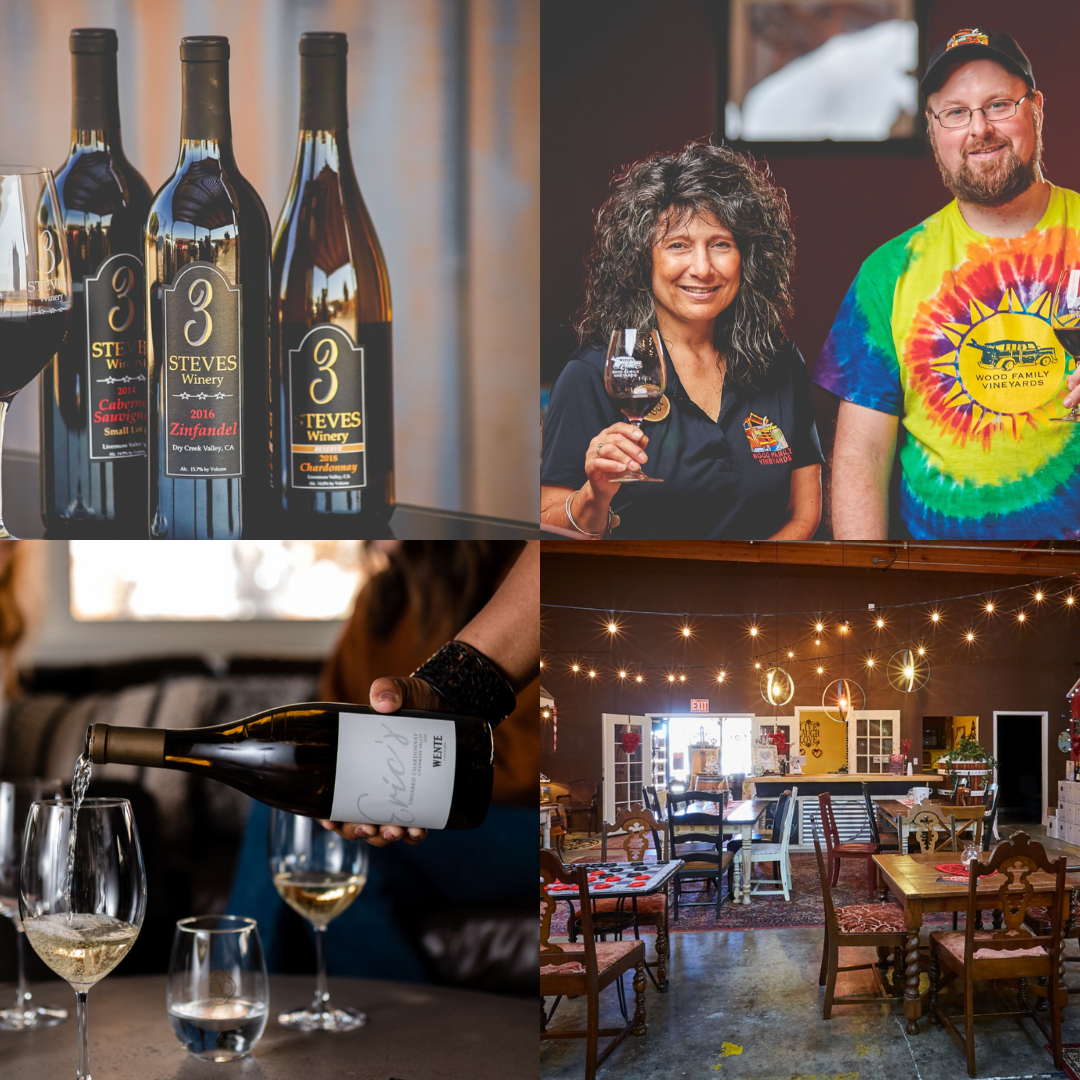 Looking for a great way to unwind? A place to gather and be with friends and community? There is nothing cozier on a drizzly winter afternoon than curling up with a glass of wine. And while a glass of wine at home is nice, it's a real treat to get to settle back–maybe even around a firepit–and talk directly to winemakers, hearing from them about the wine they produce and getting to taste the perfect flight. This winter, the rain has been tapping–well, pounding–on our windows and we have been finding so much joy in the warm and welcoming tasting rooms of Livermore Valley Wine Community. Here are our top cozy spots this season.
Wente Vineyard Tasting Lounge
The Wente Vineyard Tasting Lounge is nestled into the rolling hills of the Livermore Valley. With indoor and outdoor patio seating–complete with the all-important toasty fire–Wente Tasting Lounge is the perfect place for a tasting rain or shine. They offer a selection of Certified Sustainable estate-grown wines in an idyllic setting in wine country. Tastings run between $35 and $80 with a Reserve Tasting featuring four small-lot wines served with dishes crafted by our in-house culinary team to compliment and accentuate the wine's flavors. Wood-fired pizza and seasonal ingredients make this an extra-special stop. Reservations required.
Longevity Wines
Lovegevity Wines has expanded their tasting room! The cushy couches, vintage lamps, and eclectic furniture makes Longevity homey and unique. Their expanded space remains ultra-welcoming with visitors sipping glasses among the wine barrels or tucked behind sliding barn doors. Longevity is open for indoor and outdoor seating and kids, dogs, and outside food are welcome. Reservations are recommended if your group is over 6 people (including children). 
Wood Family Vineyards
The Wood Family Vineyards is always a good time. This two-generation family run spot is committed to making luscious handcrafted wines and making sure guests feel like extended family in the tasting room. You can choose from Barrel seating, Couch seating, High Top Game Tables and even a spot in the Barrel Room which is kept at 60F year round. No matter where you sit, good times are in store. Stop by on a Wednesday or Friday for live music that pairs beautifully with the wine. A tasting here consists of 6 pours and costs $20. Reservations recommended, especially on weekends. 
3 Steves
From taco trucks to comedy at the vineyard, there is never a dull moment at 3 Steves. There is plenty of outdoor seating and a barrel-lined indoor tasting room making this the perfect spot for a get-together with friends. Pull up a seat-if it's sunny be sure to snag a coveted adirondack chair-and enjoy the laid-back atmosphere of the vineyard. You might even meet one of the three Steves! No reservations required.
Make the coldest season of the year extra-special by visiting the stellar wine community in Livermore Valley. Here, incredible and meticulously crafted wine is joined by a relaxed atmosphere and family and friend-run businesses. These vintners and growers care deeply about their craft and the community they create. It shows up in the attention to little details, the welcoming tasting rooms, and the warm experiences they offer. Cheers to cozy season in Livermore Valley!