Touchdown for Livermore Valley: How wine tasting is like playing football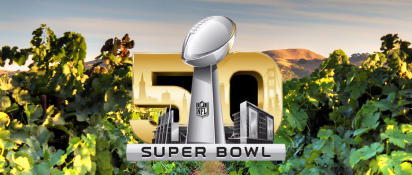 Rumor has it that beer and football are the perfect pair, but have you ever thought about how football and wine tasting are similar?  I know, it sounds ludicrous!  One features pads, balls, and wrestling on a field while the other is the essence of class and sophistication, but hear me out.
Everything takes place on the field, which you could argue is similar to your wine country map.  With the streets and wineries on the map it looks like an incredibly complicated play.  You'll need your game plan of which wineries you want to visit and don't forget to notify the Quarterback!  He or she is your trusted designated driver who will literally drive (see what I did there) you from place to place.
Alright, let's head out to wine country (singing of the National Anthem optional).  Grab your group of friends, or team, and don't forget to include any rookies!  Not sure what to wear?  Your wine country casual uniform, of course!
At each winery you are greeted by the Referee, or the person behind the bar.  They will walk you through your wines and make sure you don't commit any fouls.  Just as in football, there are wine tasting fouls that can be called on you.  Be sure not to commit any of the following:
False start: wine tasting on an empty stomach
Personal foul: chewing gum while wine tasting
Roughing the passer: spilling wine on a teammate or someone on another team
Like football, the highlight is the touchdown: finding that amazing bottle of wine to take home with you.  Feel free to drop to one knee right in the winery and pull a Tim Tebow.
Livermore Valley wineries, just 30 miles from Levi Stadium, have exciting events in the weeks before, during and after the Superbowl!  If you're flying into one of the Bay Area airports, stay right here in Livermore Valley.  You can make sure you don't get called for a false start by trying any of our amazing restaurants and if you need a ride around wine country or to the Super Bowl our transportation partners are here to help!
So with that, let's adhere to Peyton Manning's play call and "hurry hurry!" out to Livermore Valley to taste some delicious wines.  Ready, set, HIKE!