True Meaning of Membership
Wine club membership is a great way to stay connected with your favorite winery. Not only do you get access to exclusive wines, special events, and discounts; but you also have the opportunity to build relationships with the people behind the scenes who are passionate about what they do. Being part of a wine club can be an incredibly rewarding experience, as it allows members to become part of something bigger than themselves and contribute their support for all that goes into making each bottle of wine unique and special. Benefits can include access to limited release wines which tend to be small lot and passion projects of the winemakers, attending private tastings in the winery cellar or touring vineyards on a winemaker-led tour. Being a member opens doors that would otherwise remain closed. 
Getting to know the style of a winemaker is like getting to know the work of an artist. It can be a great way to expand your knowledge and appreciation for wine. When you find a winemaker who's taste matches your own, tasting their full portfolio can help you discover new varietals that you may not have previously considered
Club membership often means you'll enjoy complimentary tastings, but you also get to invite guests and pick up your shipments right at the winery. That alone makes for the perfect excuse to visit often and relax in the garden or cellar with your favorite wine, in the best seating area with the most excellent hospitality.
In Livermore Valley our wineries are known for the best parties. From deluxe events with incredible food and drinks, to live music performances, shopping experiences that are curated just for members, and more – there's something for everyone at these special gatherings. Joining a wine club is all about making connections with other like-minded people who share your passion for fine wines.
Read more below about the specific benefits that set each of these wine clubs apart, and learn about all of the great upcoming events. As always you can find the full listing of winery happenings on our event page.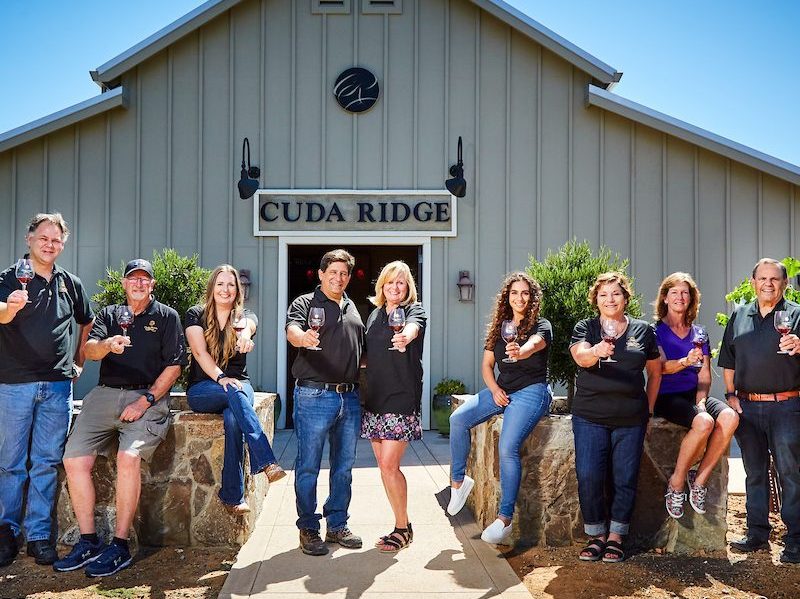 BOAVENTURA DE CAIRES WINERY We have 2 wine club options, one of which gets you vintage wines from our cellar. We hold back and age about 15 cases of every wine we make and cellar it. Then we re-release it to the wine club members years later. We host a quarterly club party with live music and food and we open all the wines everyone gets so you can taste what you are taking home including the vintage wines. Our Holiday party is by far the most fun and festive. Winemaker Brett makes his famous soups, we have live music in the barn which is all decorated for the season, including a huge tree, and we even bring out the firepit and s'mores.
CHARLES R VINEYARDS We are a close knit group who support each other in both the good times and bad. We have had members visit us when they are going through a tough time because they know we are a safe place for them. We do not take the responsibility lightly. We want everyone to feel like they are home. Our wine club members enjoy a 15% discount on any wine purchase, they also can come in and get a free tasting flight, which includes a port tasting for themselves and 3 additional guests. We do not limit how many times they come in a month to enjoy their free tasting flight. On the day they sign up, they can take advantage of a 25% discount on their purchase of wine. Our weekend concerts in the Summer are the most fun on the patio – with local music, fantastic food and delicious wine, of course! Our guided hikes to the top of the hill are a more exclusive and serene experience. And coming back this year is our Secrets of the Cellar series, where we explore all sorts of cellar secrets with a small limited group – from library wines, to barrel tastings, to the stories behind some of our favorites.
CONCANNON VINEYARD The Concannon Legacy Club is designed for the wine enthusiasts who search for prestigious wine, whether that be a perfectly cellared library vintage that can be enjoyed at a moment's notice, or a limited production bottling of Clone 7 Cabernet Sauvignon or Heritage wines to savor for years to come. Membership availability is limited as the wines are rare and extremely small production. Note, the Concannon Legacy Club is to be enjoyed alongside a Club 1883 or Cabernet Club Membership. Concannon's Spring and Fall Release Events create a gathering unlike many others. The expansive estate is buzzing with activity with numerous pouring stations featuring new releases, a lineup of local musicians and bands, and a variety of food trucks. This is a private, member-only event.
CUDA RIDGE WINES At each wine release, we curate perfect pairings with our wines and food from local restaurants. Benefits for club members include discounts on wine, complimentary events such as our music on the vineyard patio, special discounts to our food pairing dinners, access to small-lot, limited wine releases, and other events with outside vendors. Our most memorable event is always our S&M Release party – a blend of Sangiovese and Malbec.
DANTE ROBERE VINEYARDS What sets the Wine Club at Dante Robere Vineyards apart is the personal attention and interaction with our Owner-Makers, Bob and Dan. In addition to the typical perks of a wine club, our members have access to our private cellar room at no cost. This includes a seated tasting experience for 8, all complimentary. Whenever possible, Dan and Bob attend to the private cellar guests personally.
DARCIE KENT ESTATE WINERY AND ALMOST FAMOUS WINE LOUNGE At Darcie Kent, we're not just a winery, but an art gallery too. Club members get the friends and family price when they collect Darcie's original artwork. They take home beautiful paintings that forever enrich the color and life of their home. In addition, our members get their club discount at both of our wineries: Darcie Kent Estate Winery, and Almost Famous Wine Company. It is fun to have two places to taste wines! Finally, our club release experience is very deluxe, with catered wine and food pairings (often by Zephyr Grill and Bar,) live acoustic music, and an exclusive end of vintage sale.
EL SOL WINERY Members get to customize their shipments and pick exactly what they like so there are no disappointments. A six pack purchase every six months is all it takes to qualify for membership. Our best perk is that members are able to use the winery facilities for personal events or family gatherings at no cost to them. Every month we have a Wine Club weekend where we offer extra discounts and a nice complimentary Taco meal.
FENESTRA WINERY Our members get first crack at our new releases to both try them and to purchase them, plus there are special wines for our wine club members that non wine club members may never get to taste. We give our members a discount on all wine purchases. Besides being treated like family, we have been told that our Release Parties are top notch. These parties always fill up with long waiting lists. We do not charge members to come to the Release Parties and we pride ourselves on offering amazing food pairings with each wine they try.
LAS POSITAS VINEYARDS Rancho Las Positas Wine Club Members enjoy a few unique benefits. Our quarterly Release Parties are the best. We are closed to the general public for the entire weekend and we invite all of our members to enjoy a food and wine pairing experience as they pick up their shipments. We also have a monthly Wine Club Wednesday that features different theme food & wine pairing. When visiting the winery members receive complimentary tastings for themselves and up to 2 guests. We think that each of our release parties are extra special with a different theme each time where we can celebrate our members.
MCGRAIL VINEYARDS AND WINERY At McGrail, aside from great wines, hospitality is one of our greatest attributes. Cultivating relationships with our members, learning about their favorite varietal, remembering their visits or past conversations, is all part of the community we love to build within our wine club. Our selection club allows our members to choose the wines of their liking & nobody is going home with something they are not a fan of! Our members enjoy complimentary tastings, elevated experiences, like our cabanas and vineyard tours, and invitations to special events. We also have a beautiful and newly renovated barrel room space that is our "Members Lounge" for members to enjoy a glass or bottle of wine after their tastings. Our favorite event to host is the Member Appreciation Party which is held in January every year. This past January, we hosted an intimate lunch experience, perfectly paired with our most favorite wines, live music and a great sense of community amongst our members who have become our extended family! A few other favorite events include our Annual Lobster Feed, Friday Night Live Concerts on the lawn, and Yoga and Wine.
MURRIETA'S WELL We like to say our wine club is a community. We hope to give our club members a personal touch and bring them together to enjoy the property and our tasting experiences. As part of our club members get exclusive access to events and wines. There are also unique shipping benefits. We are excited to announce the reopening of our club lounge starting in March, an oasis for our members to come and enjoy the property. Of course, we love to add on a little extra wow but to find out exactly what that is you have to be a club member. We have many club-exclusive events with our winemaker Robbie Meyer and founder Phil Wente. This year we will feature an early access club exclusive sunset hike on March 23rd.
NOTTINGHAM CELLARS We host four releases each year selected by our winemaking and hospitality team to pair with seasonal cuisine. Our focus is and always will be Cabernet Sauvignon and its Bordeaux counterparts, but we always have a few surprises in store for each vintage. Our release parties are always a hit with members in addition to the benefits of discounted wine, complimentary tastings, and first access to new releases.
OCCASIO WINERY Our wine club is committed to providing our members with an enjoyable and unique experience. We offer a range of wines, from everyday favorites to rare heritage and library selections that are not available anywhere else. Members have the freedom to choose which bottles they receive each month or skip shipments if needed without losing their membership privileges. As a reward for loyalty we award points for every purchase which can be used on future purchases. We also host exclusive events throughout the year where members can sample new releases before anyone else and learn about wine making techniques from experts in the field. Plus they will get special pricing.
OMEGA ROAD WINERY Club members at Omega Road are more than guests, they're part of the family! All members receive a complimentary tasting every time they join us in the tasting room. Additionally, they receive discounts on wines and events. Finally, members have access to attend our winemaker dinners where we pair each new wine with a dinner course. When we release new wine, we host a winemaker dinner for members. We're also expanding our club events this year… stay tuned!
PAGE MILL WINERY Club members have access to the half yearly sale which gives them extraordinary discounts on current release wines, as well as access to library wines and private member only events on the beautiful patio at Page Mill Winery. Underground Wine Club Members are invited to attend multiple events throughout the year including spring release parties, private tastings and holiday parties.
RETZLAFF VINEYARDS AND ESTATE WINERY Our members benefit from quarterly release parties, tastings for members, and discounts on wines. We also offer discounts on picnic space and special winery events.The release parties are always fun, live music, a delightful seasonal food pairing of some sort and of course the opportunity to meet the winemaker and make new friends.
RODRIGUE MOLYNEAUX WINERY We offer a personal touch to our club members' experience. We offer them a choice of two complimentary tastings or two glasses of wine poured at their table. Our generous discounts also apply for our library wines, and for their guest fees. Every quarter we have a wine club only special wine release event and members are allowed to bring two guests free. In summer club members are allowed to stay an extra hour for "wine hour". Members are given priority to attend our wine education classes. We have many club members who have been with us for many years, and we like to greet them by name and make them feel welcome to our winery.
ROSA FIERRO CELLARS Our "Big, Bold, Beautiful Wine Club" is a simple, affordable wine club without a lot of complicated tiers or heavy commitments. Our members can build their own release or enjoy the release suggested by Rosie. Our quarterly club pick up parties are a lot of fun, and usually involve lots of laughing, dancing and forging new friendships with other club members. We also have an exclusive Club Room that our wine club members and their guests can enjoy. It is not unusual for Rosie to invite club members for a quick visit into the barrel room to taste their favorite up-and-coming wine right out of the barrel.
THE STEVEN KENT WINERY Wine club members receive discounts on additional purchases as well as off ticketed events. Special access to library wines and private tastings are additional perks.Our most exciting event is the Club Member Appreciation Weekend, the 2nd weekend in December. Members enjoy cheese, charcuterie, and small bites along with tasting many library wines.
WENTE VINEYARDS AND TASTING LOUNGE Our wine club members are an extension of the family. They have their own lounge and area at our tasting lounge and get complimentary tastings for up to four people. Beyond discounts on the wines, they get discounts on our many events, and special perks or the occasional reciprocal benefits at our sister winery Murrieta's Well. We have occasional member only events like tasting with the winemaker and dinners. We have four release parties a year for club members only. Of course, we love to add on a little extra wow but to find out exactly what that is you have to be a club member. Our release parties, and White Party in May – special discount on tickets not a club only event.
WOOD FAMILY VINEYARDS Each club receives discounts and comped tastings, but what makes them special is the events. Not only are club members invited to wine release parties, but we also have hosted wine dinners, concerts, blending courses, live music, food pairings, house parties, cruises/trips, and other special events that are either club-exclusive and/or are discounted for club members.