Cheers to the Harvest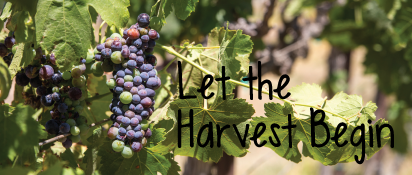 It's the most exciting time of the year!  The grapes are starting to be harvested off the vines, ready to create the newest vintages of our favorite wines.  Of course, we have to wait a few years to see what these 2017 grapes will deliver, but that doesn't mean we can't have a little wine in the meantime.  The best way to celebrate the harvest?  By raising a glass at Harvest Wine Celebration on September 3rd!
This year the event is going to be better than ever.  On Sunday, more than 35 wineries are gathering atop the beautiful hills at Las Positas College and pouring some of their favorite wines.  Then on Monday, participating wineries will honor wristbands so that you can spend the day tasting throughout Livermore Valley at different winery locations.  To me, this is the best of both worlds.  I can sample a bunch of wines without having to drive (bonus!) and then the next day go back and revisit my favorites and learn more about the winery and their wines!
Still not convinced this event is for you?  Here are five other things happening at Harvest Wine Celebration:
The Harvest Wine Celebration is one of Livermore Valley's oldest traditions, but this new spin on the event allows you to discover new wines that you like.  Don't forget to bring your friends, you can get 10% off when you purchase 10 or more tickets.
I hope to see you on Sunday, September 3rd at Las Positas College and then out and about on Monday.
Get your tickets here.
Cheers,
Liv