Chef Chris Corey of Underdog Wine Bar and Lounge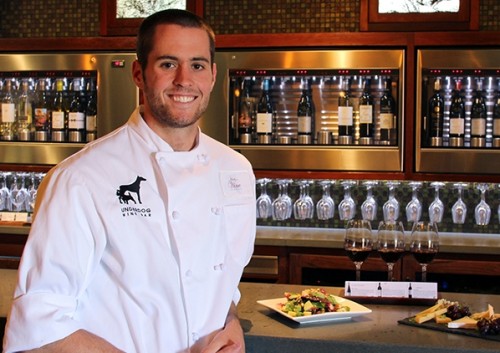 Chef Chris Corey has lived in eight different states and worked every position possible in the restaurant industry. His experience in wine bars, catering companies, family restaurants and bars has brought him to his newest position as the Executive Chef of Underdog Wine Bar and Lounge. Now he is enjoying the view and the bountiful produce of the Livermore Valley Wine Country terroir. His experimentation and passion for the quality of the vegetables, grapes, meats, and seafood that comes from the area is sure to shine at this year's Taste Our Terroir and we are anxiously awaiting to taste.
1)      When did you first know you wanted to be a chef?
I knew I wanted to be a chef my Junior year of High School.
2)     What is terroir to you?
Terrior is everything that makes your exact location special. The wind speeds, temperature, rain flow and amount of day light.
3)     Favorite pairing?
The Taste Our Terroir dish that myself and my sous chef will be preparing for the competition. It is a secret…
4)     What is the biggest challenge in food and wine pairing?
For me the biggest challenge is understanding and identifying the flavors, mouth feel, and body of each individual wine. Having the ability to extract that information and applying it to food is a difficult yet fun experience.
5)     Red or White?
Red
6)     Favorite meal of the day?
Lunch
7)     Go to meal to make?
A pulled pork sandwich on a cornbread roll
8)     If you could pick one person to cook for you, who would it be?
Iron Chef Masaharu Morimot
9)     One ingredient you couldn't live without?
Black Pepper
10) Three words that describe you?
Spirited, Respectful, Driven
Come taste Chef Chris Corey's secret pairing with Concannon Vineyard  at  Taste Our Terroir on July 24, 2014
$125 VIP
$85 advance (by 7/10/14)/ $95 after