Executive Chef Matt Greco of Wente Vineyards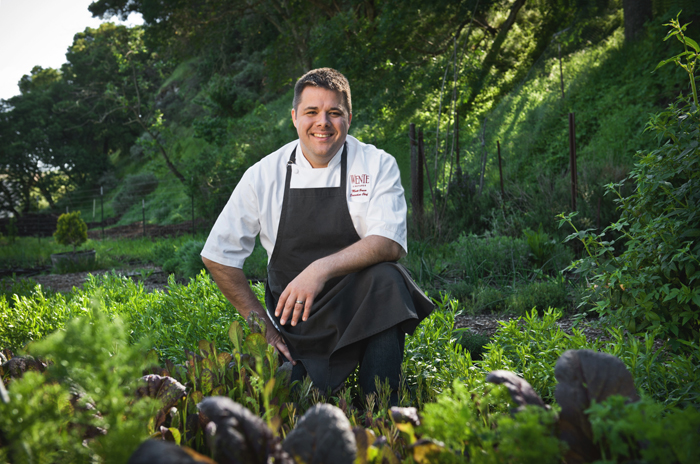 The Restaurant at Wente Vineyards Executive Chef Matt Greco is no stranger to the beautiful terroir of Livermore Valley. The restaurant features ingredient-driven California wine country cuisine using sustainably and organically grown local ingredients. Matt works closely with Wente's master gardener to decide what produce to plant and source for the seasonally changing menu. The Texas native talks with us about bbq, music and his sweet tooth.
1)   When did you first know you wanted to be a chef?
My mom was a great home cook, my dad was great at grilling, and my grandmother was a baker. So, I grew up with cooking and always enjoyed it. In college I realized my band wasn't going to make a lot of money and college was too structured at the time.
2)   What is terroir to you?
Terroir is an area with its own characteristics. You take what nature gives to you and make the most of it. It's what makes the area unique. I like to compare it to music. For instance you have blues which has a totally different sound than rock. In the Livermore Valley we have the fog, land that is flat and land that is on a hill, its very unique.
3)   Favorite pairing?
Right now my flavor of the month is desserts. Ports with desserts have been fun to play with this season.
4)   What is the biggest challenge in food and wine pairing?
Figuring out what direction I want to go with. Do I want to design the food around the wine or the wine around the food? Do I want to pair similarities or do I want to find something that has a counterpoint? I enjoy the challenge, whether it is the unexpected or finding the perfect harmony.
5)   Red or White?
Both… too hard to choose.
6)   Favorite meal of the day?
Dessert
7)   Go to meal to make? (To impress at home)
BBQ.. It's what I am best at. I like to get up early and throw it on the grill and let it cook really slow. Large cuts of meat, grilling lamb, empire rack, rib eye, homemade sausages…
8)   If you could pick one person to cook for you, who would it be?
My mom. I loved her chicken mushroom and wine dish. She was a really good cook.
9)   One ingredient you couldn't live without?
Olive oil or pork. It is hard to choose.
10) Three words that describe you?
Hungry, Determined, Positive.
Be sure to save the date to taste Matt Greco's delicious pairings at Taste Our Terroir on July 24, 2014
Tickets on sale now
$125 VIP
$85 advance (by 7/10/14)/ $95 after