The Perfect Wines to Pair on Thanksgiving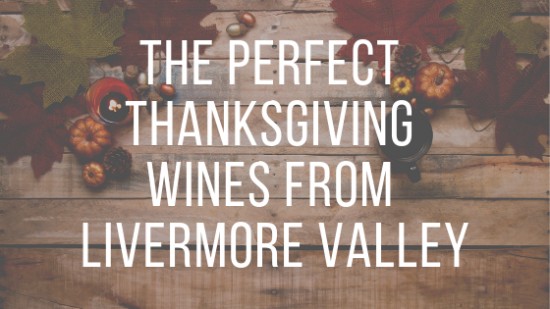 While it feels like we were just basking in the summer sun, Thanksgiving is here! Check out our recommendations on how to pair your Thanksgiving wines with the correct food, and social setting!
1. The "Welcome" Wine
Sparkling wine is the perfect ice breaker to your Thanksgiving get together. Welcoming guests in with a sparkling wine helps the holiday feel festive and celebratory. Recommendations for your sparkling wine from the Livermore Valley are…
3 Steves Winery Brut Sparkling Wine
Crooked Vine Winery 2013 Sparkling Pinot Noir Rosé
El Sol Winery Grand Cuvee Champagne
Page Mill Winery 2012 Blanc de Blanc
Rios-Lovell Estate Winery NV California Champagne
2. The Best Red Wine with Turkey
Pinot Noir is a red wine that is most commonly associated with Thanksgiving festivities, and you can never go wrong with a classic! The bright acidity and gentle tannins complement the bird without stealing the show. The following Pinot Noir wines from Livermore Valley wineries range from light to medium bodied, and will complement your turkey, no matter how it's prepared!
Concannon Vineyard 2015 Reserve Pinot Noir
Elliston Vineyards 2012 Pinot Noir
Nella Terra Cellars 2015 Estate Pinot Noir
Winemakers Studio 2016 Pinot Noir Clones
Wente Vineyards 2016 The Nth Degree Pinot Noir 
Looking for a wine that has the fruit of Pinot Noir, but prefer a lighter wine? Try Embodied Wines 2017 Livermore Valley "Corset" Rosé of Pinot Noir.
3. The Best White Wine with Turkey
Red wine not really your thing? No worries, because there are plenty of white wines that pair wonderfully with turkey. Sauvignon Blanc can range from medium to high on the acidity scale, but most of the time, is always dry. This wine not only complements white meat like turkey well, but also pairs well with green herbs that are often used to season a classic Thanksgiving turkey, like sage, rosemary and thyme. Livermore Valley makes a wide variety of Sauvignon Blanc, but a few you may want to try are…
Fenestra Winery 2017 Sauvingon Blanc, Livermore Valley
Murrieta's Well 2017 Sauvignon Blanc
Retzlaff Vineyards Sauvignon Blanc
Steven Kent Winery 2017 Lola White Wine
If your guests are looking for a white wine that is a bit less acidic than a traditional Sauvignon Blanc, pick up a bottle of McKahn Family Cellars 2017 Viognier.
4. For the Green Bean Casserole Fans
Cabernet Franc has a natural and herbal character that easily echoes and complements the veggie component of a traditional Green Bean Casserole. Cabernet Franc is less tannic than it's Cabernet Sauvignon relative, but not as fruit forward as Merlot, making it a perfect middle ground wine, with tons of flavor. Cabernet Franc has a slight spice on the palate that will not overwhelm the side dish, but will bring out the spice notes nicely. This varietal grows well in the rocky soil of the Livermore Valley. Here are a few you will want to try…
Cuda Ridge Wines 2016 Cabernet Franc
Nottingham Cellars 2014 Cabernet Franc
Rodrigue Molyneaux Winery 2015 Cabernet Franc
Wente Vineyards 2016 Small Lot Cabernet Franc
Wood Family Vineyards 2016 Cabernet Franc
5. The Best Mashed Potato Pairing
The butter in a decadent pot of mashed potatoes complements the buttery notes of a traditional Chardonnay. Pairing wine with mashed potatoes is often a delicate dance because you need a wine that is bold enough to not be over powered by the cream and butter, but not so bold it drowns out the taste of the potatoes themselves. The medium-body of a Chardonnay does just that. Serve your guests a California Chardonnay from the Livermore Valley…
Big White House Winery Sblendorio Estate Vineyard Chardonnay
Caddis Winery 2014 Chardonnay, Livermore Valley
Garré Vineyard & Winery Chardonnay
Las Positas Vineyards 2016 Estate Chardonnay
Longevity Wines 2017 Livermore Valley Chardonnay
6. What Goes Best with Cranberry?
To complement the sweetness and tanginess of cranberry, the wine requires fruit-forward notes with bright red fruit and nice acidity. In walks Zinfandel. Cranberry can be another balancing act for obvious reasons, you want to enjoy the wine but don't want to loose the battle to the sugar of the dish. Zinfandel commonly starts with a bright fruit beginning of blueberry, cherry, and plum but ends with more complex notes of baking spice and tobacco, giving the cranberry a more complex ride. Some great Zinfandel options in the Livermore Valley are…
Bent Creek Winery 2014 Livermore Valley Zinfandel
Eagle Ridge Vineyard 2014 Estate Grown Zinfandel
Eckert Estate Winery 2010 Livermore Zinfandel
Ehrenberg Cellars 2011 Zinfandel, Lodi
Occasio Winery 2015 Zinfandel
7. The Ideal Stuffing Pairing
Merlot, with its welcoming, fruit-forward character complements the plethora of seasonings and flavors of a Thanksgiving stuffing. Notes of currants, vanilla, cloves and black cherries add a layer of depth to the stuffing without leaving the dish with a lack of flavor. Merlot is a Livermore Valley classic, and we recommend a bottle (or more) of…
Darcie Kent Vineyards 2014 Old Vines Merlot
Leisure Street Winery 2014 Merlot
McGrail Vineyards 2014 Merlot, Picazo Vineyard
Mitchell Katz Winery 2013 Falling Star Merlot
8. Wine-d Down with Dessert Wine
While most Thanksgiving celebrations end with desserts ranging from Pumpkin Pie to various cakes and cookies, we prefer our something sweet to come in a bottle. The Livermore Valley has many wineries that specialize in Port and other dessert wines, but here is a great list to begin with…
BoaVentura De Caires Winery 2012 "DePorted"
Cedar Mountain Winery Tortuga Royale
Charles R Vineyards 2009 Vino de Amor Port
Dante Robere Vineyards LexiKat V Port Wine
Omega Road Winery 2010 Umbra, Livermore Valley
The Singing Winemaker Chocolate Port
Vasco Urbano Wine Company 2014 Viognier Dessert Wine
Share with us your Thanksgiving plates and pairings with your Livermore Valley Wine Country favorites and tag us using #LivermoreValleyWineCountry & #LiveaLittleMore. We hope that you're surrounded with the love of your friends and family during Thanksgiving festivities.
Happy Thanksgiving to you and yours.
– The Livermore Valley Wine Country