Winery Dogs of Livermore Valley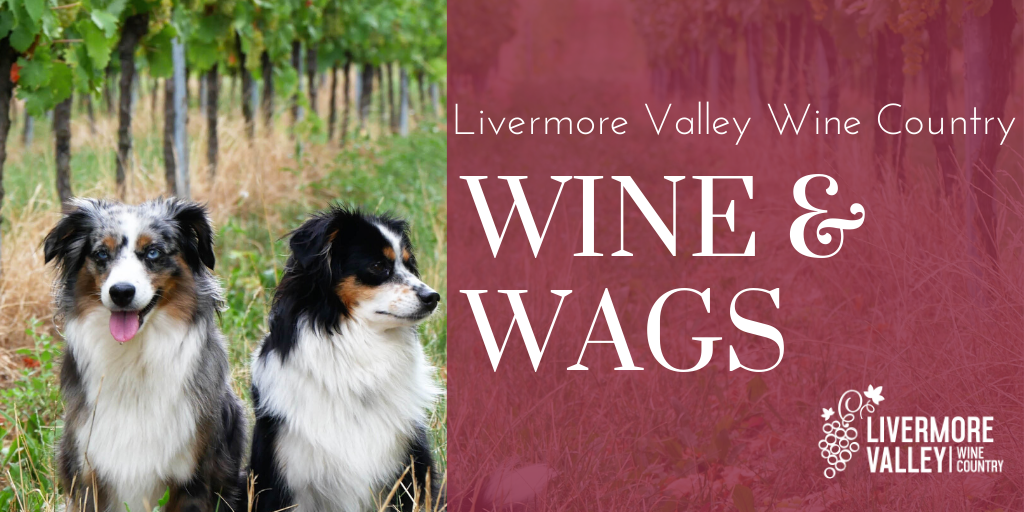 Although we can't celebrate Wine & Wags together, we still wanted to highlight the adorable winery dogs of Livermore Valley and show them some extra love. 
This is Tawny, the official mascot of 3 Steves Winery. Tawny is a two-year-old Australian Labradoodle. She loves riding on the forklift and walking the vineyard. Tawny's favorite game is playing hide and seek in the barrel room.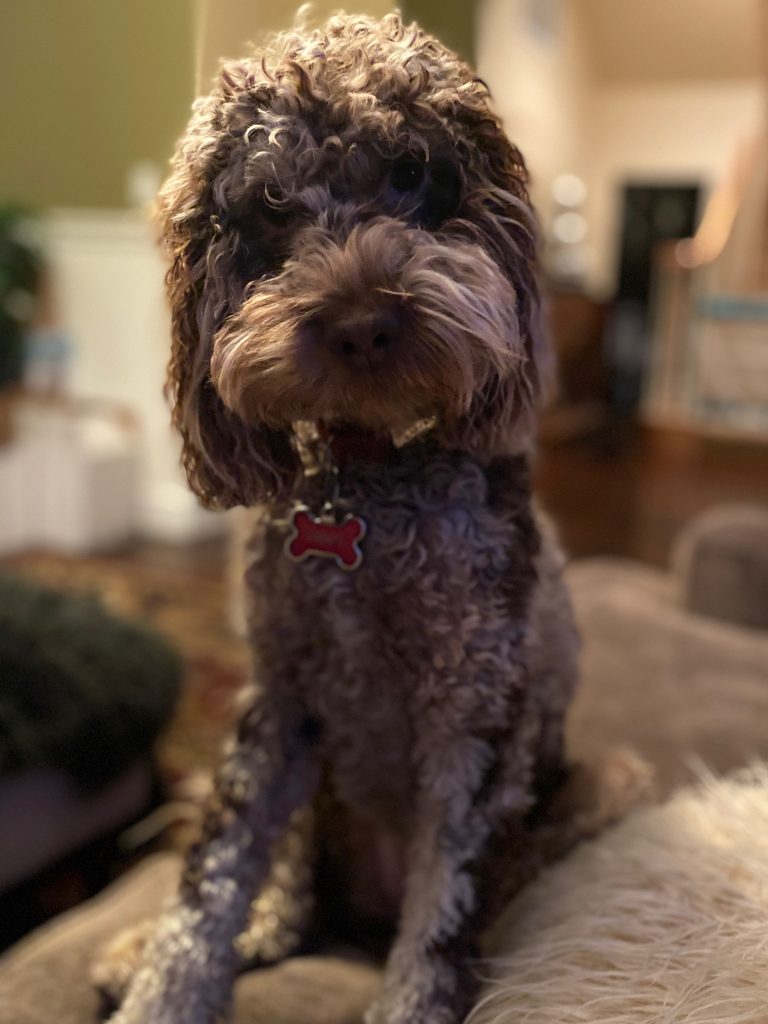 Say hello to Gus. Gus' full name is Fergus Finn Sharkey; Gus for short. Gus is a six-year-old Golden-doodle and he loves snuggling, watching TV (especially sports and shows/movies with other dogs), and tennis balls!
Meet Alfie, winemaker John's dog. Alfie is a hound terrier mutt. John calls him a whip-pitt because he runs like a running dog but is a little stockier. Alfie is 12, but he still acts like a puppy! He just naps a little more than he used to.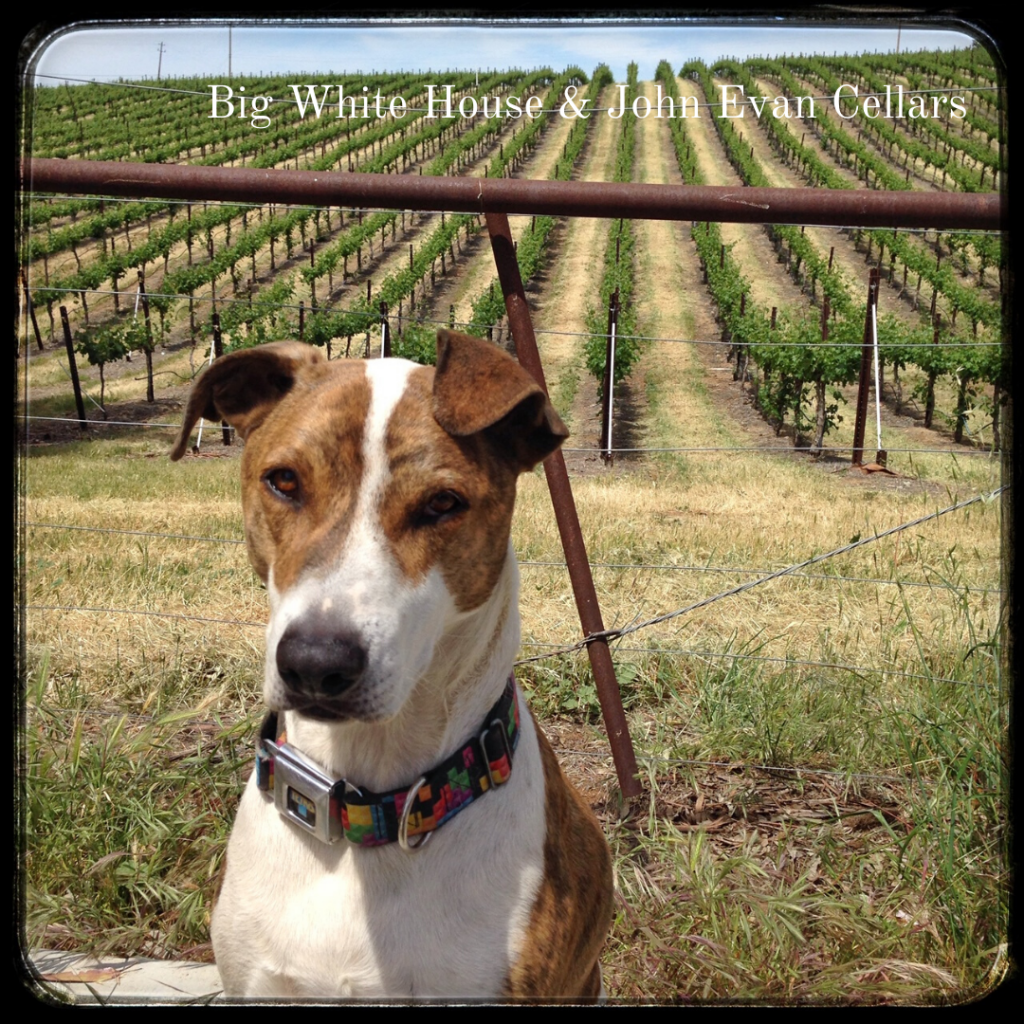 Alfie's wine, Alfie's Amalgamation, will be featured on Big White House's Live Facebook tasting on Friday, May 29th, and will be on sale that weekend. You can also purchase a special t-shirt with Alfie's picture on the back! A portion of the profits will be donated to the German Shepherd Rescue.
Meet Ricky, a four-year-old Border Collie, and Husky mix. Ricky is Dan's dog and his favorite thing to do is greet customers at the winery every Friday!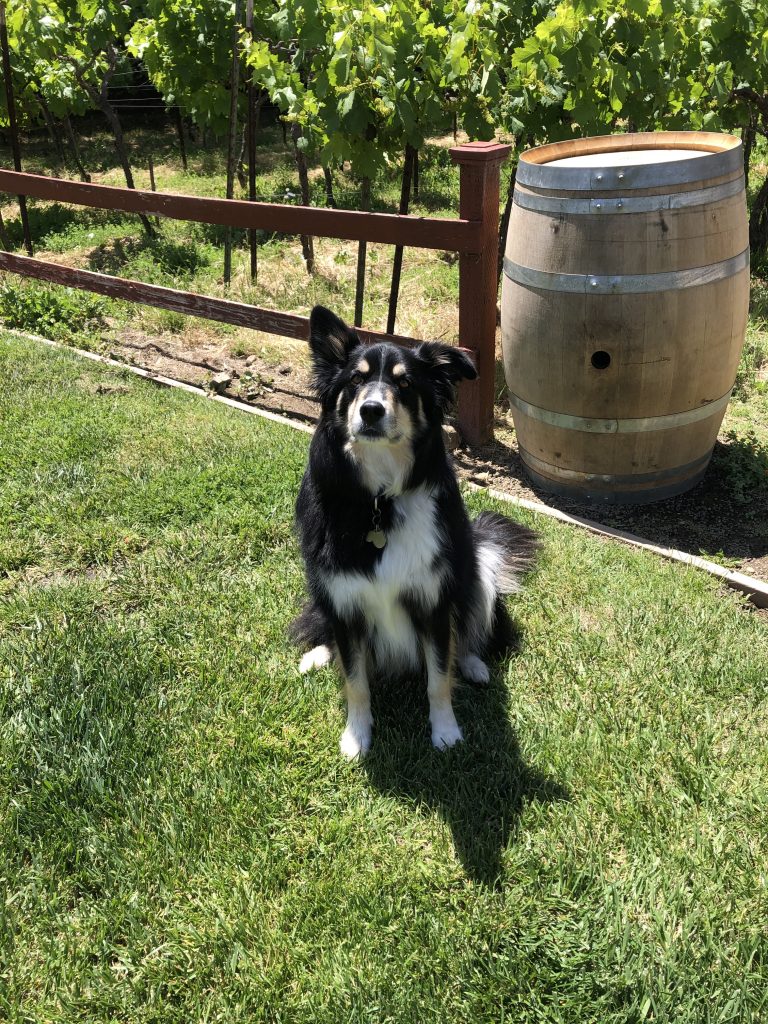 Olaf Bossi, Ollie for short. Ollie was named by Bob's daughter during the Frozen hype. Ollie is a six-year-old Yorkie and loves photo bombing wine promotion shots, "assisting" with bookkeeping (ie; trading stolen papers for treats), and chasing rabbits!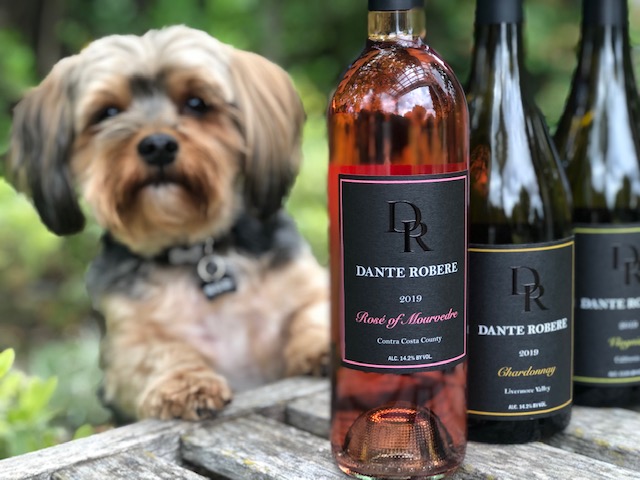 This is Jack, the resident winery dog at Darcie Kent. Jack is a four-year-old Golden Retriever. He loves riding on the back of forklifts during harvest and will run out and greet you when you arrive at the winery. Jack knows that turkeys run faster than him, but he still makes an effort to catch them when he sees them on the winery lawn. Jack loves tennis but prefers it without the rackets.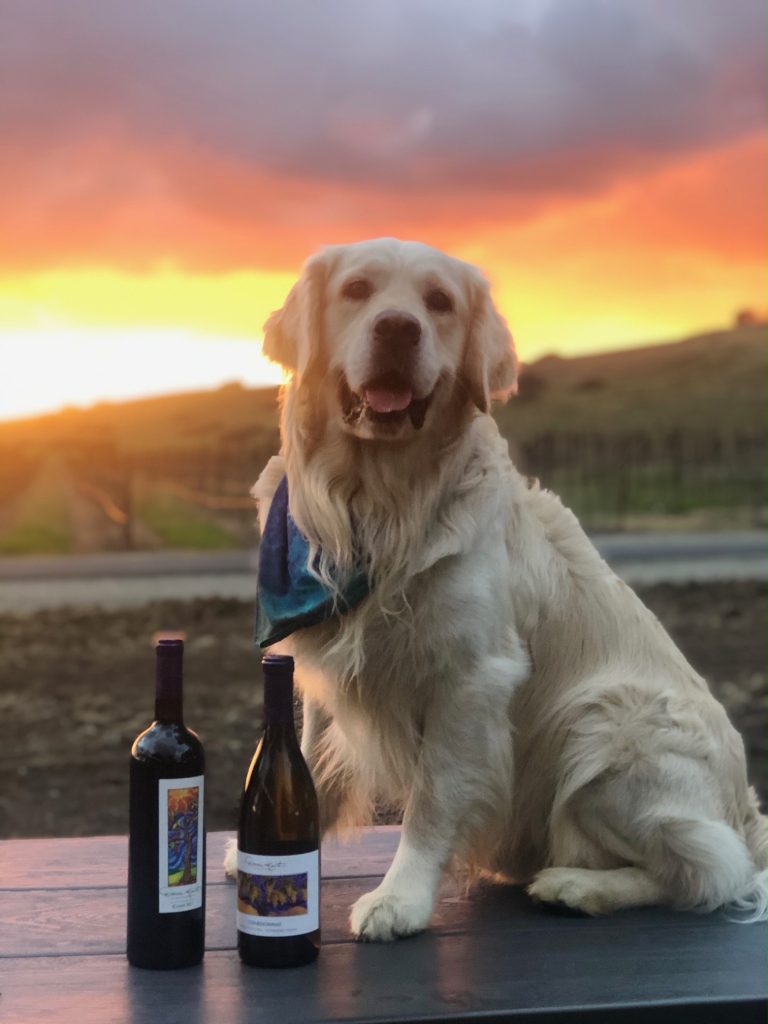 These heart-melting eyes belong to Henry. Henry is a pure-bread longhaired miniature doxie. Henry loves walking around the property with his mom and taking naps in the sun.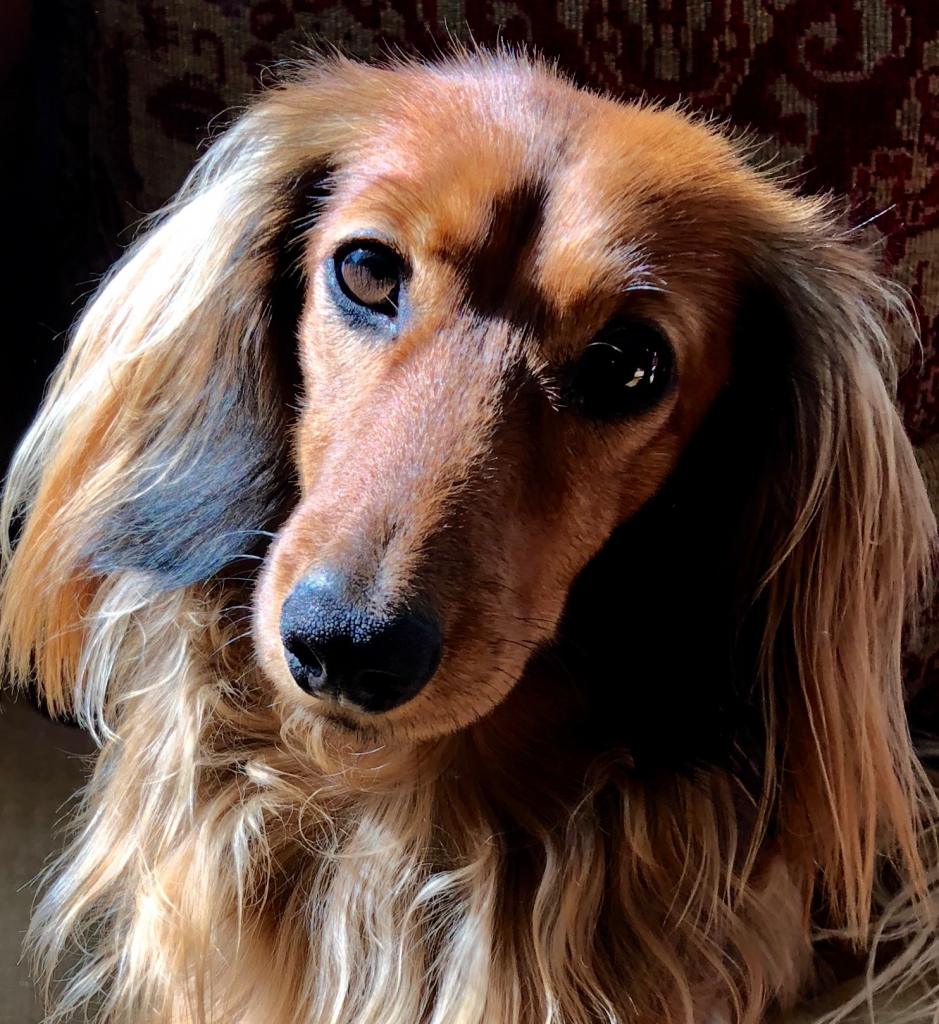 Meet Camper (right-side), a five-year-old German wirehaired pointer and border collie. Camper is Fenestra's winemaker's dog. He loves to run through the vineyard and hunt for squirrels.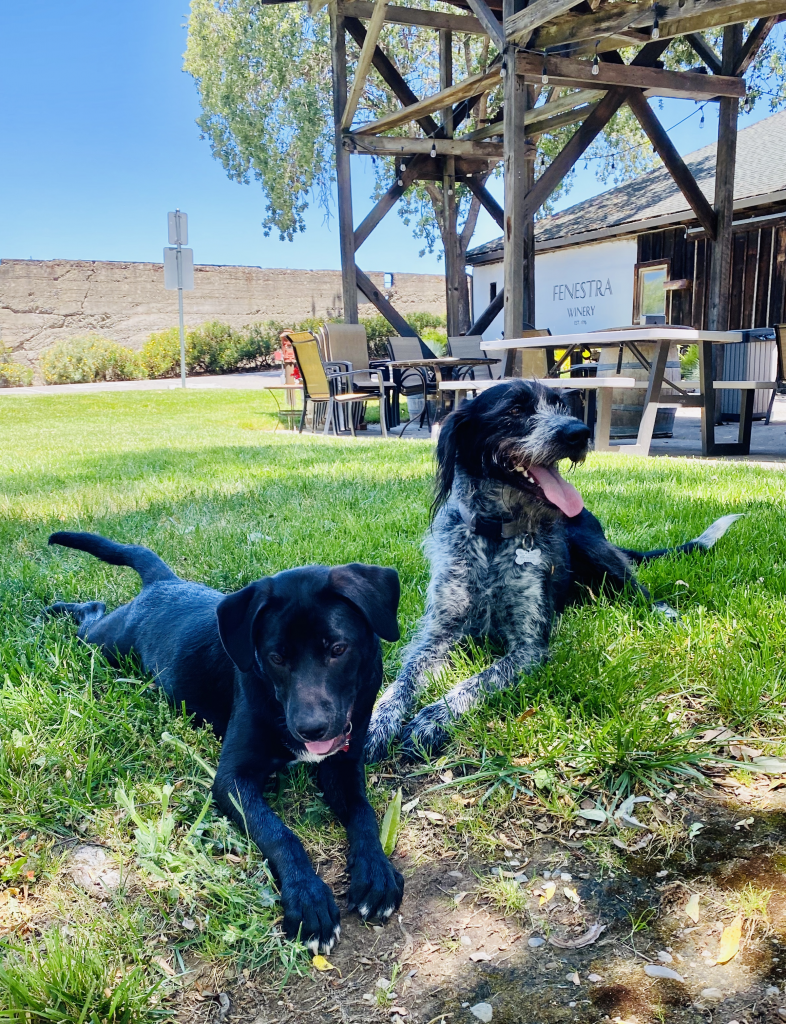 Bosa (left-side) is a six-month-old Lab/Shepherd mutt. Bosa is Fenestra's Tasting Room Manager's dog and is still learning to be a winery dog. He loves to chew on sticks and chase wild turkeys. Bosa was rescued from Coppers Dream Rescue.
Camper and Bosa are the best of friends!
This is Panda and the fantastic four! Panda is a ten-year-old Jack Russell Terrier, Chihuahua, and French Bulldog mix. Panda was adopted at last year's Wine & Wags event by Las Positas Vineyard's Tasting Room Manager, Curt. Panda's favorite thing to do is play with his best friend, Tattoo. (Panda is featured in the right side image). Follow the Las Pawsitas Instagram page to keep up with the fantastic four and other winery dogs that visit LPV.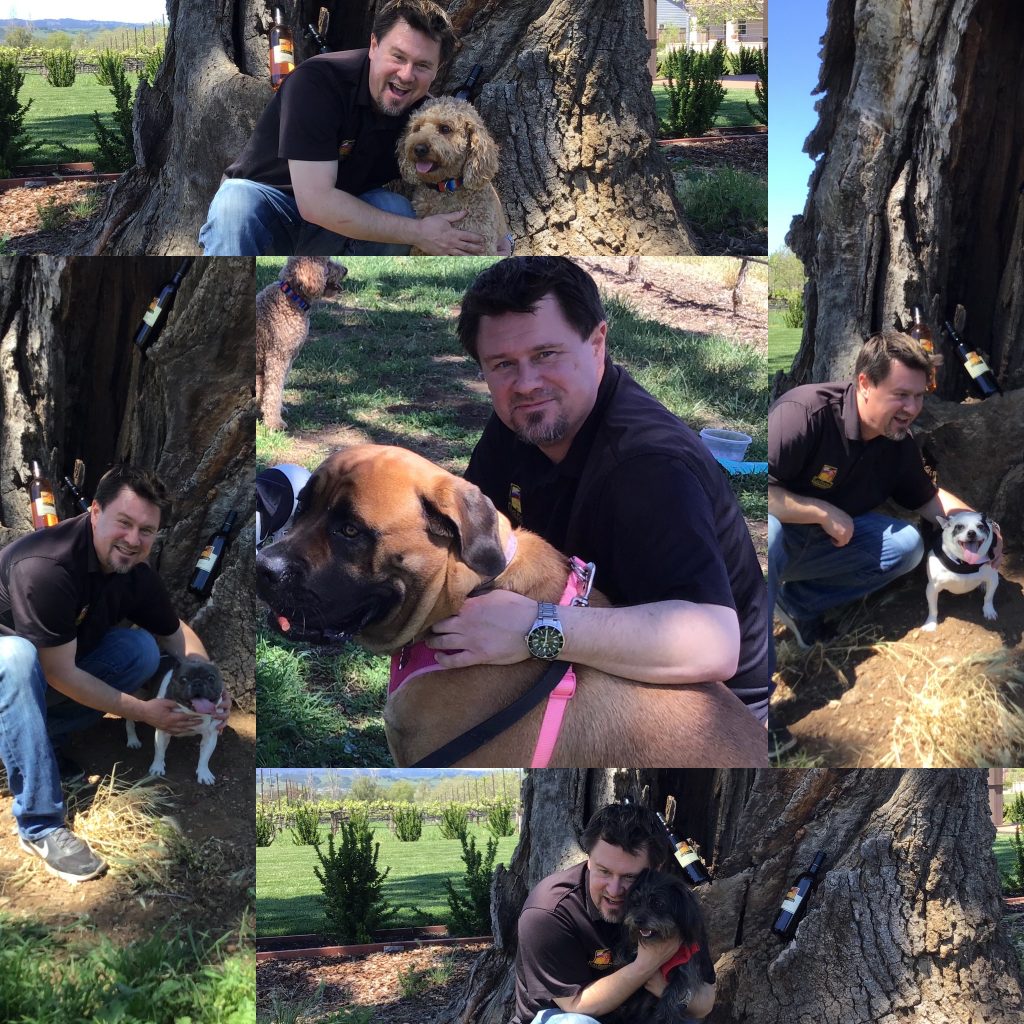 Fantastic Four
Ft. Left-side: Zoe, a two-year-old French Bull Dog. Zoe snores louder than a human and loves to chase soccer balls.
Ft. Center Top: Charlie, a four-year-old Goldendoodle. Charlie loves going for walks and his superpower is opening all the doors in the house.
Ft. Bottom Photo: Jack, a five-year-old Terrier mix. Jack loves going for long walks, and he'll show you his excitement by skipping! Jack is a big fan of Scotland's famous Terroir, "Greyfriars Bobby."
Ft. Center Photo: Grace, a two-year-old English Mastiff. Grace loves to play tug of war. A fun fact about Grace is she uses her favorite palm tree to scratch her back.
Say hello PressTon; official AKC Name: "PressTon Boo Bear Long." PressTon is an eleven-year-old Havanese. He loves hanging out at the winery and chasing Dad's dirty socks at home.
Meet Charlie. Charlie is a 12-year-old Yorkshire Terrier. Charlie's favorite food is carrots, he's been in the newspaper as the face of Wine and Wags, and he also played Joe Exotic's tiger in McGrail's recent Tiger King video. Charlie is also a recent cancer survivor! Go, Charlie!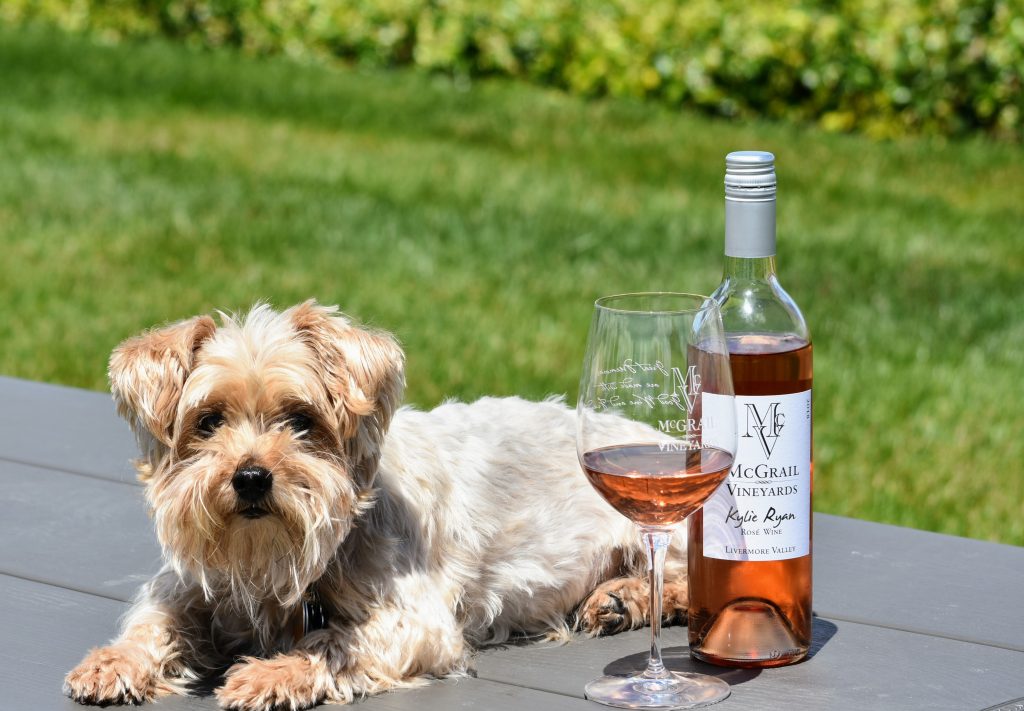 Meet Mattie. Mattie is about 8 years old and her parents are pretty sure she is a Yorkshire Terrier and Lhasa Apso mix. Mattie was adopted last year by McGrail's Wine Club Manager, and she likes to sit in her bed on top of cases of wine while her mom works at her desk. Mattie is almost completely blind but seems to have a great sense of smell, as she enjoys licking the winery floors.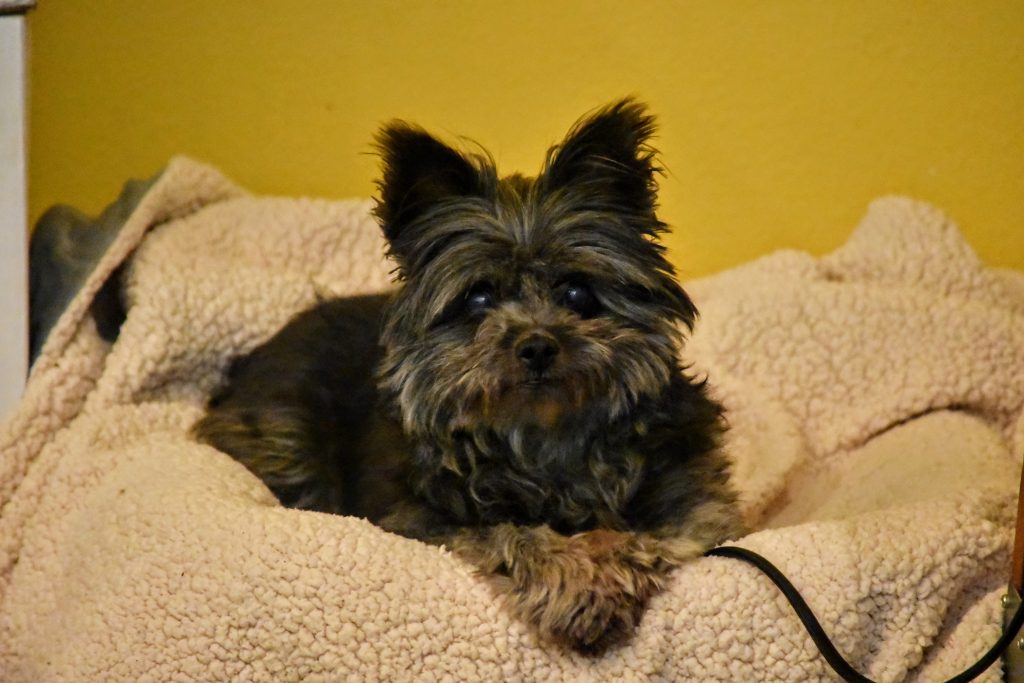 This sweet Goldendoodle boy's name is Nash. Nash loves visiting Mitchell Katz Winery with his Daddy to see other winery dogs and pick up their club shipment, along with a few extra bottles!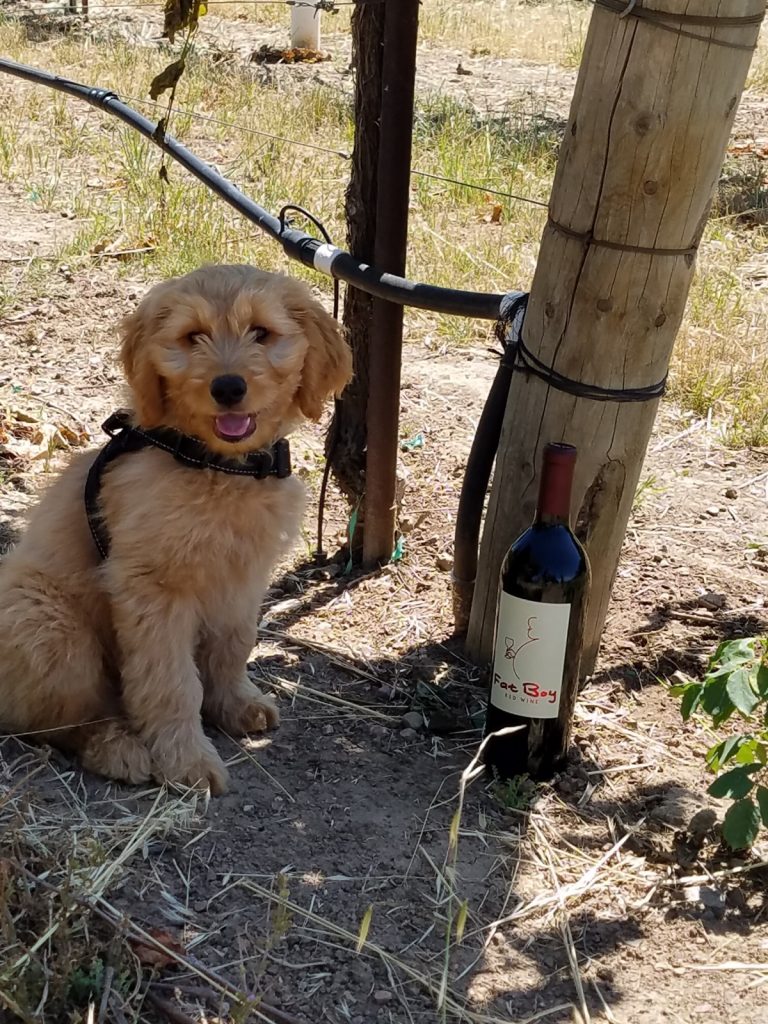 We love all animals in Livermore Valley, which is why we couldn't skip out on including this sweet boy. This is Mr. Meow, he's a little under one year old. Mr. Meow was rescued as a kitten while wandering around a gas station in Los Banos. The level of cuteness leaves us Speechless…when cuddling his MK Speechless Cab.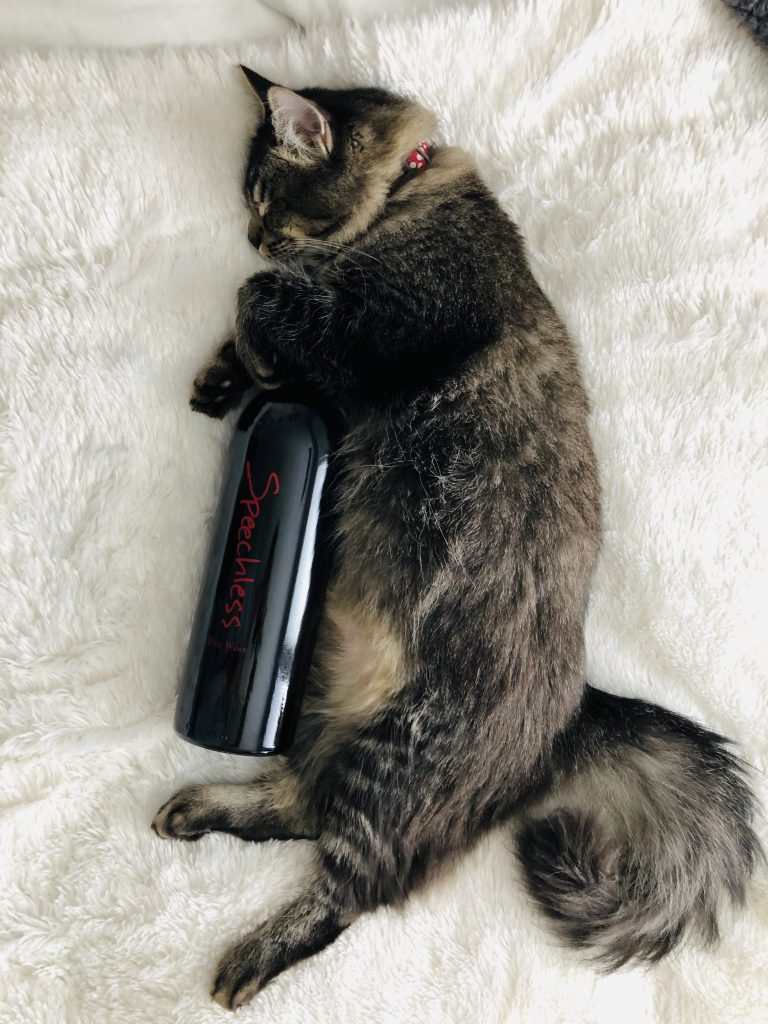 Nella Terra Cellars
This speckled cutie is named Phoebe. Phoebe is a mix of Australian Cattle-dog, American Staffordshire Terrier, and German Short-hair Pointer. Her favorite thing to do is chase deer out of the vineyard.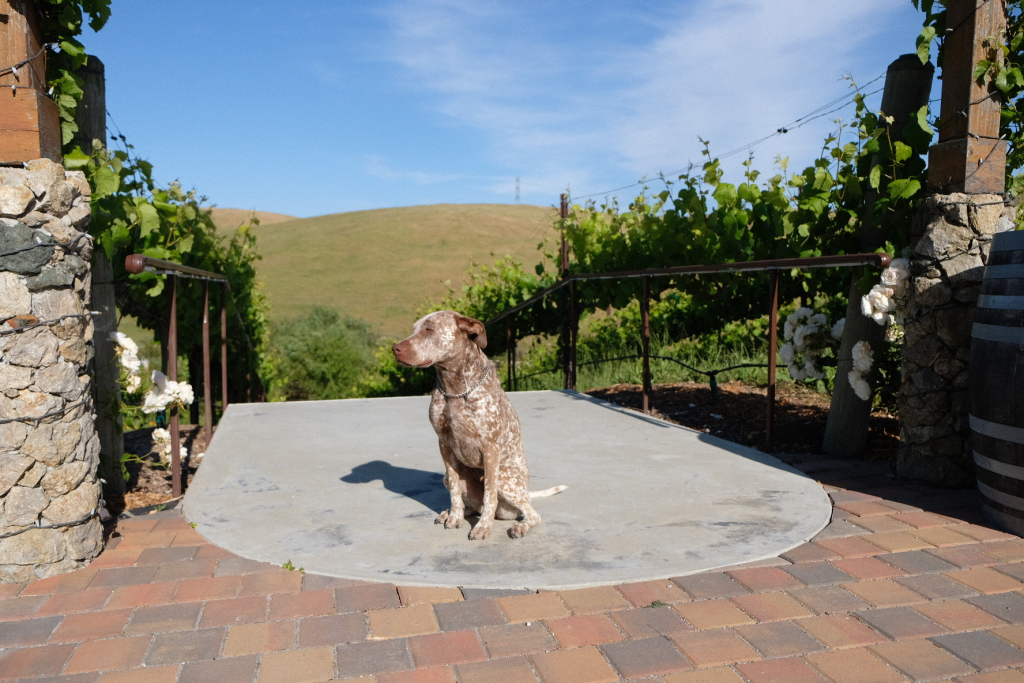 Say hello to Millie Henkelman. Millie is a Shih Tzu/Poodle mix and turns four in July. She loves cheese, being outside and running in the grass.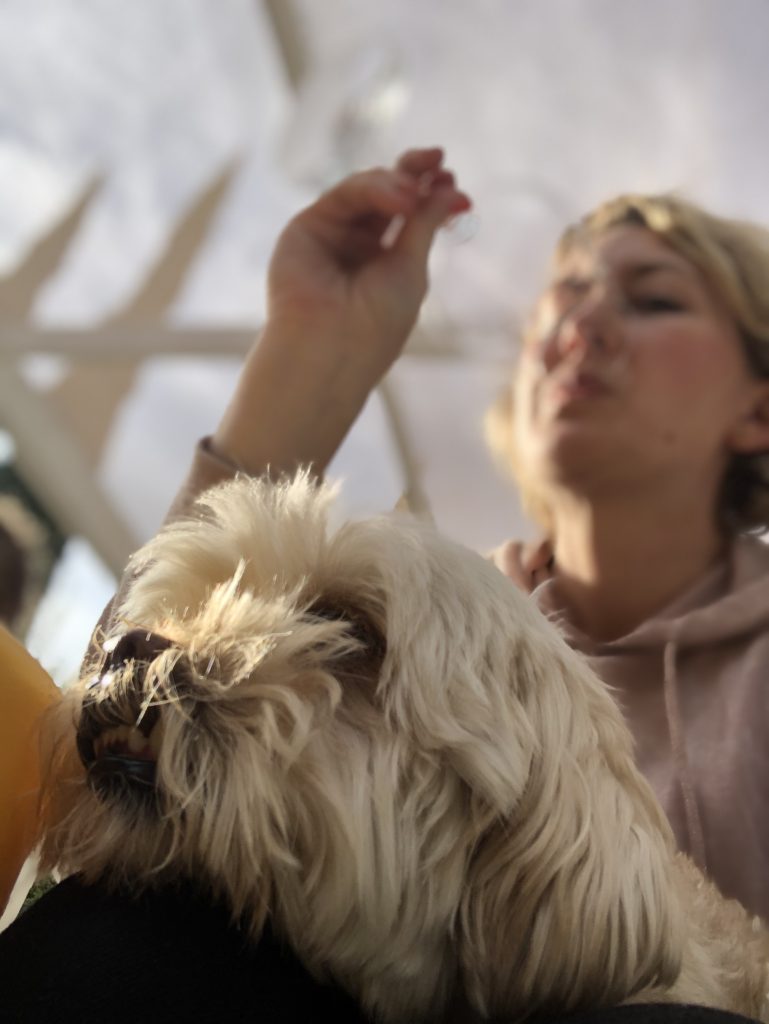 This is Delaney, Laney for short. Laney is a two year old Border Collie. She loves going to the winery with her mom and visiting with all the people. And as you can tell from the pictures, wine does not stunt your growth!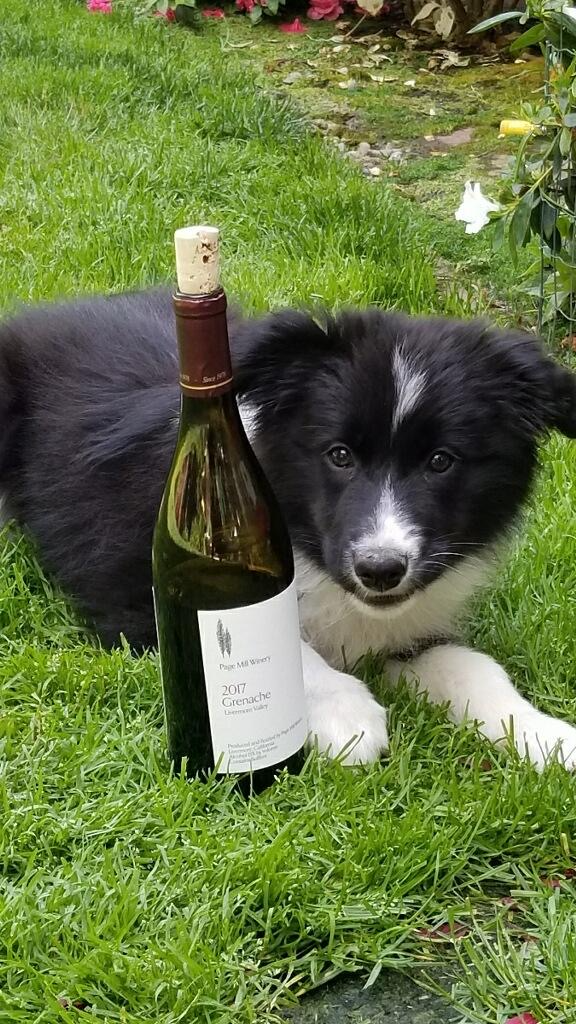 Axle: Tasting Room greeting and personal vacuum cleaner
Axle loves playing with tennis balls, belly rubs, running at full speed, and jumping for joy. He's sneaky and tries drinking my mom's glass of chardonnay when she was not looking.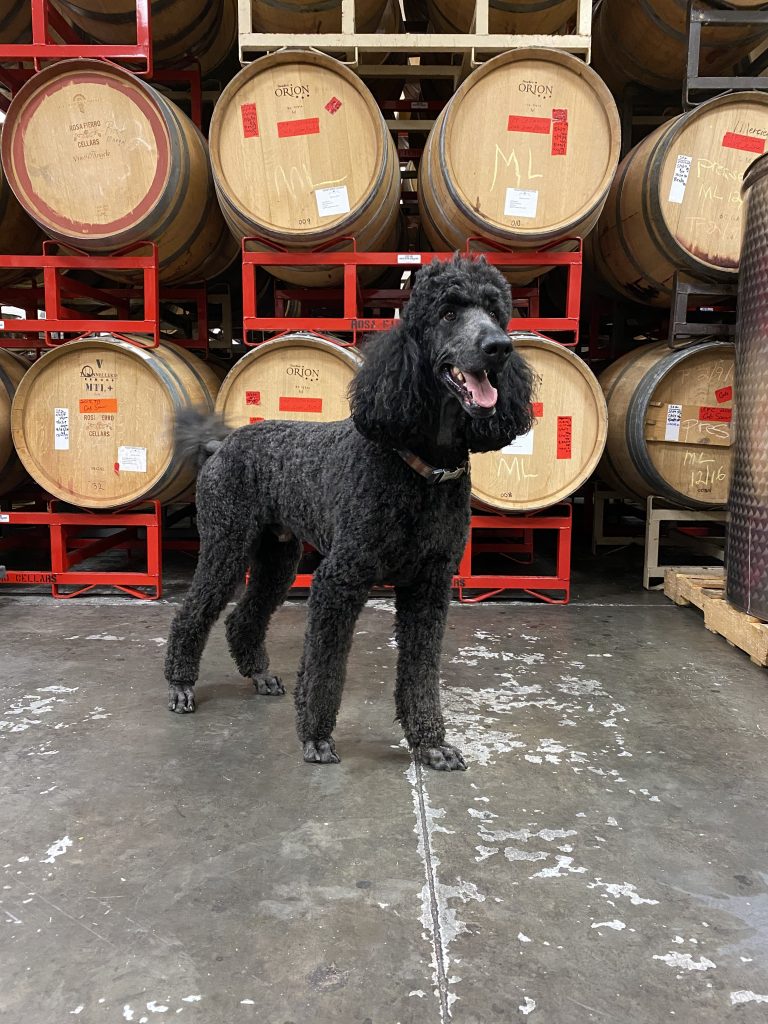 Lulu: Tasting Room greeter and hostess
Lulu loves barking, belly rubs, kids, Polynesian dancing, following people around, eating out of the garbage can, and drinking toilet water. She hates the forklift, birdies, and squirrels. Once, Lulu chewed up a roll of her mom's merlot labels. Oops!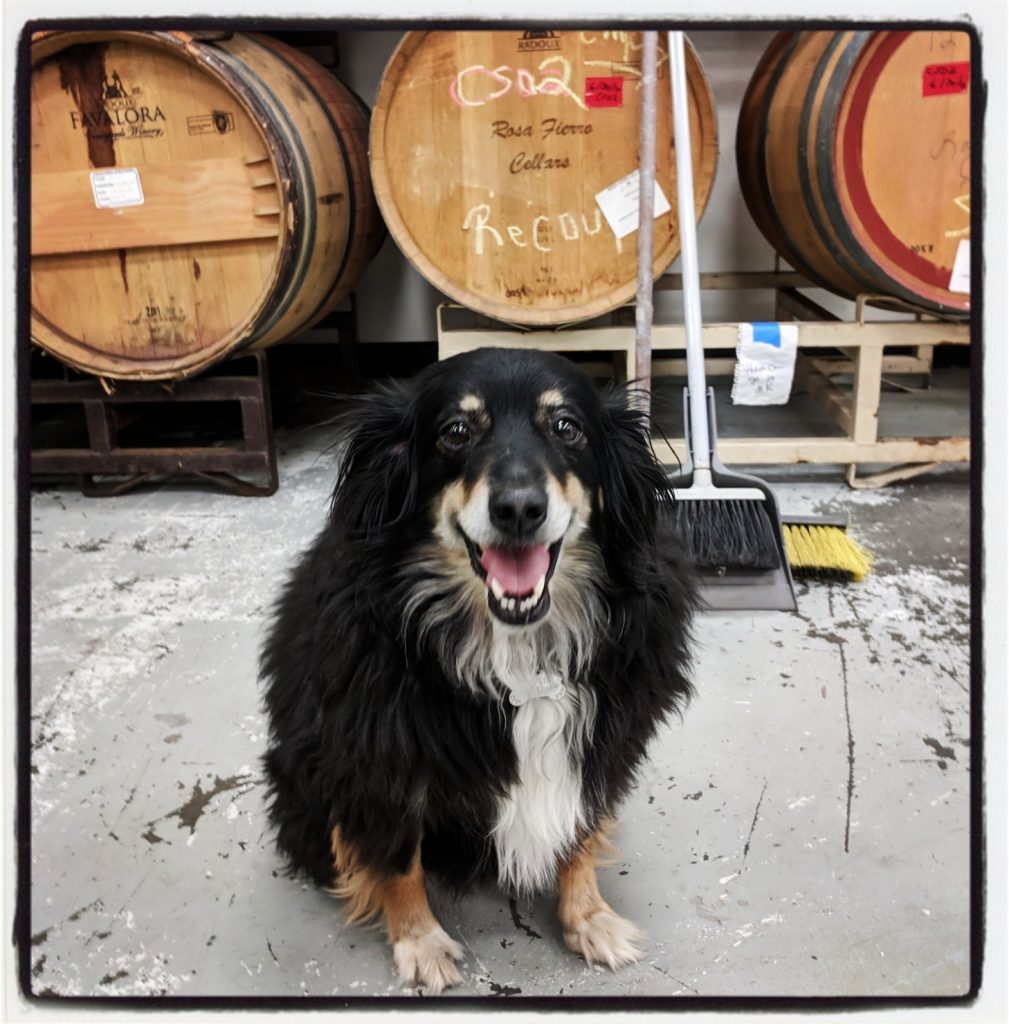 Wente Vineyards
Say hello to Riley! Riley is Niki Wente's three year old Border Collie Mix. She loves burying her toys in her parents backyard and running through the vineyards with mom, Niki!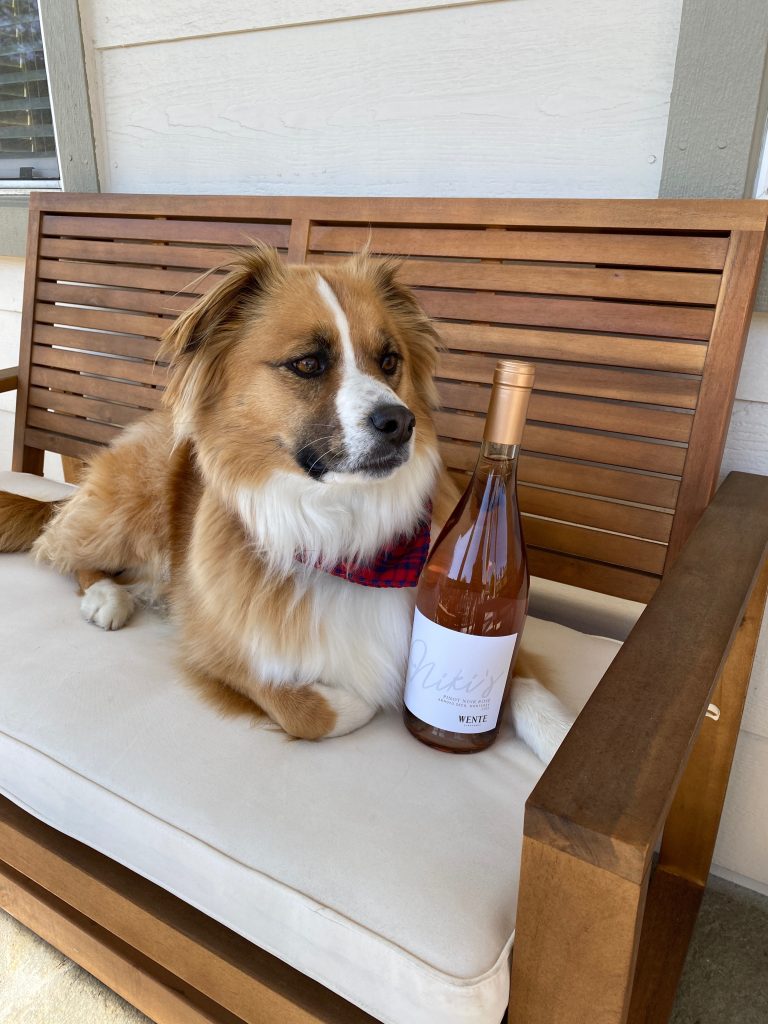 Meet another Wente pup, Chili. Chili is Aly Wente's one and a half-year-old Golden Retriever. Chili loves to play fetch and cannot control himself when he sees a tennis ball. He also loves petting his cousin, Riley, when he sees her 😊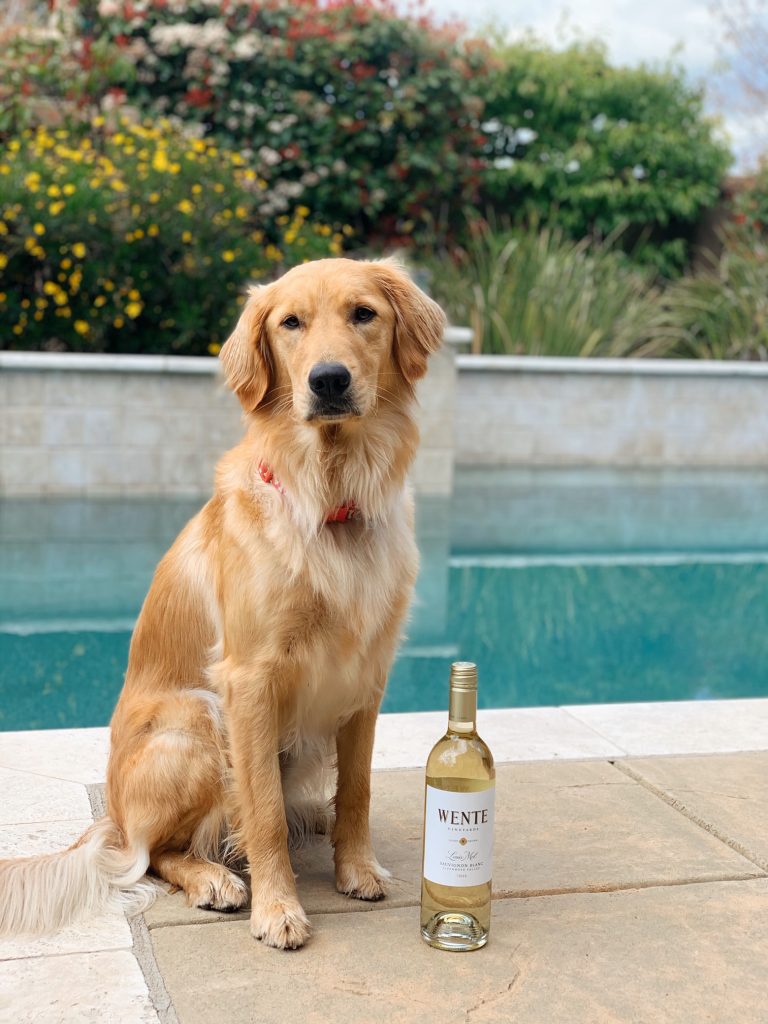 Meet Sauvy; short for Sauvignon. Sauvy is a four-year-old Silver Lab. Sauvy has grown up in the warehouse, in the vineyards and is with his mom, Rhonda Wood, most every day.
Fun fact about Sauvy: Throw a toy into the pool and you can watch Sauvy leap buoyantly in to get it! Sauvy also loves his toys and is always searching for one to excitedly bring to you or take with him!
We wish we could be celebrating Wine & Wags in Livermore Valley on May 31st. To try and make up for it, we're offering two complimentary tickets to Wine & Wags 2021 to one lucky winner. All you have to do is post a picture of your dog at a Livermore Valley winery then tag us on Instagram, and you'll get to celebrate with all the winery dogs next year! The winner will be announced via Instagram on Sunday, May 31st.