Make the Most of Your Summer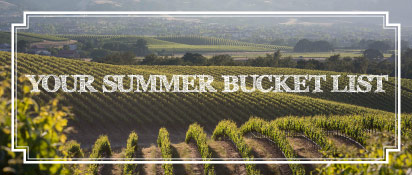 It's officially summer!  Make sure you get the most out of this summer with the list below of fun activities in Livermore Valley Wine Country.
Taste Our Terroir | The food and wine event of the summer. From July 20th-23rd there will be wine and food events throughout Livermore Valley.  Tickets are going quickly, get yours today!
Farmers Market – Thirsty Thursdays | Head to Carnegie Park every third Thursday of the month for Thirsty Thursdays now through September. Sample wines while you pick up your local fruit and veggie haul and listen to some great music.
New Tasting Rooms | Livermore Valley is expanding! Several wineries both new and old to the region have opened new tasting rooms this year.  Be sure to stop by Ehrenberg Cellars, McKahn Family Vineyards, Omega Road Winery, and Wood Family Vineyards to name a few.
Biking Through the Vineyards | One of the most unique things about Livermore Valley is that you can easily bike from one winery to the next.
Trolley | Throughout the summer the Livermore Wine Trolley is having hop on-hop off service to several wineries throughout the region. This is a great option if you're not interested in driving or biking around the valley.
Picnics | Grab your favorite picnic essentials and head to one of our many wineries with a picnic area! Sip through your flight of wine as you enjoy.
Al fresco lunches | If preparing a picnic is not your thing, stop by Garre Café, Murrieta's Well, Underdog Wine Bar or the Wente Restaurant to enjoy a delicious al fresco lunch while you're out wine tasting.
Garden Trail | For garden lovers, this trail is wonderful. Sip wines as you view local gardens and get ideas for your own outdoor oasis.
Harvest Wine Celebration | This year, Harvest Wine Celebration is bringing 40+ to Las Positas college for a day filled with live music, food trucks and more! Mark your calendar for September 3rd and get your tickets now.
Weekly Events | All summer long, wineries throughout the valley host special events. Be sure to check the calendar as you plan your weekend!
Plan Your Own Weekend | There are so many things to do around Livermore Valley! Use the itinerary planner to make sure you get to all the stops you want.
Now that you've got your list, let's raise a glass to the summer season.  Looking forward to seeing you out and about in Livermore Valley!