Food & Wine; Perfect Pairings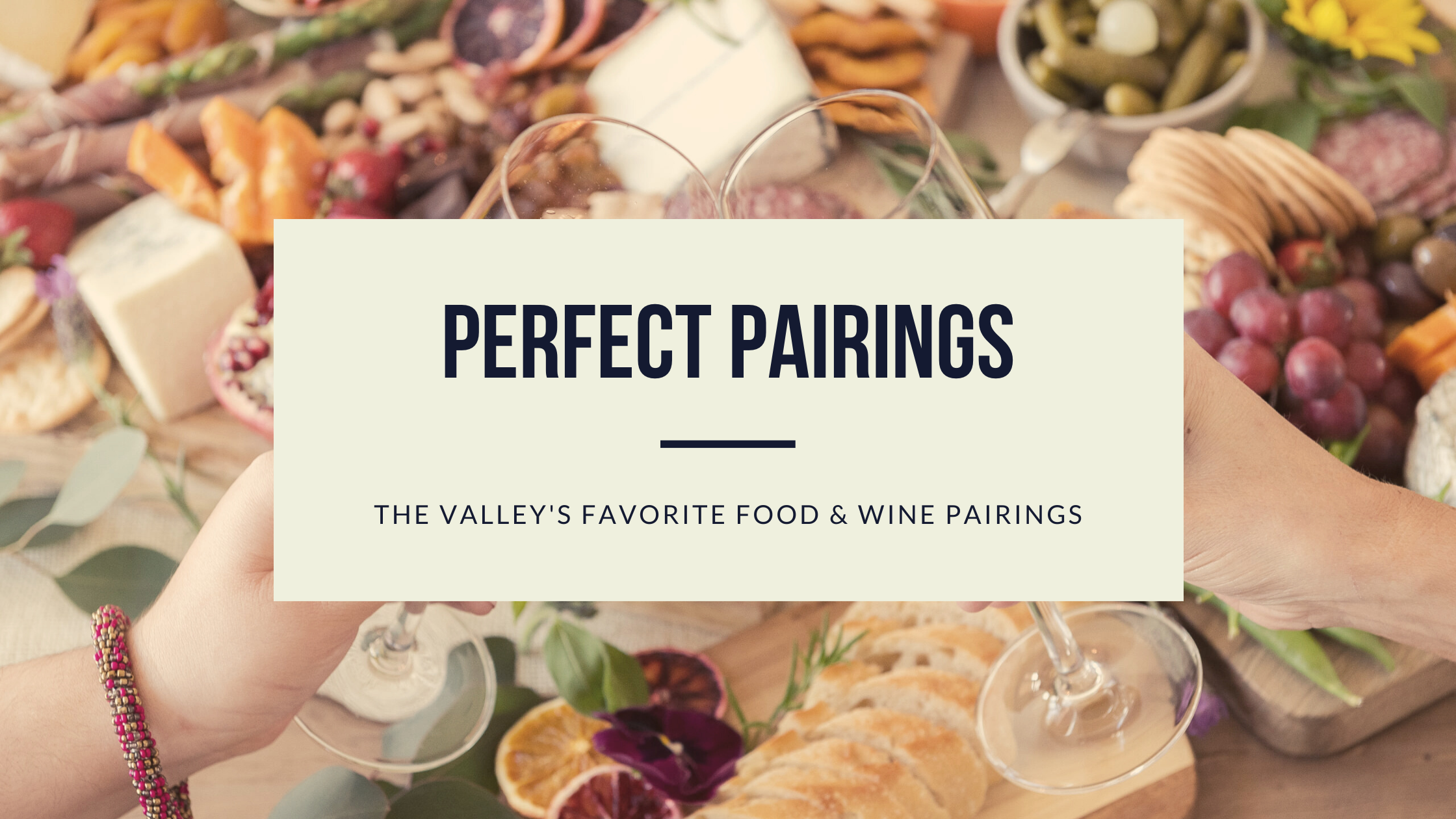 This week, we are featuring a few of the winery's all-time favorite food and wine pairings. We're giving you a whole new list of quarantine recipes and pairings to make at home and enjoy with the family. Don't forget to stop by the wineries, or order their wine online, so you can try each pairing and see which is your all-time favorite. 
Alicante Bouschet Rose with Herb Crusted Salmon & Pomegranates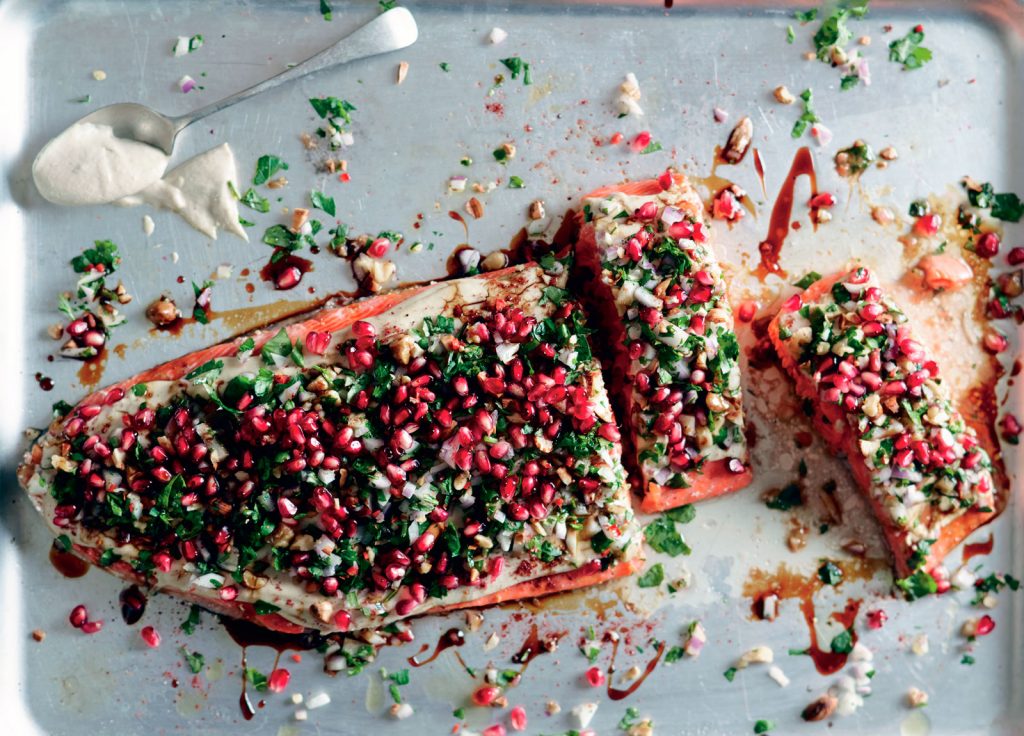 A perfect summer dish! Omega Road Winery loves to pair their Alicante Bouschet Rose' with this delicious Salmon dish. Try it for yourself by following the recipe below!
Cabernet Sauvignon with Juicy T-Bone Steak
You can never go wrong with a bold Cabernet Sauvignon and a juicy steak. Murrieta's Well recommends pairing their 2017 Cabernet with this tender t-bone.
Estate Viognier with Prosciutto Wrapped Asparagus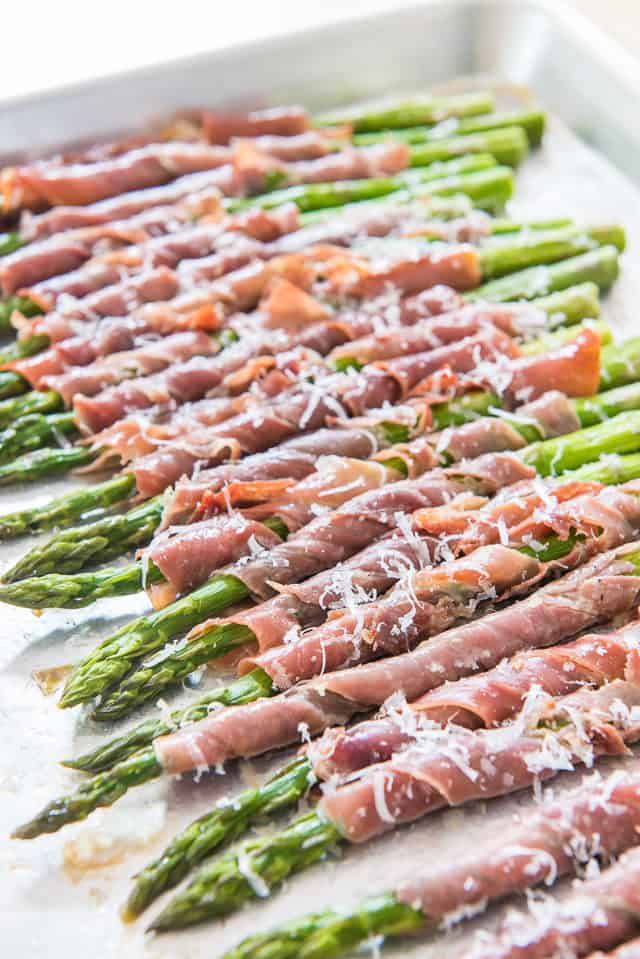 Nella Terra Cellars 2019 Estate Grown Viognier is dry, light and has a soft, moderate acidity. Beautiful aromas of papaya, honeysuckle, ripe pear, elderflower, and marmalade. It pairs amazingly with grilled asparagus wrapped in prosciutto topped with parmesan!
Good Life Cabernet Sauvignon with Cast-Iron Skillet Chimichurri Rib Eye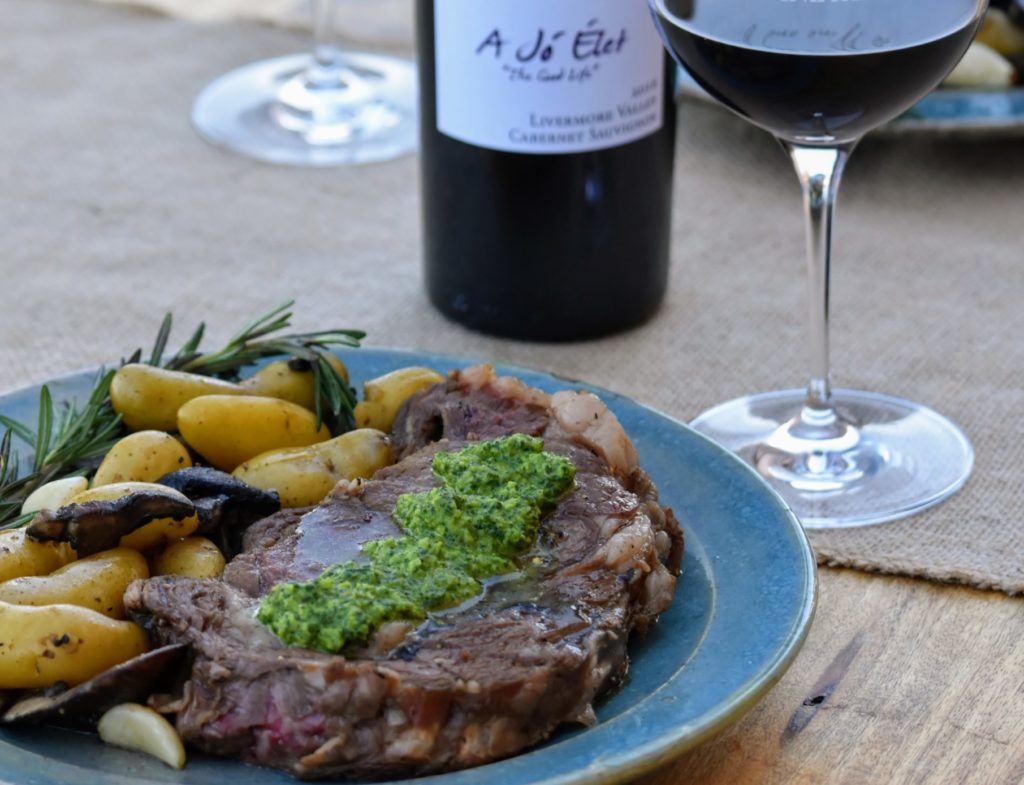 "A jó élet" is a Hungarian phrase, which roughly translates to "the good life" in English. McGrail Vineyards says this wine paired with the Chimichurri sauce, "is so extraordinarily flavorful that you just can't get enough of it." Try it for yourself at home, and let them know what you think!
Morning Fog Chardonnay with Vegetable Risotto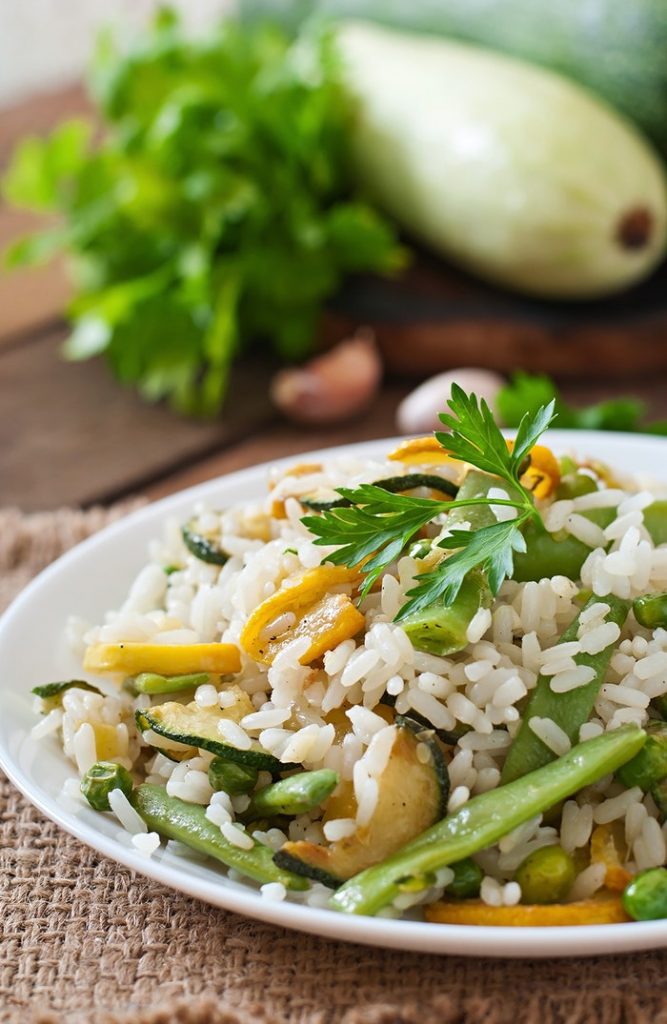 This recipe was pulled from Carolyn Wente and Kimball Jones's cookbook the Casual Vineyard Table. This Vegetable Risotto pairs beautifully with Wente Vineyard's Morning Fog Chardonnay but can also be enjoyed with our Riva Ranch Vineyard Pinot Noir and Louis Mel Sauvignon Blanc. The richness of the risotto balances well with the body of the Chardonnay.
Profound Secret with Black pepper-crusted Filet Mignon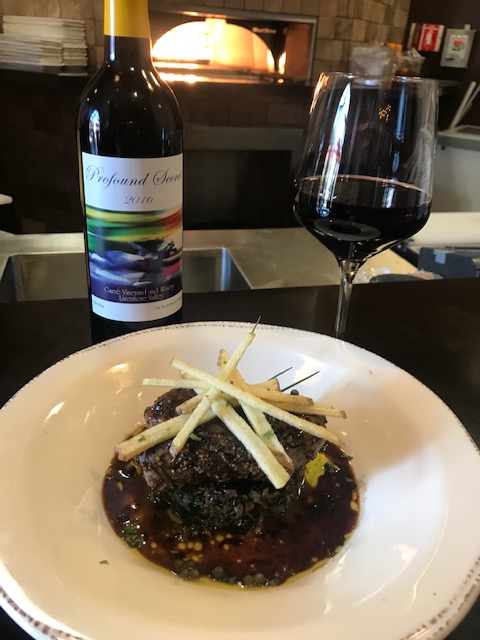 Black pepper crusted, Filet Mignon w/ sauteed Spinach & Mushroom Duxelle and Demi-glace drizzle, chives, and green peppercorns. YUM! You can try this dish when you visit Garre' Cafe'.
"The lush dark fruit, spice, and robust flavor and mouthfeel of this Bordeaux blend pairs extremely well with the spice on this tender cut of meat and the lusciousness of the mushroom duxelle will linger on the palette. There is a lift on the end from the brines of the peppercorns and the wonderful acidity in the wine keeps it dancing on the tongue." – Chef Abe
Roasted Bell Pepper with BBQ Chicken Flatbread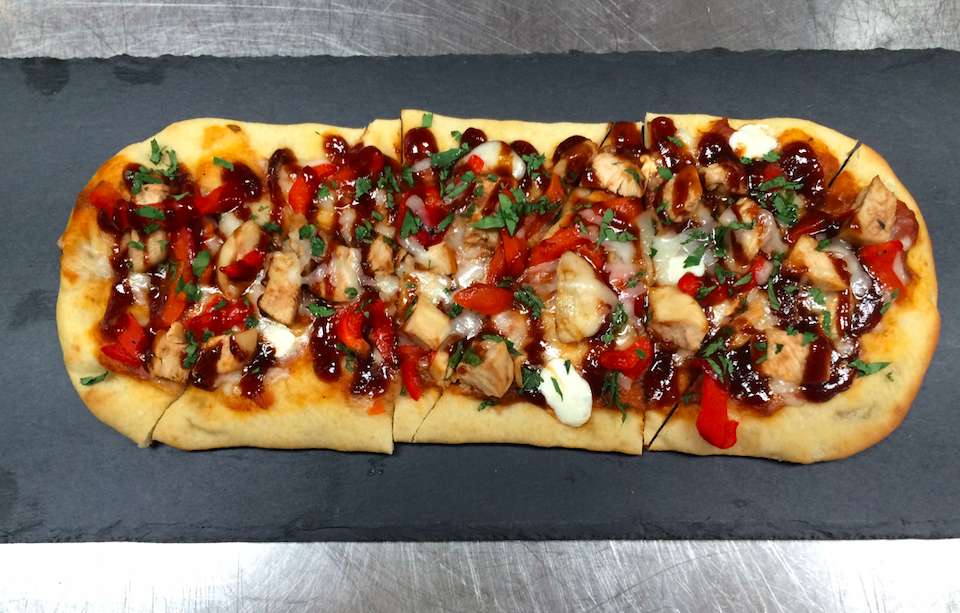 Las Positas Vineyards is starting new in-house-made Flatbread Pizzas that will launch Thursday, September 10th, and continue each Thursday for the rest of the year. For the month of September, their featured flatbread will be the, Roasted Bell Pepper with BBQ Chicken Flatbread. Several of Las Positas wines will pair well with this flatbread, just ask the staff what they recommend when you visit!
Sauvignon Blanc with Goat Cheese, Bacon & Olive Savory Bread -Cake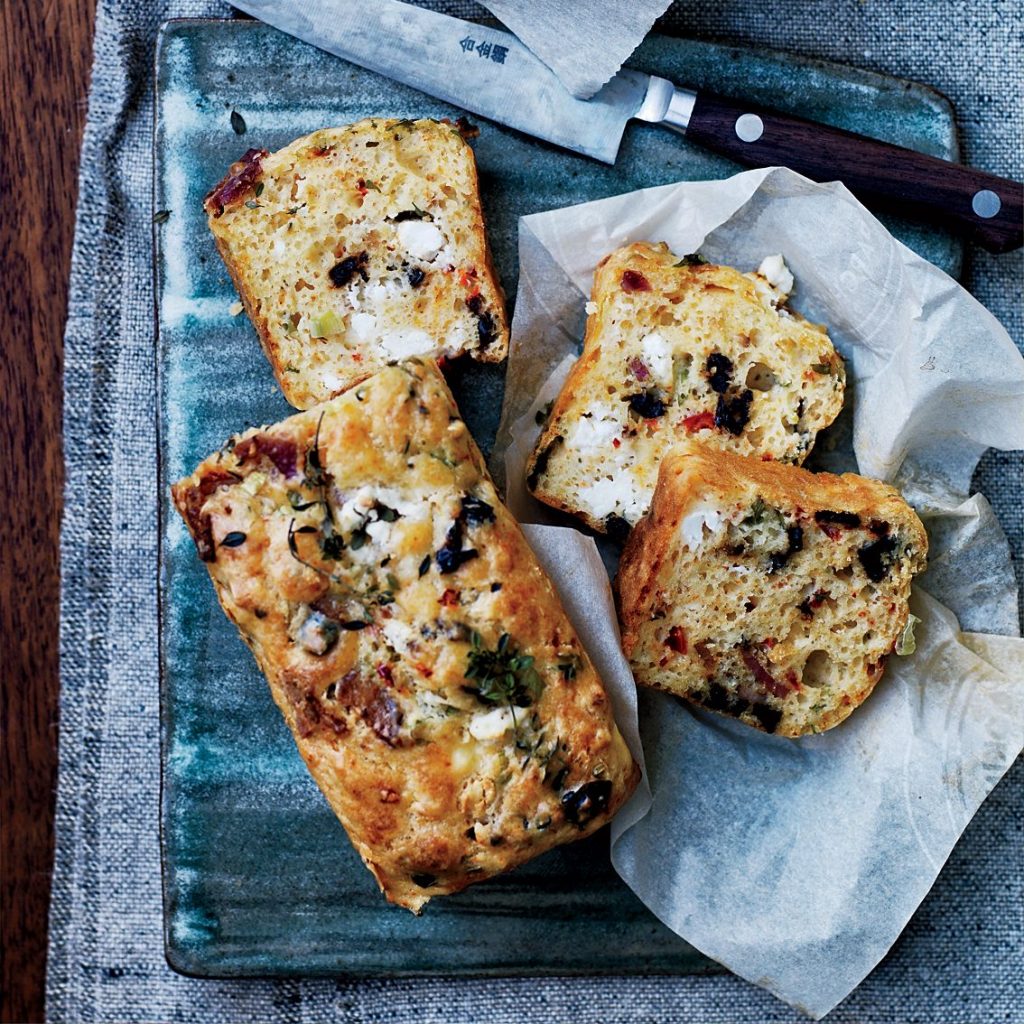 Goat cheese and bacon? My mouth is already watering! Page Mill Winery pairs this savory bread with their Sauvignon Blanc.
Interested in making more delicious food and wine pairings with Page Mill winery? Join Page Mill's "Perfect Pairings" wine club! This unique club consists of club members who prepare food to pair with the wines Page Mill Winery is releasing, and then get together, have dinner, and taste through all the food and wine pairings. And the recipes then go into Page Mill's wine club packs.
Three Cabs blend with Steak Diane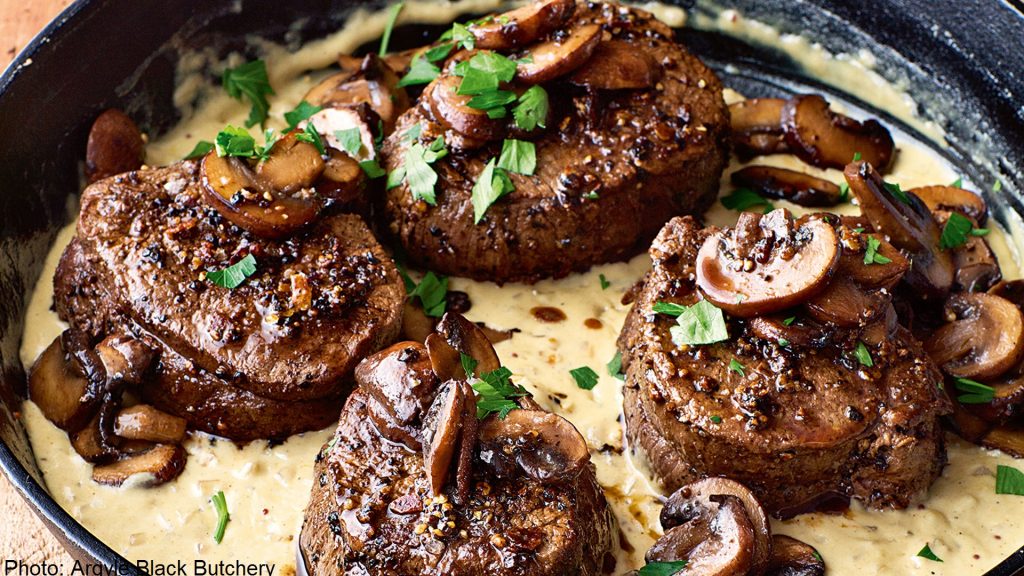 This is 3 Steves Winery's General Manager's all time favorite pairing. He recommends pairing this mouth watering steak diane recipe with 3 Steves' 2017 Three Cabs blend or 2015 Cabernet. You might just have to make it twice and try it with each wine to see what your favorite is!