The Countdown is On!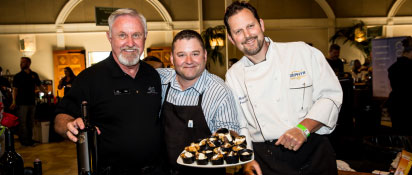 Taste Our Terroir is less than two weeks away and I am excited.  Why am I so excited?  To put it in one word, Taste Our Terroir is awesome, inspiring, delicious, worth-throwing-your-diet-out-the-window fun!  Ok, so maybe I can't exactly describe why I love Taste Our Terroir in one word, but here are some of the things I'm looking forward to in next week's event.
Thursday night's Quest for Pairing Excellence.  This event kicks off the Taste Our Terroir weekend and it is spectacular!  18 teams of local restaurants and wineries create their perfect pairings.  You're going to wish you were a cow and had four stomachs to consume all the delicious food.  Personally, I was blown away by the pairings last year.  I've had a glimpse of some of this year's pairings and it looks like they're going to be even better than last year, which seems impossible, but it's true.  The best part is that you get to vote for your favorite red and white wine pairings!  I love seeing who ends up winning and it's announced with time for you to get around and try those pairings if you hadn't tried them already.
In addition to those 18 teams tantalizing your taste buds, there will be ten additional wineries pouring on the patio and in the dessert room.  Yes, you read that right, a dessert room.
As if that wasn't enough there are some truly amazing auction items this year.  There's a cruise with either Retzlaff Vineyards or 3 Steves Winery, a chance to get your cellar stocked with wine from the competition, and so much more.
This event sells out every year, so go get your tickets now… seriously… you don't want to miss this event!  Here, I'll even give you the link. CLICK HERE!
The Quest for Pairing Excellence is just the beginning.  Friday, Saturday, and Sunday are FILLED with even more events.  There are wine seminars about Sauvignon Blanc, Cabernet Sauvignon and Port.  These are great ways to learn more about wine, talk with winemakers, and try some different wines you may not have had before.  If food is more your thing, there are so many fun food demonstrations from risotto to chocolate.  And for those of you who don't want to lift a finger, check out the progressive dinner, lobster feed, or a lunch at Wente Vineyards with the chef and winemaker.
Whether you're a local or not-so-local, you can go to many of these events in addition to wine tasting throughout the valley.  Pick and choose what you're interested in … looking at you Sauvignon Blanc and Risotto … and then visit your favorite wineries before or after for a tasting.  Why not make a day or, even better, a WEEKEND of it?!
Disclaimer: almost all of these events sold out last year, and the Brunch with Retzlaff Vineyards and Posada has already sold out.  I cannot stress to you enough that you NEED to get your tickets ASAP!
I'll see you there!
Liv