Overview
Thursday, July 26, 2018 - Sunday, July 29, 2018

Add to iCal/Outlook

Add to Google Calendar
Days Until
Taste Our Terroir
Livermore Valley's premier food and wine affair spans four delectable days.
On Thursday July 26, 2018 is the annual quest for food and wine pairing excellence which has 20 winemakers partnering with Bay Area chefs to compete for honors at Casa Real. Taste pairings and cast your vote for the coveted People's Choice award! Friday through Sunday wineries across the region host ten food and wine events including cooking classes, wine seminars, vineyard tours and more.
Full program and list of participating wineries coming soon

Thursday Night Tickets: VIP $125 | General $95
VIP Admission at 5pm with entrance to the garden patio for a wine reception at 4:30pm
General Admission at 6pm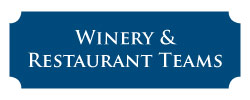 Weekend Event Tickets available from $35-$125
Weekend event information coming soon!