Overview
Sunday, June 3, 2018 (12 - 4:30pm)
Livermore Valley Wine Country

Add to iCal/Outlook

Add to Google Calendar
Wine & Wags
Join us for the first ever Wine & Wags event! Livermore Valley's dog friendly wineries host a day of fun for dogs and their owners across the region. Bring your friendly four legged friends (on a leash, of course!), and enjoy a day in beautiful Wine Country. Local animal rescues will be partnered with our wineries, promoting adoptions of their furry friends that need a home. Come with your dogs, stay for the wine, and possibly leave with a new best friend!
Tickets $30 online | $35 Day Of at event
Tickets Include: Entrance into participating wineries, at least 2 tastes at each winery, commemorative Livermore Valley Wine Country GoVino glass, and special event activities.
All Guests and their Furry Friends also will receive a gift and dog treat upon check in from EntirelyPets.com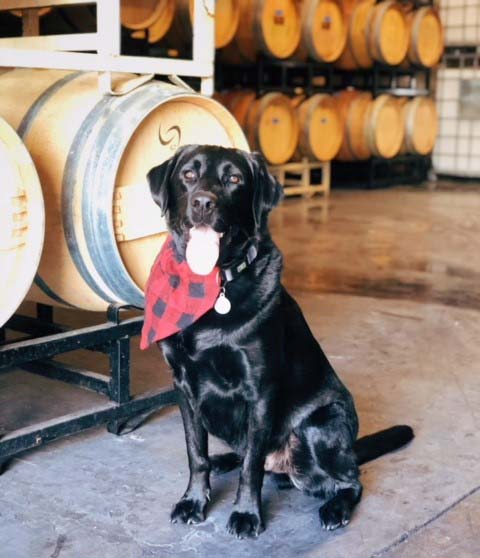 Click here to view participating Wineries, Rescues, and more activities!
~ Paint Your Pet with Pinot's Palette at Longevity Wines or BoaVentura de Caires Winery during Wine & Wags. Send in your photo beforehand and turn it into a painting at the event! Book your spot today.
AMA Waterways & Cruising for Canines Raffle:
Guests will have the opportunity to enter to win a cruise for two, graciously provided by AMA Waterways and Cruising for Canines, and a number of other prizes. Raffle tickets are available for purchase in winery tasting rooms, through the participating rescue organizations, in the LVWA office, and at the event. Tickets are $100 a piece and a limited number of 1,000 raffle tickets will be sold.
Tickets available from all participating rescues, Big White House, Concannon Vineyard, Fenestra Winery, Garre Vineyards, McGrail Vineyard and Winery, Nottingham Cellars, Page Mill Winery, Retzlaff Vineyards, Wente Vineyards, Wood Family Vineyards, and Livermore Valley Winegrowers Association office. Call 925-447-9463 or email Events@Lvwine.org with your name and phone number if you would like to order over the phone.
5 prizes will be awarded!
1) Ama Waterways Cruise for 2 - good for a wine themed sailing in March, November, or December of 2019.
2) Handcrafted Barrel Dog House
3) Handcrafted Barrel Dog Bed
4) Handcrafted Barrel Dog Food & Water Bowl
5) Pet Food Express "My Mutt" Program- photo shoot with your dog and a poster in their stores for 6 months!
*Disclaimer: If you choose to attend this event, you must affirm that you are the ONLY one responsible for your pet and that you agree to indemnify and hold harmless the Livermore Valley Winegrowers Association, any other person, company or organization involved in the event, from any liability resulting from your pet's attendance at this event. I agree to keep my dog on a leash at all times.