Overview
Saturday, March 18, 2023 - Sunday, March 19, 2023 (12 - 4:30pm)
Livermore Valley Wine Country

Add to iCal/Outlook

Add to Google Calendar
Days Until
Livermore Valley Barrel Tasting Weekend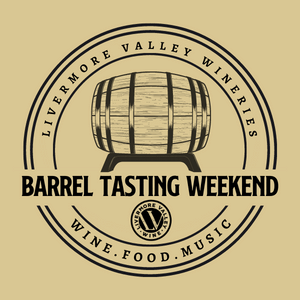 Join us for Barrel Tasting Weekend in the Livermore Valley! Participating wineries invite you to sample wines straight from the barrels. Chat with the winemakers, see what new wines are coming up, and purchase futures to enjoy for your personal cellar! This fun and educational weekend is a great time to visit the beautiful Livermore Valley!
Winery tasting fees range from $15-$25 and include a minimum of 4 wine tastings including barrel samples.
Check with participating wineries for recommended reservations or walk ups:
Participating Wineries:
3 Steves Winery, Caddis Wine, Charles R Vineyards, el Sol, Favalora Vineyards Winery, Garre Vineyards & Winery, Leisure Street Winery, McGrail Vineyards & Winery, Murrieta's Well, Omega Road Winery, Page Mill Winery, Retzlaff Winery, Rodrigue Molyneaux Winery, Rosa Fierro Cellars, Wente Family Estates, Wood Family Vineyards
While in Livermore Valley Wine Country, we ask you to drink responsibly and encourage you to select a designated driver or arrange for transportation. There are a number of transportation services available; town cars and SUVs for small groups, ride share services or electric bikes for individuals, wine trolleys and chartered buses for larger groups. We thank our transportation partners for their support and encourage registrants to make transportation arrangements at their earliest opportunity.