Blending Old Friends with the New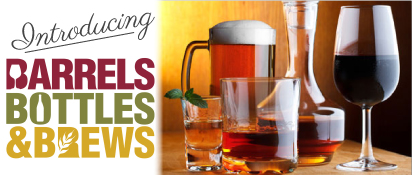 There's a new event on March 25th and 26th and I for one could not be more thrilled.  Barrels, Bottles & Brews is replacing Barrel Tasting Weekend because the wineries invited some of their friends to join in the festivities.  If you didn't know, Livermore Valley has seen an influx of breweries and distilleries over the past few years and some winemakers have even tried their hand at brewing and distilling.  Barrels, Bottles & Brews will be two days where you can get outside, enjoy the spring weather and sample wines, beers and spirits.
What can you expect?
Wine. More than thirty wineries will be rolling out the red carpet for you to taste wines straight from the barrel.  Some wineries will have an extra reserve tasting (for a fee) and are hosting craft and jewelry vendors.  But it's not just about sampling the wine!  At Bent Creek Winery, you can actually blend your own wine, or do a vertical tasting at Charles R Vineyards (hint: vertical tasting is tasting wines from the same vineyard made year after year, for example a 2012, 2013, and 2014 Cabernet).  Get out and throw that bocce ball at Garré Vineyards and enjoy a cheese pairing at Leisure Street Winery.  Nottingham Cellars is hosting winemaker-lead seminars and McGrail Vineyards will have a vineyard tour and tasting with their winemaker.  These are just a few of the many activities happening at the wineries.  For the full list, click here.
Beer. Eight Bridges Brewing, Shadow Puppet Brewing and Working Man Brewing will have an array of beers to sample and will be offering tours of their facilities.  Mitchell Katz Winery is featuring a first tasting of their micro-brew.  Not only that, several of the breweries will be offering an additional discount on any flights purchased.  That's something to raise a pint to!  For the full list of brewery activities, click here.
Spirits.  Eckert Estate Winery & Artisan Spirit Distillery will be featuring their barrel aged brandy and demonstrating the distillation process.  Or head to Sutherland Distilling Company to sample their many different spirits, ranging from vodka and rum to apricot or pear brandy.  For the full list of distillery activities, click here.
This event has something for everyone and I love that I'll have the opportunity to learn more about brewing and distilling techniques while still sampling some of my favorite wines!
Will I see you there?  Tickets are on sale now!  Get yours before it's too late!
Love,
Liv