Chef and Owner Eduardo Posada of Posada Restaurant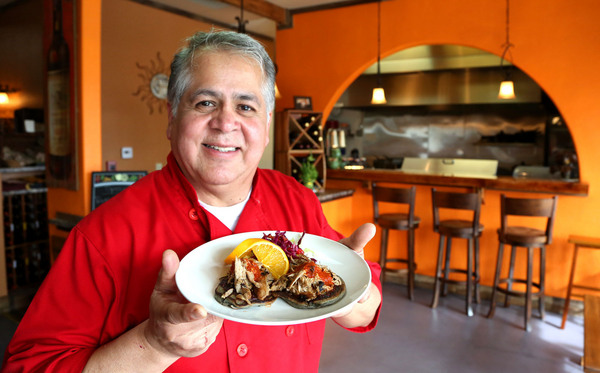 The guy behind the hottest new restaurant in town is no newbie to the Livermore Valley dining scene. Posada's Catering has been serving his delicious food at Livermore Valley wineries since they opened in 2005. With all of Eduardo's catering popularity, it is no surprise he has opened a new Southwestern-themed restaurant. It is one of the only restaurants of its kind in the Bay Area. Here we discuss his inspiration and experience.
1) When did you first know you wanted to be a chef?
At the age of 25 I had my first chance to work along Frank D'Angelo and Richard Olivero. Frank was an Italian chef with a lot of knowledge and knows many shortcuts in preparing food. Richard showed me the Southwestern flair, he had great presentation but lacked flavor.
This is when I realize I could do this and could always go to my mom for a point of reference in her flavoring.
2) What is terroir to you?
The DNA of the land. When you have good soil you will get good grapes, good vegetables and so on.
3) Favorite pairing?
I feel that all my food is very wine friendly, my cuisine is pretty balance. I have learned to get the flavors of the food without cooking too spicy.  My approach in pairing is complementing and contrasting the three elements wine and food have in common, Weight, texture and flavors
4) What is the biggest challenge in food and wine pairing?
Pairing a wine that is not ready to be open. This is where you will need to add, subtract or substitute an ingredient from a complete dish.
5) Red or White?
I love medium tannin Cabernets, a dirty Zinfandel or crisp Sauvignon Blanc
6) Favorite meal of the day?
Dinner. After a long day, I like to sit down and get served.
7) Go to meal to make?
Shrimp cakes, they are simple, easy to make and very yummy.
8) If you could pick one person to cook for you, who would it be?
My mother. I wish I could have her touch in cooking.
9) One ingredient you couldn't live without?
Roasted garlic.
10) Three words that describe you?
Sincere, passionate and persistent.
Be sure to save the date to taste Eduardo's delicious pairing with Cuda Ridge Wines at 2014 Taste Our Terroir on July 24, 2014
Tickets on sale end of April 2014
$125 VIP
$85 advance (by 7/10/14)/ $95 after