Chef and Owner Rachael Zavala of The Compass Star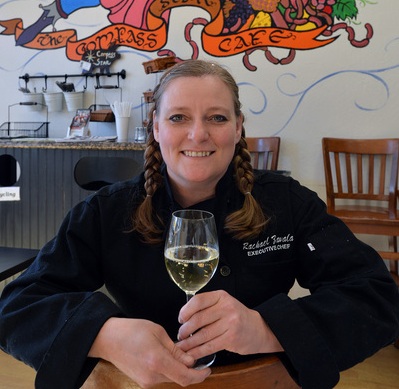 It is not every day that you meet a meat specialist or charcutier. Especially not one with as much passion like Rachael Zavala. Her love for food is apparent in every house made product at her Martinez restaurant, The Compass Star. Zavala made her Taste Our Terroir debut at last year's event, and was not afraid to be innovative with a smoked beef brisket, topped with mashed sunchokes and Mascarpone cheese served in a parmesan cone. We are excited to see what creation she will craft this year with her partners from Dante Robere Vineyards. Here we discuss Gourmet Magazines, meat and of course pairings.
1)    When did you first know you wanted to be a chef?
I've known since I was a little girl. My mother was a struggling single mom in the 1970's (she had me when she was 16) working her way through college at SJ State. I was "in charge" of cooking for my little sister and brother. I was a wizard with dry goods; I could gussy up Rice a Roni like nobody's business. One day when I was playing I found a stack of Gourmet Magazine from the late 1960's sitting by the dumpster, all wrapped with twine like a present just for me. An avid reader, I spent that summer in my tree house fort reading about all of the luxurious foods and exotic travel destinations. By the time I was 12 I was saving babysitting money to buy spices. I was addicted, obsessed, with food. I still love and collect copies of Gourmet Magazine and held a wake at my house with close friends when they stopped the presses on the publication.
2)    What is terroir to you? 
Terroir is a living thing. It can taste like sunshine and smell like spring rain and pebbles, it can look like enthusiastic, disheveled rows of vines covered in leaves in riotous shades of auburn welcoming the crush… all of the million gifts Mother Nature provides to nurture and sustain any given place. The smell, the taste of the living earth.
3)    Favorite pairing?
Right now my customers are really digging a pairing my Sommelier, Derek Roque put together of dry Alietico and a salad we make with a pomegranate vinaigrette. The almost fruit punch flavor of the Alietico turns into something magical when paired with these light vinaigrettes.
4)    What is the biggest challenge in food and wine pairing?
Not every wine is food friendly and not every food is wine friendly. My sommelier  and pastry chef and I will often pick the wines first and THEN create the dish to pair.
5)    Red or White?
I mostly drink red wine, but I have found some fantastic Rhone whites I really love. It depends on the dish!
6)    Favorite meal of the day?
I love breakfast because it is the one meal of the day I can regularly spend with my family. Last weekend everyone chipped in for a decadent Sunday morning feast. My daughter made the waffles, I made a corned beef hash with leftover corned beef brisket from work and the left over apple and potato galette from our Saturday night Prix Fixe. We poached fresh eggs from  Beetdown Pharms (Martinez) to top the hash.
7)    Go to meal to make?
At home our quick fix meal is pasta with anchovies, bread crumbs, garlic, peppers and parmesan cheese. It is my family's equivalent of Mac n Cheese. We always have the staples for this in the house.
8)    If you could pick one person to cook for you, who would it be?
François Vatel, the famous 17th Century French chef OR Bartholomew Scappi (Papal Chef to Pope Pius the V in the 16th Century)
9)    One ingredient you couldn't live without?
Salt! As a Charcutier, I use salt to flavor, cure and preserve.
10) Three words that describe you?
Tenacious, passionate, brave.
Come taste the creation of Rachael Zavala and Dante Robere Vineyards at Taste Our Terroir on July 24, 2014
Tickets on sale now
$125 VIP
$85 advance (by 7/10/14)/ $95 after